Updated
Tri-State Lottery Triple Jackpot Winner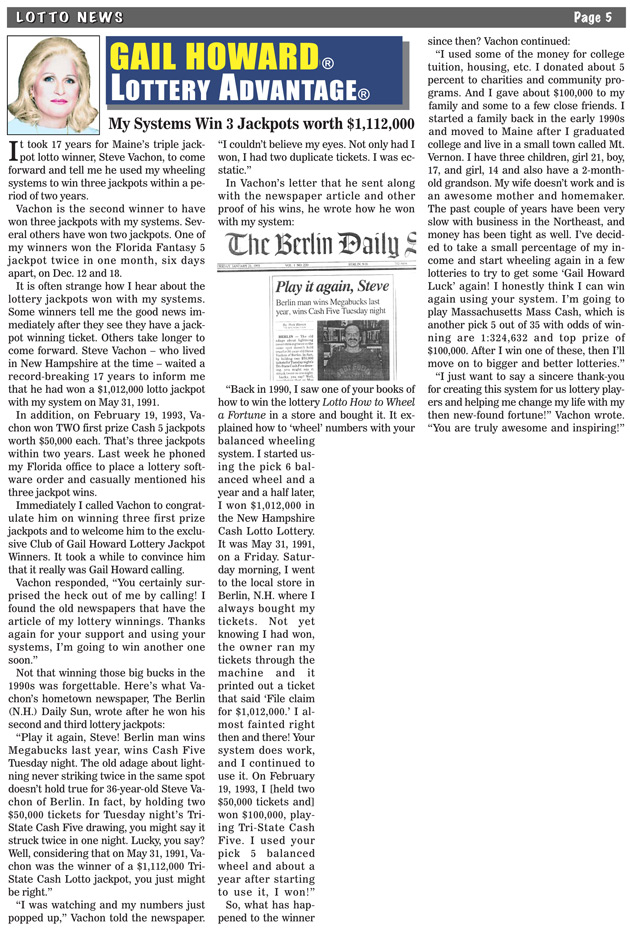 Three First Prize Jackpots Worth $1,112,000 Won in Tri-State Lotto with Gail Howard's Balanced Wheels®
"I Almost Fainted Right Then and There!"
Gail Howard's System Wins 3 Jackpots Worth $1,112,000!
It took 17 years for Maine's triple jackpot lotto winner, Steve Vachon, to come forward and tell me he used my wheeling systems to win three jackpots within a period of two years.
Vachon is the second winner to have won three jackpots with my systems. Several others have won two jackpots. One of my winners won the Florida Fantasy 5 jackpot twice in one month, six days apart, on Dec. 12 and 18.
It is often strange how I hear about the lottery jackpots won with my systems. Some winners tell me the good news immediately after they see they have a jackpot winning ticket. Others take longer to come forward. Steve Vachon -- who lived in New Hampshire at the time -- waited a record-breaking 17 years to inform me that he had won a $1,012,000 lotto jackpot with my system on May 31, 1991.
In addition, on February 19, 1993, Vachon won TWO first prize Cash 5 jackpots worth $50,000 each. That's three jackpots within two years. Last week, he phoned my Florida office to place a lottery software order and casually mentioned his three jackpot wins.
Immediately, I called Vachon to congratulate him on winning three first prize jackpots and to welcome him to the exclusive Club of Gail Howard Lottery Jackpot Winners. It took awhile to convince him that it really was Gail Howard calling.
Vachon responded, "You certainly surprised the heck out of me by calling! I found the old newspapers that have the article of my lottery winnings. Thanks again for your support and using your systems, I'm going to win another one soon."
Not that winning those big bucks in the 1990s was forgettable. Here's what Vachon's hometown newspaper, The Berlin (New Hampshire) Daily Sun, wrote after he won his second and third lottery jackpots:
Play it again, Steve

Berlin man wins Megabucks last year, wins Cash Five Tuesday night
"The old adage about lightning never striking twice in the same spot doesn't hold true for 36-year-old Steve Vachon of Berlin. In fact, by holding two $50,000 tickets for Tuesday night's Tri-State Cash Five drawing, you might say it struck twice in one night.
"Lucky, you say? Well, considering that on May 31, 1991, Vachon was the winner of a $1,112,000 Tri-State Cash Lotto jackpot, you just might be right."
"I was watching and my numbers just popped up," Vachon told the newspaper. "I couldn't believe my eyes. Not only had I won, I had two duplicate tickets. I was ecstatic."
In Vachon's letter that he sent along with the newspaper article and other proof of his wins, he wrote how he won with my system:
"Back in 1990, I saw one of your books of how to win the lottery Lotto How to Wheel a Fortune in a store and bought it. It explained how to 'wheel' numbers with your Balanced Wheeling system. I started using the pick 6 Balanced Wheel® and a year and a half later, I won $1,012,000 in the New Hampshire Cash Lotto Lottery. It was May 31, 1991, on a Friday.
"Saturday morning, I went to the local store in Berlin, New Hampshire, where I always bought my tickets. Not yet knowing I had won, the owner ran my tickets through the machine and it printed out a ticket that said 'File claim for $1,012,000.' I almost fainted right then and there!
"Your system does work, and I continued to use it. On February 19, 1993, I had two $50,000 tickets and won $100,000, playing Tri-State Cash Five. I gave one of the Cash 5 $50,000 winning tickets to my Mom and Dad and I kept the other one for myself. I used your pick 5 Balanced Wheel® and about a year after starting to use it, I won!"
So, what has happened to the winner since then? Vachon continued:
"I used some of the money for college tuition, housing, etc. I donated about 5 percent to charities and community programs. And I gave about $100,000 to my family and some to a few close friends. I started a family back in the early 1990s and moved to Maine after I graduated college and live in a small town called Mt. Vernon. I have three children, girl 21, boy, 17, and girl, 14 and also have a 2-month-old grandson. My wife doesn't work and is an awesome mother and homemaker.
"The past couple of years have been very slow with business in the Northeast, and money has been tight as well. I've decided to take a small percentage of my income and start 'wheeling' again in a few lotteries to try to get some 'Gail Howard Luck' again!
"I honestly think I can win again using your system. I'm going to play Massachusetts 'Mass Cash' which is another pick 5 out of 35 with odds of winning are 1:324,632 and top prize of $100,000. After I win one of these, then I'll move on to bigger and better lotteries.
"I just want to say a sincere thank-you for creating this system for us lottery players and helping me change my life with my then new-found fortune!" Vachon wrote. "You are truly awesome and inspiring!"


The lottery products Steve Vachon used to win the Florida and Tri-State lotto jackpots
:
Lotto How to Wheel a Fortune

Lotto How to Wheel a Fortune
Balanced Wheel
®
System Book for Pick-6 and Pick-7 Games
More Info
Buy Lotto How to Wheel a Fortune on Amazon
Learn how to win this lotto game for free
: