California Lottery Winner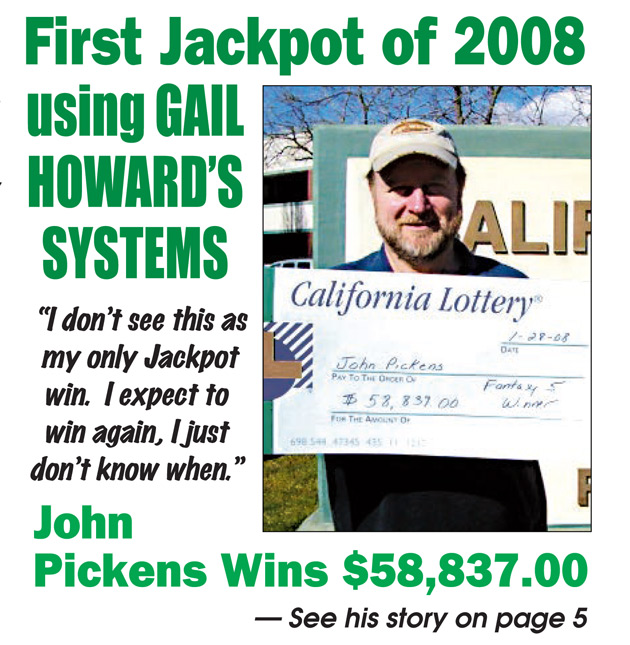 $58,937 FANTASY 5 JACKPOT WON IN CALIFORNIA
"I love you Gail Howard!"
John Pickens hit the jackpot on January 25, 2008 and emailed me this message with his good news just hours after he saw he had the winning ticket:
"Please add me to your list of jackpot winners. Tonight I scored a 1st, 2nd, & 3rd prize on one ticket in the California Fantasy 5 game. I used your system #52225 win 2 with 4 right, 25 numbers in 13 games with these numbers; 02 05 06 09 10 11 12 13 15 16 21 22 24 25 26 28 30 31 32 34 35 36 37 38 39. The winning numbers were 02-22-25-26-36 and I was the only winner for the 5/5 prize. I had noted this system already won a first prize and it was one of my reasons to use it. I will need to wait until Monday to submit my ticket to lottery headquarters, and I will be happy to provide any documentation you need to verify my jackpot. With much gratitude, John Pickens"
John Pickens was right. Ray Lakin used the same Balanced Wheel® System #52225 in the same California Fantasy 5 lotto game in the same month of January four years ago, on January 9, 2004, and was the sole winner of a $316,446.00 jackpot. If you missed it, you can read Ray Lakin's story in Lotto News here.
The next email from John Pickens was longer and had attached several photos of him with his giant-size check, taken at lottery headquarters. He wrote:
"I hit the California Fantasy 5 Jackpot on January 25, 2008 using a lotto system invented and produced by Gail Howard. I won not only the Jackpot for $58,260.00, but also the second prize for $533.00, and a third prize for $16.00 on the first three games.
"I could not have wheeled all those prizes by accident or come up with the winning numbers without the charts and Quick Stats in Gail's Advantage Gold software. Think about it, 25 numbers wheeled into only 13 games with a prize guarantee of 2 right when you guess 4 correctly. That is a bit of a long shot. This system had produced a jackpot for someone before I used it and was one of the reasons I decided to try this system.
"The main other reason was that you can wheel 25 numbers and often trap three when you guess all 5 for a third prize. This paid for my tickets and kept me in the game. My best hope was that I might succeed with a 2nd prize if I was very lucky.
"This past August I was on a road trip from California to Oregon with my sister and on one of our stops there was a celebration going on for a local resident who hit a Fantasy 5 jackpot . I felt a twinge of jealousy because I felt I could beat that game. I dreamed about how even a small windfall could make my life better.
"Once I was home I resumed my lotto play. I tracked the numbers on my own looking for trends and wheeled my numbers with my own system. I had a few wins, but soon realized I was wasting money. I needed help. I searched the web. My searches kept bringing up the name Gail Howard. I had heard of her before but I did not know she was the one who had produced all those systems that had won so many jackpots.
"At first I used the free systems by Gail on her website and had numerous 3rd prizes and eventually my third 2nd prize using her 22 number combination into 100 sets. That system is a masterpiece and I'm sure that should I hit another jackpot that might be the system I use to get it.
"Anyway that second prize happened in October and along with that I also scored with numerous 3rd prizes for next couple of weeks going as high as $650.00 profit in a single week.
[This was just using the free lotto wheels and free lotto number selection strategies I give away on my website. John bought my Advantage Gold strategy program and Wheel Five Plus lotto software [now Wheel 5 Gold] and my book, Lotto Wheel Five to Win, on November 26, 2007 .]
"On Friday 1/25/08 I got home after an especially hard day and looked up the winning numbers on the internet. I always have a printout of the games I play and the numbers I use. I looked at the winning numbers and saw that I guessed all 5 in my group of numbers. That was a good start. I looked at my games and I thought alright I got a 3rd prize 1st game. Second game wow 2nd prize - no not 2nd - HOLY *###@@@:" That's the JACKPOT!!!!
"I had to rush off to work that morning without playing my tickets and had left that job for my girlfriend. I ran up the street out of breath where my girlfriend was visiting and asked 'did you play my tickets today?' She went into a long yarn about how the clerk had screwed them up and it took a half hour to get the games played correctly. I told her if all the games were played correctly then one of those tickets has a jackpot on it. Everyone got excited and we all marched back to my house to look at the tickets. No doubt about it I had hit the Jackpot.
"We caravanned down to Longs where she had bought the tickets and tried to verify it was a winner, but the computers had not yet updated so we came home and I hid my ticket all weekend long. Monday I took my signed ticket to lottery headquarters and after about 4 weeks of processing I should see a check.
"I don't see this as my only Jackpot win. I expect to win again I just don't know when.
"Last, but not least, I love you Gail Howard."


The lottery products John Pickens used to win the CA Fantasy 5 jackpot
: Advantage Gold and Wheel #52225

Advantage Gold™
Number Selection Lotto Software
More Info
ADD TO CART
25 numbers 2/4 guarantee Balanced
Lotto System #52225
found in:

Wheel Five Gold™
Balanced Lotto Wheel
®
Software for Pick-5 Games
More Info
ADD TO CART
Learn how to win this lotto game for free
: