Canada Lottery Jackpot Winner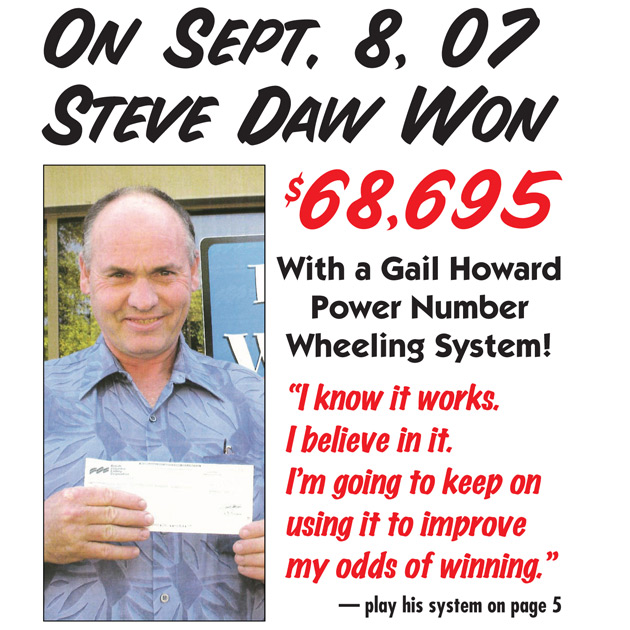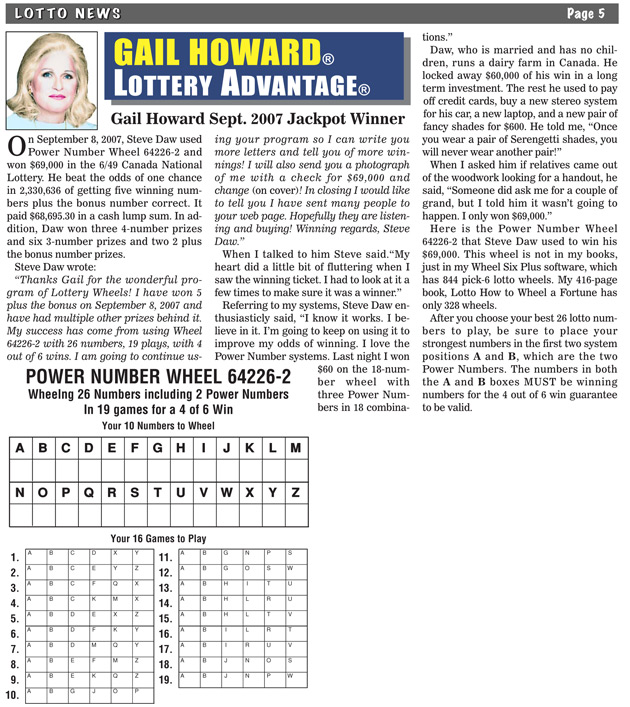 $68,695.30 Jackpot Won in Canada National 649
"My Heart Did a Little Bit of Fluttering"
On September 8, 2007, Steve Daw used Power Number Wheel 64226-2 and won $69,000 in the 6/49 Canada National Lottery. He beat the odds of one chance in 2,330,636 of getting five winning lotto numbers plus the bonus number correct. It paid $68,695.30 in a cash lump sum. In addition, Daw won three 4-number prizes and six 3-number prizes and two 2 plus the bonus number prizes.
Steve Daw wrote, "Thanks Gail for the wonderful program of Lottery Wheels! I have won 5 plus the bonus on September 8, 2007 and have had multiple other prizes behind it. My success has come from using Wheel 64226-2 with 26 numbers, 19 plays, with 4 out of 6 wins. I am going to continue using your program so I can write you more letters and tell you of more winnings! I will also send you a photograph of me with a cheque for $69,000 and change! In closing I would like to tell you I have sent many people to your web page. Hopefully they are listening and buying! Winning regards, Steve Daw."
"My heart did a little bit of fluttering when I saw the winning ticket. I had to look at it a few times to make sure it was a winner," he said.
Referring to my systems, Steve Daw enthusiasicly said, "I know it works. I believe in it. I'm going to keep on using it to improve my odds of winning. I love the Power Number systems. Last night I won $60 on the 18-number wheel with three Power Numbers in 18 combinations.
Daw, who is married and has no children, runs a dairy farm in Canada. He locked away $60,000 of his win in a long term investment. The rest he used to pay off credit cards, and buy a new stereo system for his car, a new laptop, and a new pair of fancy shades for $600. He told me, "Once you wear a pair of Serengetti shades, you will never wear another pair!"
When I asked him if relatives came out of the woodwork looking for a handout, he said, "Someone did ask me for a couple of grand, but I told him it wasn't going to happen. I only won $69,000."
Here is the Power Number Wheel 64226-2 that Steve Daw used to win his $69,000. Unfortunately, this wheel is not in my books, just in my Wheel Six Gold lotto software which has over a thousand pick-6 lotto wheels. My 416-page book, Lotto How to Wheel a Fortune has only 328 wheels.
After you choose your best 26 lotto numbers to play, be sure to place your strongest numbers in the first two system positions A and B. The numbers in both the A and B boxes MUST be winning numbers for the 4 out of 6 win guarantee to be valid.


The lottery products Steve Daw used to win the Canada National 6/49 jackpot
: Wheel #64226-2
26 number 2 Power Number 4/6 guarantee Balanced Wheeling
®
Lotto System #64226-2 found in:

Wheel Six Gold™
Balanced Lotto Wheel
®
Software for Pick-6 and Pick-7 Games
More Info
ADD TO CART
Learn how to win this lotto game for free
: