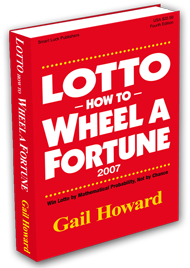 Lotto How to Wheel a Fortune
Overview:
Lotto How to Wheel a Fortune
includes Balanced Wheeling Systems for pick-6 and pick-7 lottery games.
---
---
Product Information
---
#1 best lottery book on lotto wheeling and lottery wheel systems is now even better with the 2007 edition. The all new 4th edition of Gail Howard's lottery book, Lotto How to Wheel a Fortune 2007, has systems that let you wheel up to ALL the lotto numbers in any pick-6 lotto game worldwide up to 59 numbers and includes 19 pick-7 wheels as well. Contains all the lottery systems used by Gail Howard's biggest pick-6 lotto jackpot winners, and identifies the winners and the systems they used to win big!
This Lotto Book is a Guaranteed Winner!
This lottery book could be worth millions! World's most successful lottery system book. This 416-page lottery book has the lotto systems used by Gail Howard's biggest lotto jackpot winners. (See the Chapter: Wheels That Won Lotto Jackpots on pages 48-58.)
109 documented lotto winners have already won $102,007,908 in first prize jackpots with Gail Howard's Systems...
---
Inside Lotto How to Wheel a Fortune 2007
All the lotto systems used by Gail Howard's biggest jackpot winners.
One system that WON NINE jackpots totaling $21,586,732.00.
Choice of 328 lotto systems for complete flexibility of use -- TWICE as many as in the 3rd edition!!!
Book costs only seven cents per wheel.
Has a wide variety of Balanced Wheel® Systems in every price range from $2 up to $100's.
Affordable wheels: These lotto systems range in price from $2. Of the 328 systems, 169 cost $20 or less to play; 100 cost $10 or less; and 46 cost $5 or less to use.
Easy to use as A-B-C: Play with large groups of lotto numbers and simply place them in the corresponding lettered boxes. Fast and easy, so simple a child can do it.
Mathematically correct, totally accurate win guarantees - the minimum win guarantees in this book are flawless, without holes. Guaranteed!
Shows minimum win guarantees and maximum wins possible with each system.
Reveals which number groups have a 70% chance of winning.
Tells how to buy fewer tickets, yet have a greater chance to win.
Shows how to reduce the odds by millions.
Wheels up to ALL 45 numbers or all 49 or any size up to 59 numbers.
Shows how many times each lotto number is used, so you can place your best lotto numbers in the strongest system positions.
Can be used for any pick-6 lotto game in the world - from a pick-6 out of 25 lotto numbers to a pick-6 out of 90 lottery numbers.
416 pages of VALUABLE lottery information and lotto systems to help you win.
You'll be amazed at the change in your "LUCK" once you start using these lotto systems...
Has built-in Balanced Games® - no more unbalanced, wasted combinations. This unique feature refines lottery wheeling to a state-of-the art science.
Balanced Power Number® lotto systems let you wheel more lotto numbers for less money with the same win guarantees.
ALSO: Has 19 pick-7 systems for games like these:
---
Testimonials
---
Quotes from readers of Lotto How to Wheel a Fortune
"Using your book, Lotto How to Wheel a Fortune, helped me win the jackpot plus six other five number prizes (on May 9)."

"I cannot find enough words to thank you for your book, Lotto How to Wheel a Fortune. I have used it since 1988 to wheel my numbers. I have won 70 or 80 times with four numbers, and the big one for $2,141,000."

---
Table of Contents
---
The Winning World of Wheeling

1

How to Wheel Lotto Numbers

5

Most Probable Range of Sums®

11

How to Wheel a Balanced Game®

13

Win Guarantees Explained

15

System Numbers Explained

18

Minimum and Maximum Wins

19

The Odds You Must Beat

21

How Wheeling Reduces the Odds

24

Time Table for Winning

25

Which Wheels to Use When

38

Which Wheeling System is Best

43

Wheeling Strategies for Pools & Syndicates

46

Wheels that Won Jackpots

48

A Final Word to Future Jackpot Winners

59

Wheel Finder Tables Explained

63

Instant Wheel Finder™

411

Budget Wheel Finder® by COST

413

Budget Wheel Finder® by NUMBERS

415

Pick-7 Balanced Wheels®

65

Lottery Products to Help You Win

66

Balanced Wheels® - Win 3 with 6 Right

#63313 Wheel

13

Numbers in

3

Games

69

#63314 Wheel

14

Numbers in

4

Games

69

#63315 Wheel

15

Numbers in

4

Games

69

#63316 Wheel

16

Numbers in

5

Games

70

#63317 Wheel

17

Numbers in

7

Games

70

#63318 Wheel

18

Numbers in

8

Games

71

#63319 Wheel

19

Numbers in

10

Games

71

#63320 Wheel

20

Numbers in

12

Games

72

#63322 Wheel

22

Numbers in

15

Games

72

#63324 Wheel

24

Numbers in

20

Games

73

#63325 Wheel

25

Numbers in

22

Games

74

#63330 Wheel

30

Numbers in

41

Games

75

#63335 Wheel

35

Numbers in

69

Games

76

#63336 Wheel

36

Numbers in

74

Games

77

#63338 Wheel

38

Numbers in

86

Games

79

#63339 Wheel

39

Numbers in

94

Games

80

#63340 Wheel

40

Numbers in

101

Games

82

#63342 Wheel

42

Numbers in

115

Games

84

#63343 Wheel

43

Numbers in

123

Games

87

#63345 Wheel

45

Numbers in

139

Games

89

#63346 Wheel

46

Numbers in

146

Games

91

#63347 Wheel

47

Numbers in

154

Games

94

#63348 Wheel

48

Numbers in

161

Games

97

#63349 Wheel

49

Numbers in

167

Games

100

#63352 Wheel

52

Numbers in

207

Games

103

#63353 Wheel

53

Numbers in

221

Games

106

#63354 Wheel

54

Numbers in

235

Games

110

#63359 Wheel

59

Numbers in

327

Games

114

Balanced Wheels® - Win 3 with 5 Right

#63212 Wheel

12

Numbers in

2

Games

119

#63213 Wheel

13

Numbers in

5

Games

119

#63214 Wheel

14

Numbers in

5

Games

120

#63215 Wheel

15

Numbers in

7

Games

120

#63216 Wheel

16

Numbers in

8

Games

121

#63217 Wheel

17

Numbers in

11

Games

121

#63218 Wheel

18

Numbers in

13

Games

122

#63219 Wheel

19

Numbers in

15

Games

122

#63220 Wheel

20

Numbers in

18

Games

123

#63221 Wheel

21

Numbers in

21

Games

123

#63222 Wheel

22

Numbers in

22

Games

124

#63223 Wheel

23

Numbers in

26

Games

125

#63224 Wheel

24

Numbers in

30

Games

126

#63225 Wheel

25

Numbers in

36

Games

126

Balanced Wheels® - Win 3 with 4 Right

#63109 Wheel

9

Numbers in

3

Games

127

#63110 Wheel

10

Numbers in

4

Games

128

#63111 Wheel

11

Numbers in

5

Games

128

#63112 Wheel

12

Numbers in

6

Games

129

#63113 Wheel

13

Numbers in

9

Games

129

#63114 Wheel

14

Numbers in

11

Games

130

#63115 Wheel

15

Numbers in

15

Games

130

#63116 Wheel

16

Numbers in

18

Games

131

#63117 Wheel

17

Numbers in

21

Games

131

#63118 Wheel

18

Numbers in

26

Games

132

#63119 Wheel

19

Numbers in

32

Games

133

#63120 Wheel

20

Numbers in

38

Games

134

#63121 Wheel

21

Numbers in

46

Games

135

#63122 Wheel

22

Numbers in

53

Games

136

#63125 Wheel

25

Numbers in

77

Games

137

Balanced Wheels® - Win 3 with 3 Right

#63007 Wheel

7

Numbers in

4

Games

138

#63008 Wheel

8

Numbers in

4

Games

139

#63009 Wheel

9

Numbers in

7

Games

139

#63010 Wheel

10

Numbers in

10

Games

139

#63011 Wheel

11

Numbers in

11

Games

140

#63012 Wheel

12

Numbers in

15

Games

140

#63013 Wheel

13

Numbers in

21

Games

141

#63014 Wheel

14

Numbers in

25

Games

142

#63015 Wheel

15

Numbers in

31

Games

142

#63016 Wheel

16

Numbers in

38

Games

143

#63017 Wheel

17

Numbers in

44

Games

144

#63018 Wheel

18

Numbers in

48

Games

145

#63019 Wheel

19

Numbers in

60

Games

146

#63020 Wheel

20

Numbers in

71

Games

147

#63025 Wheel

25

Numbers in

130

Games

149

Balanced Wheels® - Win 4 with 6 Right

#64210 Wheel

10

Numbers in

3

Games

151

#64211 Wheel

11

Numbers in

5

Games

152

#64212 Wheel

12

Numbers in

6

Games

152

#64213 Wheel

13

Numbers in

10

Games

152

#64214 Wheel

14

Numbers in

14

Games

153

#64215 Wheel

15

Numbers in

20

Games

154

#64216 Wheel

16

Numbers in

28

Games

154

#64217 Wheel

17

Numbers in

36

Games

155

#64218 Wheel

18

Numbers in

42

Games

156

#64219 Wheel

19

Numbers in

58

Games

157

#64220 Wheel

20

Numbers in

80

Games

158

#64224 Wheel

24

Numbers in

158

Games

160

Balanced Wheels® - Win 4 with 5 Right

#64108 Wheel

8

Numbers in

3

Games

162

#64109 Wheel

9

Numbers in

3

Games

163

#64110 Wheel

10

Numbers in

7

Games

163

#64111 Wheel

11

Numbers in

10

Games

163

#64112 Wheel

12

Numbers in

14

Games

164

#64113 Wheel

13

Numbers in

22

Games

165

#64114 Wheel

14

Numbers in

32

Games

165

#64115 Wheel

15

Numbers in

44

Games

166

#64116 Wheel

16

Numbers in

60

Games

167

Balanced Wheels® - Win 4 with 4 Right

#64007 Wheel

07

Numbers in

5

Games

168

#64008 Wheel

08

Numbers in

7

Games

169

#64009 Wheel

09

Numbers in

12

Games

169

#64010 Wheel

10

Numbers in

20

Games

170

#64011 Wheel

11

Numbers in

32

Games

170

#64012 Wheel

12

Numbers in

41

Games

171

#64013 Wheel

13

Numbers in

66

Games

172

#64014 Wheel

14

Numbers in

80

Games

173

#64015 Wheel

15

Numbers in

117

Games

175

#64016 Wheel

16

Numbers in

152

Games

177

#64018 Wheel

18

Numbers in

236

Games

180

Balanced Wheels® - Win 5 with 6 Right

#65108 Wheel

08

Numbers in

4

Games

183

#65109 Wheel

09

Numbers in

7

Games

184

#65110 Wheel

10

Numbers in

14

Games

184

#65111 Wheel

11

Numbers in

23

Games

185

#65112 Wheel

12

Numbers in

39

Games

185

Balanced Wheels® - Win 5 with 5 Right

#65007 Wheel

07

Numbers in

6

Games

186

#65008 Wheel

08

Numbers in

12

Games

187

#65009 Wheel

09

Numbers in

30

Games

187

#65010 Wheel

10

Numbers in

50

Games

188

#65011 Wheel

11

Numbers in

100

Games

189

#65012 Wheel

12

Numbers in

132

Games

191

Balanced Wheels® - Win 6 with 6 Right

#66007 Wheel

7

Numbers in

7

Games

193

#66008 Wheel

8

Numbers in

28

Games

194

#66009 Wheel

9

Numbers in

84

Games

194

One Power Number® Wheels - Win 3 with 6 Right

#63321-1 Wheel

21

Numbers in

4

Games

196

#63322-1 Wheel

22

Numbers in

6

Games

196

#63323-1 Wheel

23

Numbers in

6

Games

197

#63324-1 Wheel

24

Numbers in

7

Games

197

#63325-1 Wheel

25

Numbers in

8

Games

198

#63326-1 Wheel

26

Numbers in

9

Games

199

#63327-1 Wheel

27

Numbers in

10

Games

199

#63328-1 Wheel

28

Numbers in

11

Games

200

#63329-1 Wheel

29

Numbers in

12

Games

200

#63330-1 Wheel

30

Numbers in

13

Games

201

#63331-1 Wheel

31

Numbers in

14

Games

202

#63332-1 Wheel

32

Numbers in

15

Games

202

#63333-1 Wheel

33

Numbers in

16

Games

203

#63334-1 Wheel

34

Numbers in

17

Games

204

#63335-1 Wheel

35

Numbers in

18

Games

205

#63336-1 Wheel

36

Numbers in

19

Games

205

#63337-1 Wheel

37

Numbers in

20

Games

206

#63338-1 Wheel

38

Numbers in

21

Games

207

#63339-1 Wheel

39

Numbers in

22

Games

208

#63340-1 Wheel

40

Numbers in

23

Games

209

#63341-1 Wheel

41

Numbers in

24

Games

210

#63342-1 Wheel

42

Numbers in

25

Games

211

#63343-1 Wheel

43

Numbers in

26

Games

212

#63344-1 Wheel

44

Numbers in

27

Games

213

#63345-1 Wheel

45

Numbers in

28

Games

214

#63346-1 Wheel

46

Numbers in

30

Games

215

#63347-1 Wheel

47

Numbers in

32

Games

216

#63348-1 Wheel

48

Numbers in

33

Games

217

#63349-1 Wheel

49

Numbers in

34

Games

219

#63350-1 Wheel

50

Numbers in

36

Games

220

#63351-1 Wheel

51

Numbers in

38

Games

221

#63352-1 Wheel

52

Numbers in

39

Games

222

#63353-1 Wheel

53

Numbers in

40

Games

223

#63354-1 Wheel

54

Numbers in

41

Games

224

#63359-1 Wheel

59

Numbers in

48

Games

225

One Power Number® Wheels - Win 3 with 5 Right

#63216-1 Wheel

16

Numbers in

3

Games

226

#63217-1 Wheel

17

Numbers in

5

Games

227

#63218-1 Wheel

18

Numbers in

5

Games

227

#63219-1 Wheel

19

Numbers in

6

Games

228

#63220-1 Wheel

20

Numbers in

7

Games

228

#63221-1 Wheel

21

Numbers in

8

Games

229

#63222-1 Wheel

22

Numbers in

9

Games

229

#63223-1 Wheel

23

Numbers in

10

Games

230

#63224-1 Wheel

24

Numbers in

11

Games

231

One Power Number® Wheels - Win 3 with 5 Right Continued

#63225-1 Wheel

25

Numbers in

12

Games

231

#63226-1 Wheel

26

Numbers in

13

Games

232

#63227-1 Wheel

27

Numbers in

14

Games

232

#63228-1 Wheel

28

Numbers in

15

Games

233

#63229-1 Wheel

29

Numbers in

16

Games

234

#63230-1 Wheel

30

Numbers in

17

Games

234

#63235-1 Wheel

35

Numbers in

23

Games

235

#63236-1 Wheel

36

Numbers in

24

Games

236

#63238-1 Wheel

38

Numbers in

27

Games

237

#63239-1 Wheel

39

Numbers in

28

Games

238

#63240-1 Wheel

40

Numbers in

30

Games

239

#63242-1 Wheel

42

Numbers in

33

Games

240

#63243-1 Wheel

43

Numbers in

34

Games

241

#63245-1 Wheel

45

Numbers in

37

Games

242

#63246-1 Wheel

46

Numbers in

38

Games

243

#63247-1 Wheel

47

Numbers in

40

Games

244

#63248-1 Wheel

48

Numbers in

41

Games

245

#63249-1 Wheel

49

Numbers in

42

Games

246

#63252-1 Wheel

52

Numbers in

47

Games

247

#63253-1 Wheel

53

Numbers in

48

Games

249

#63254-1 Wheel

54

Numbers in

49

Games

250

#63259-1 Wheel

59

Numbers in

60

Games

251

One Power Number® Wheels - Win 3 with 4 Right

#63111-1 Wheel

11

Numbers in

2

Games

253

#63112-1 Wheel

12

Numbers in

4

Games

253

#63113-1 Wheel

13

Numbers in

4

Games

253

#63114-1 Wheel

14

Numbers in

5

Games

254

#63115-1 Wheel

15

Numbers in

6

Games

254

#63116-1 Wheel

16

Numbers in

7

Games

255

#63117-1 Wheel

17

Numbers in

8

Games

255

#63118-1 Wheel

18

Numbers in

9

Games

256

#63119-1 Wheel

19

Numbers in

10

Games

257

#63120-1 Wheel

20

Numbers in

11

Games

257

#63125-1 Wheel

25

Numbers in

17

Games

258

#63135-1 Wheel

35

Numbers in

31

Games

258

#63136-1 Wheel

36

Numbers in

33

Games

259

#63138-1 Wheel

38

Numbers in

36

Games

260

#63139-1 Wheel

39

Numbers in

37

Games

261

#63140-1 Wheel

40

Numbers in

40

Games

263

#63142-1 Wheel

42

Numbers in

42

Games

264

#63143-1 Wheel

43

Numbers in

42

Games

265

#63145-1 Wheel

45

Numbers in

49

Games

266

#63146-1 Wheel

46

Numbers in

51

Games

267

#63147-1 Wheel

47

Numbers in

51

Games

268

#63148-1 Wheel

48

Numbers in

57

Games

270

#63149-1 Wheel

49

Numbers in

58

Games

271

#63152-1 Wheel

52

Numbers in

67

Games

273

#63153-1 Wheel

53

Numbers in

68

Games

274

#63154-1 Wheel

54

Numbers in

70

Games

276

#63159-1 Wheel

59

Numbers in

86

Games

277

One Power Number® Wheels - Win 3 with 3 Right

#63007-1 Wheel

07

Numbers in

3

Games

279

#63008-1 Wheel

08

Numbers in

3

Games

280

#63009-1 Wheel

09

Numbers in

4

Games

280

#63010-1 Wheel

10

Numbers in

5

Games

280

#63011-1 Wheel

11

Numbers in

6

Games

281

#63012-1 Wheel

12

Numbers in

7

Games

281

#63013-1 Wheel

13

Numbers in

9

Games

282

#63014-1 Wheel

14

Numbers in

10

Games

282

#63015-1 Wheel

15

Numbers in

12

Games

283

#63016-1 Wheel

16

Numbers in

13

Games

283

#63017-1 Wheel

17

Numbers in

15

Games

284

#63018-1 Wheel

18

Numbers in

16

Games

285

#63019-1 Wheel

19

Numbers in

18

Games

285

#63020-1 Wheel

20

Numbers in

19

Games

286

#63022-1 Wheel

22

Numbers in

21

Games

287

#63024-1 Wheel

24

Numbers in

28

Games

287

#63026-1 Wheel

26

Numbers in

30

Games

288

#63035-1 Wheel

35

Numbers in

62

Games

289

#63036-1 Wheel

36

Numbers in

67

Games

291

#63038-1 Wheel

38

Numbers in

78

Games

292

#63039-1 Wheel

39

Numbers in

81

Games

294

#63040-1 Wheel

40

Numbers in

86

Games

296

#63042-1 Wheel

42

Numbers in

96

Games

297

#63043-1 Wheel

43

Numbers in

101

Games

299

#63045-1 Wheel

45

Numbers in

110

Games

301

#63046-1 Wheel

46

Numbers in

116

Games

304

#63047-1 Wheel

47

Numbers in

120

Games

306

#63048-1 Wheel

48

Numbers in

126

Games

308

#63049-1 Wheel

49

Numbers in

130

Games

310

#63052-1 Wheel

52

Numbers in

148

Games

313

#63053-1 Wheel

53

Numbers in

154

Games

316

#63054-1 Wheel

54

Numbers in

161

Games

318

#63059-1 Wheel

59

Numbers in

190

Games

321

One Power Number® Wheels - Win 4 with 6 Right

#64209-1 Wheel

09

Numbers in

2

Games

325

#64210-1 Wheel

10

Numbers in

2

Games

325

#64211-1 Wheel

11

Numbers in

2

Games

326

#64212-1 Wheel

12

Numbers in

5

Games

326

#64213-1 Wheel

13

Numbers in

6

Games

326

#64214-1 Wheel

14

Numbers in

8

Games

327

#64215-1 Wheel

15

Numbers in

10

Games

327

#64216-1 Wheel

16

Numbers in

13

Games

328

#64217-1 Wheel

17

Numbers in

14

Games

329

#64218-1 Wheel

18

Numbers in

18

Games

329

#64219-1 Wheel

19

Numbers in

22

Games

330

#64220-1 Wheel

20

Numbers in

28

Games

331

#64222-1 Wheel

22

Numbers in

37

Games

331

#64225-1 Wheel

25

Numbers in

54

Games

332

One Power Number® Wheels - Win 4 with 5 Right

#64109-1 Wheel

09

Numbers in

3

Games

334

#64110-1 Wheel

10

Numbers in

5

Games

334

#64111-1 Wheel

11

Numbers in

7

Games

334

#64112-1 Wheel

12

Numbers in

10

Games

335

#64113-1 Wheel

13

Numbers in

12

Games

335

#64114-1 Wheel

14

Numbers in

16

Games

336

#64115-1 Wheel

15

Numbers in

20

Games

337

#64116-1 Wheel

16

Numbers in

25

Games

337

#64117-1 Wheel

17

Numbers in

33

Games

338

#64118-1 Wheel

18

Numbers in

40

Games

339

One Power Number® Wheels - Win 4 with 4 Right

#64007-1 Wheel

07

Numbers in

4

Games

340

#64008-1 Wheel

08

Numbers in

5

Games

340

#64009-1 Wheel

09

Numbers in

8

Games

341

#64010-1 Wheel

10

Numbers in

12

Games

341

#64011-1 Wheel

11

Numbers in

17

Games

342

#64012-1 Wheel

12

Numbers in

20

Games

342

#64013-1 Wheel

13

Numbers in

29

Games

343

#64014-1 Wheel

14

Numbers in

34

Games

344

#64015-1 Wheel

15

Numbers in

43

Games

345

#64016-1 Wheel

16

Numbers in

56

Games

346

#64017-1 Wheel

17

Numbers in

65

Games

347

#64018-1 Wheel

18

Numbers in

68

Games

348

#64019-1 Wheel

19

Numbers in

94

Games

349

#64020-1 Wheel

20

Numbers in

108

Games

351

One Power Number® Wheels - Win 5 with 6 Right

#65108-1 Wheel

08

Numbers in

3

Games

353

#65109-1 Wheel

09

Numbers in

5

Games

354

#65110-1 Wheel

10

Numbers in

9

Games

354

#65111-1 Wheel

11

Numbers in

14

Games

355

#65112-1 Wheel

12

Numbers in

23

Games

355

#65113-1 Wheel

13

Numbers in

35

Games

356

#65114-1 Wheel

14

Numbers in

53

Games

357

#65115-1 Wheel

15

Numbers in

76

Games

358

One Power Number® Wheels - Win 5 with 5 Right

#65007-1 Wheel

07

Numbers in

5

Games

359

#65008-1 Wheel

08

Numbers in

9

Games

360

#65009-1 Wheel

09

Numbers in

20

Games

360

#65010-1 Wheel

10

Numbers in

30

Games

361

#65011-1 Wheel

11

Numbers in

51

Games

362

#65012-1 Wheel

12

Numbers in

66

Games

363

One Power Number® Full Wheels - Win 6 with 6 Right

#66007-1 Wheel

07

Numbers in

6

Games

364

#66008-1 Wheel

08

Numbers in

21

Games

364

#66009-1 Wheel

09

Numbers in

56

Games

365

Two Power Number® Wheels - Win 4 with 4 Right

#64008-2 Wheel

08

Numbers in

3

Games

366

#64009-2 Wheel

09

Numbers in

5

Games

367

#64010-2 Wheel

10

Numbers in

6

Games

367

#64011-2 Wheel

11

Numbers in

8

Games

367

#64012-2 Wheel

12

Numbers in

9

Games

368

#64013-2 Wheel

13

Numbers in

11

Games

368

#64014-2 Wheel

14

Numbers in

12

Games

369

#64015-2 Wheel

15

Numbers in

13

Games

370

#64016-2 Wheel

16

Numbers in

18

Games

370

#64017-2 Wheel

17

Numbers in

19

Games

371

#64018-2 Wheel

18

Numbers in

20

Games

372

#64019-2 Wheel

19

Numbers in

26

Games

372

#64020-2 Wheel

20

Numbers in

27

Games

373

Three Power Number® Wheels - Win 4 with 4 Right

#64012-3 Wheel

12

Numbers in

3

Games

374

#64015-3 Wheel

15

Numbers in

4

Games

374

#64018-3 Wheel

18

Numbers in

5

Games

375

#64021-3 Wheel

21

Numbers in

6

Games

375

#64024-3 Wheel

24

Numbers in

7

Games

376

#64027-3 Wheel

27

Numbers in

8

Games

376

#64030-3 Wheel

30

Numbers in

9

Games

377

#64033-3 Wheel

33

Numbers in

10

Games

377

#64036-3 Wheel

36

Numbers in

11

Games

378

#64039-3 Wheel

39

Numbers in

12

Games

379

#64042-3 Wheel

42

Numbers in

13

Games

379

#64045-3 Wheel

45

Numbers in

14

Games

380

#64048-3 Wheel

48

Numbers in

15

Games

381

#64049-3 Wheel

49

Numbers in

16

Games

382

#64054-3 Wheel

54

Numbers in

17

Games

382

#64059-3 Wheel

59

Numbers in

19

Games

383

Pick-7 Balanced Wheels® - Win 4 with 7 Right

#74314 Wheel

14

Numbers in

2

Games

385

#74315 Wheel

15

Numbers in

6

Games

385

#74316 Wheel

16

Numbers in

7

Games

385

#74317 Wheel

17

Numbers in

11

Games

386

#74318 Wheel

18

Numbers in

12

Games

387

#74319 Wheel

19

Numbers in

16

Games

387

#74320 Wheel

20

Numbers in

20

Games

388

#74321 Wheel

21

Numbers in

27

Games

388

#74322 Wheel

22

Numbers in

34

Games

389

#74323 Wheel

23

Numbers in

41

Games

390

#74324 Wheel

24

Numbers in

48

Games

391

#74325 Wheel

25

Numbers in

54

Games

392

#74326 Wheel

26

Numbers in

60

Games

393

#74327 Wheel

27

Numbers in

74

Games

395

#74328 Wheel

28

Numbers in

88

Games

396

#74330 Wheel

30

Numbers in

114

Games

398

#74331 Wheel

31

Numbers in

133

Games

400

#74332 Wheel

32

Numbers in

152

Games

402

#74333 Wheel

33

Numbers in

176

Games

405

Instant Wheel Finder™

411

Budget Wheel Finder

®

by COST

413

Budget Wheel Finder

®

by Numbers

415
---
Special Offers
---

CART
Turn a game of luck into a game of skill!™