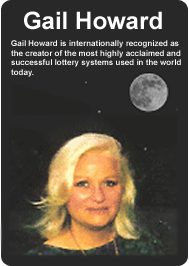 Smart Luck's Lottery Mission Statement
Smart Luck is following Gail Howard's mission to provide you with every possible tool that will help bring you closer to your goal of winning a lottery jackpot. Lotto is a game and we show you how to play the game better. In an effort to help you win, we provide loads of free helpful advice on how best to play your favorite lottery game. We also provides free lotto wheels that have already won two or more first prize jackpots – and we do not make you register or sign in for this free service.
Although dozens of jackpots have been won with Smart Luck systems and strategies, we make no guarantees, neither implied nor explicit, that anyone will win the lottery with our books or software (see Terms and Conditions). Luck is an important factor in beating astronomical odds. (See Degrees of Luck.) We advise that you stick to a budget and keep it fun so that your attitude remains positive.
Smart Luck has been in business since 1982 and was incorporated as SmartLuck, Inc in 2015. We have been selling our lottery software since 1988. The smartluck.com web site has been active since January 1997 – more than a year before Google came online.

CART
Turn a game of luck into a game of skill!™