Free Smart Luck History Editor (SlhEdit)
Smart Luck is pleased to announce the release of a new FREE Smart Luck History Editor (SlhEdit) that works with any of our new Windows Wheel programs on 32 or 64 bit versions of Windows XP, Windows Vista, Windows 7, Windows 8, Windows 8.1, and Windows 10. This will allow you to view and edit Smart Luck History files, set ranges, select histories, change properties when lotteries change and view extended statistics about the drawings and the numbers drawn. Of course, it does not have all the charts of Advantage Gold, but it does have some new features that were not in the original Advantage Gold and should be of particular use to wheel program users.
Important Notes:
The new SlhEdit requires FFWG, FWGP, or a Wheel Gold program to be installed in order to run.
Downloading the file above will only download the install file. You must RUN the install file before the actual program will be installed on your computer.
SlhEdit cannot download files itself, it can only work with them after they are installed on your computer. If you want to use our history files rather than creating your own, you must install the history files using Lottery Updater or by creating a C:

\GH

drive on your computer and downloading the individual files to it.
Smart Luck History files are compressed binary files created by Advantage Gold or SlhEdit which contain structure and drawing details for a lottery. All Smart Luck wheeling programs can use this formation in making and testing wheels, but only SlhEdit (or Advantage Gold) can make changes to these files - including updating the drawings. Once SlhEdit is installed, clicking on an slh file will cause Windows to open that file in SlhEdit. Press F1 within SlhEdit to access the help file.
Detailed Help for using SlhEdit and Lottery Updater with the Wheel Programs
For step by step instructions on setting up history to work with the wheel programs, and more details of the benefits of using history with wheeling check out our FAQ page about history with wheel programs.
SlhEdit Screenshots
Below are a few screen shots taken from the extensive help file that accompanies SlhEdit.
Open History Selection Window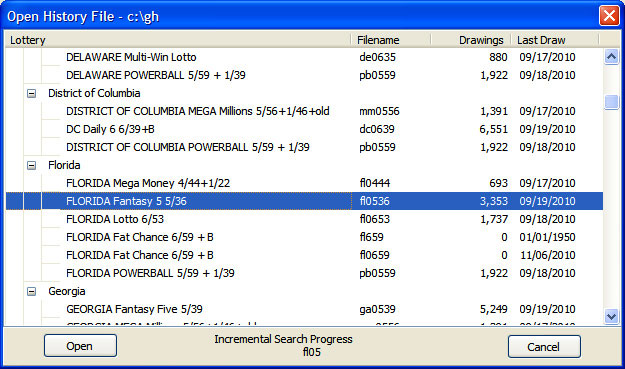 Main Screen Elements

Some of the Main Screen History Elements

FFWG/FWGP
Find out more about the programs that can work with the SlhEdit Program:
Install History Files
Download Lottery Updater
The preferred update option
Download Individual Files
Download 1+ History Sets

CART
Turn a game of luck into a game of skill!™