The following item has been added to your cart:
Lotto How to Wheel a Fortune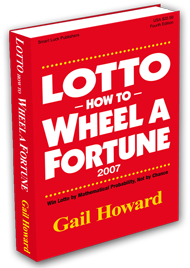 416-page 4th edition, has 328 lottery wheeling systems with specific lotto win guarantees for pick-6 lotto games, including all the winning lottery systems used by Gail Howard's biggest lotto jackpot winners. Wheels entire number field of up to all 59 numbers. Use this lotto wheel book to choose the winning lottery number combinations for any pick-6 lotto game in the world. BONUS: Also included: 19 pick-7 lotto wheels for pick-7 lotto games. NOTE: Additional sales or discounts are shown at the bottom of the checkout page, and do not reflect on the price inside this box.
$22.50

CART
Turn a game of luck into a game of skill!™