Updated
Mega Millions Lottery Winner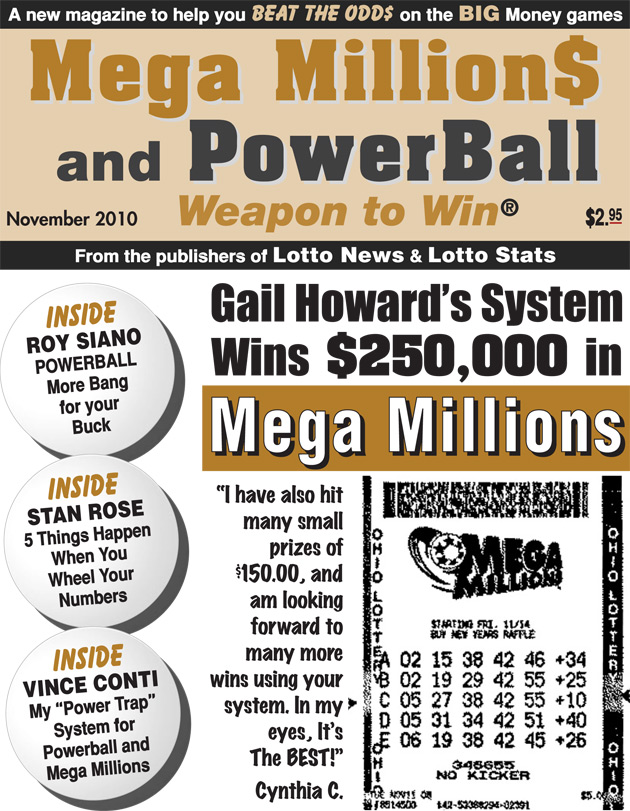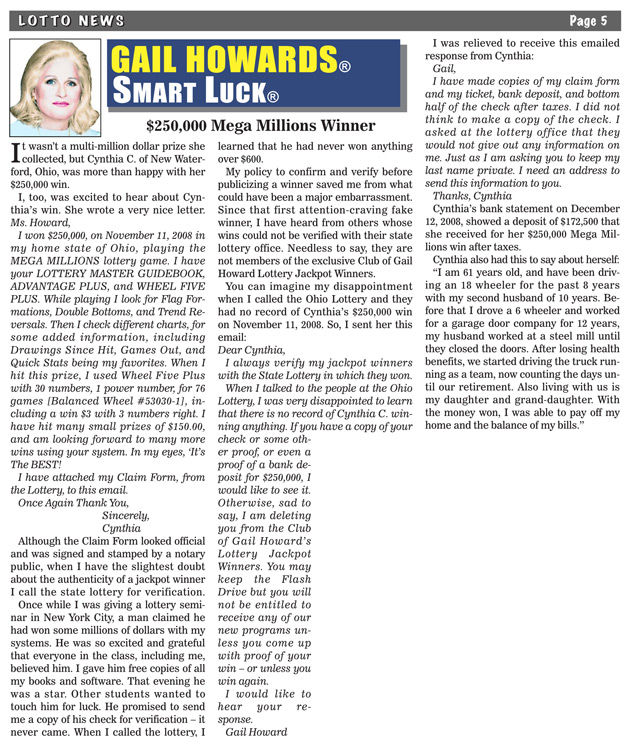 $250,000 Mega Millions Prize Won in Ohio
"Your System is the BEST!"
$250,000 Mega Millions Winner
by Gail Howard
It wasn't a $100 million-plus Mega Millions prize she collected, but Cynthia C. of New Waterford, Ohio, was more than happy with her $250,000 second prize win. I, too, was excited to hear about Cynthia's win. She wrote a very nice letter.
"Ms. Howard,
I won $250,000, on November 11, 2008 in my home state of Ohio, playing the Mega Millions lottery game. I have your Lottery Master Guide book, Advantage Gold, and Wheel Five Gold. While playing I look for Flag Formations, Double Bottoms, and Trend Reversals. Then I check different charts, for some added information, including Drawings Since Hit, Games Out, and Quick Stats being my favorites. When I hit this prize, I used Wheel Five Plus [now Wheel 5 Gold] with 30 numbers, 1 power number, for 76 games [Balanced Wheel® #53030-1], including a win $3 with 3 numbers right. I have hit many small prizes of $150.00, and am looking forward to many more wins using your system. In my eyes, 'It's The BEST! ! I have attached my Claim Form, from the Lottery, to this email.
Once Again Thank You,
Sincerely,
Cynthia"
Although the Mega Millions Claim Form looked official and was signed and stamped by a notary public, when I have the slightest doubt about the authenticity of a jackpot winner, I call the state lottery for verification.
Once while I was giving a lottery seminar in New York City, a man claimed he had won some millions of dollars with my systems. He was so excited and grateful that everyone in the class, including me, believed him. I gave him free copies of all my books and software. That evening he was a star. Other students wanted to touch him for luck. He promised to send me a copy of his check for verification – which never came. When I called the lottery, I learned that he had never won anything over $600.
My policy to confirm and verify before publicizing a winner saved me from what could have been a major embarrassment. Since that first attention-craving fake winner, I have heard from others whose wins could not be verified with their state lottery office. Needless to say, they are not members of the exclusive Club of Gail Howard Lottery Jackpot Winners.
You can imagine my disappointment when I called the Ohio Lottery and they had no record of Cynthia's $250,000 win on November 11, 2008. So, I sent her this email:
"Dear Cynthia,
I always verify my jackpot winners with the State Lottery in which they won. When I talked to the people at the Ohio Lottery, I was very disappointed to learn that there is no record of Cynthia C. winning anything. If you have a copy of your check or some other proof, or even a proof of a bank deposit for $250,000, I would like to see it. Otherwise, sad to say, I am deleting you from the Club of Gail Howard's Lottery Jackpot Winners. You may keep the Flash Drive but you will not be entitled to receive any of our new programs unless you come up with proof of your win -- or unless you win again. I would like to hear your response.
Gail Howard"
I was relieved to receive this emailed response from Cynthia:
"Gail,
I have made copies of my claim form and my ticket, bank deposit, and bottom half of the check after taxes. I did not think to make a copy of the check. I asked at the lottery office that they would not give out any information on me. Just as I am asking you to keep my last name private. I need an address to send this information to you.
Thanks, Cynthia"
Cynthia's bank statement on December 12, 2008, showed a deposit of $172,500 that she received for her $250,000 Mega Millions win after taxes.
Cynthia also had this to say about herself:
"I am 61 years old, and have been driving an 18 wheeler for the past 8 years with my second husband of 10 years. Before that I drove a 6 wheeler and worked for a garage door company for 12 years, my husband worked at a steel mill until they closed the doors. After losing health benefits, we started driving the truck running as a team, now counting the days until our retirement. Also living with us is my daughter and grand-daughter. With the money won, I was able to pay off my home and the balance of my bills."


The lottery products Cynthia C. used to win the Mega Millions jackpot
: Advantage Gold, Lottery Master Guide, and Wheel #53030-1

Advantage Gold™
Number Selection Lotto Software
More Info
ADD TO CART
30 number 1 Power Number Balanced Wheeling
®
Lotto System #53030-1 found in:

Wheel Five Gold™
Balanced Lotto Wheel
®
Software for Pick-5 Games
More Info
ADD TO CART

Lotto Wheel Five to Win
Balanced Wheel
®
System Book for Pick-5 Games
More Info
ADD TO CART
Learn how to win this lotto game for free
: