Illinois Lottery Winner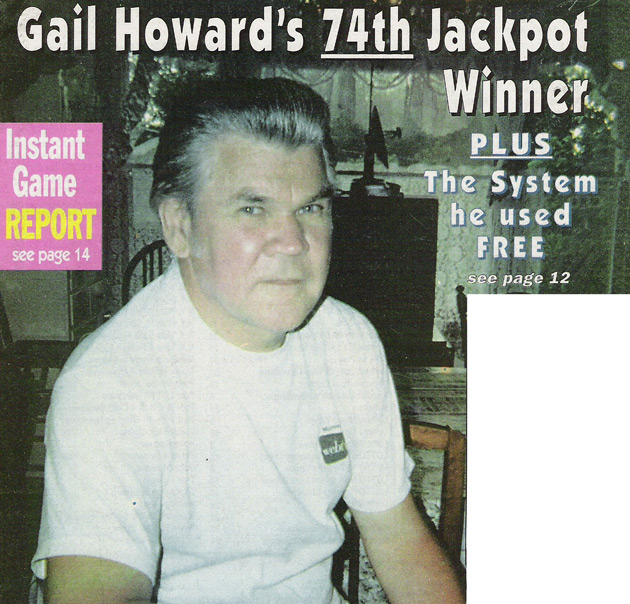 $28,822.50 JACKPOT WON IN ILLINOIS
Hallelujah, Hallelujah!!!
On February 23, 2000, Thomas E. Nelson beat the odds 21 times when he hit the Illinois Little Lotto (now Lucky Day Lotto) jackpot. Not only did he win a first prize worth $28,822.50 but he also won ten 2nd prizes for an additional take of $644 plus ten $51 3rd prizes for another $50. He split the $84,105 top prize with two other winners.
Nelson used my Full Wheel #55007, from the pick-5 lottery wheeling book, Lotto Wheel Five to Win. He is not the only person to win with this system. Shirley Charles of Waverly, New York, used it to win a $38,255 jackpot in New York's TAKE-5 game on January 4, 1994. Nelson sent me all the documented proof of his win along with this very nice note:
"Dear Gail, All the exciting adverbs used to describe my very good fortune and joy is not going to be nearly enough to sincerely thank you for your terrific system."
Lotto Wheel Five to Win System #55007, 7 numbers in 21 games, 5 out of 5 Full Wheel has kept me in the running since 12/13/99 for 2.months with a lot of 2nd prize wins, and then it happened, HALLELUJAH, HALLELUJAH, Winning the big Little Lotto Jackpot $28,822.50, plus $644 2nd prize money. Enclosed are claim forms and photo. Sincerely, Thomas E. Nelson."
Nelson, who sells appliances for Montgomery Ward, said he invested all his winnings in conservative Certificates of Deposit. With his next jackpot win, he said he is going to buy all new appliances for his kitchen. He enjoys raising flowers and vegetables in his 300-foot garden. Nelson, who is 62 and single, and lives with three cats, told me, "I haven't found the right lady."
When I asked him what the reaction was at the lottery office when he presented 21 winning tickets, he said they just threw a clip board at him and said, "Here, fill this out. They'll send you a check."
The night he won, Nelson said he couldn't sleep at all. "I had a lot of excitement going through me. I didn't know how much I had won. It could have been over $200,000, and that's a lot of money." His words of advice: "Don't give up. Keep trying. Patience is prudence."
Thomas Nelson took his own advice and kept trying. Four years later, he won another jackpot that was even bigger. On April 22, 2004, he won $107,021. But that's another story.


The lottery products Thomas Nelson used to win the Illinois Little Lotto jackpot
: Advantage Gold and Wheel #55007

Advantage Gold™
Number Selection Lotto Software
More Info
ADD TO CART
7 numbers in 21 games Full Wheel Lotto System #55007 found in:

Wheel Five Gold™
Balanced Lotto Wheel
®
Software for Pick-5 Games
More Info
ADD TO CART

Lotto Wheel Five to Win
Balanced Wheel
®
System Book for Pick-5 Games
More Info
ADD TO CART

Filtering Full Wheel Generator™
Full Wheeling Software for Pick-3 to Pick-10 Games
More Info
ADD TO CART
Learn how to win this lotto game for free
: