Illinois Little Lotto Winner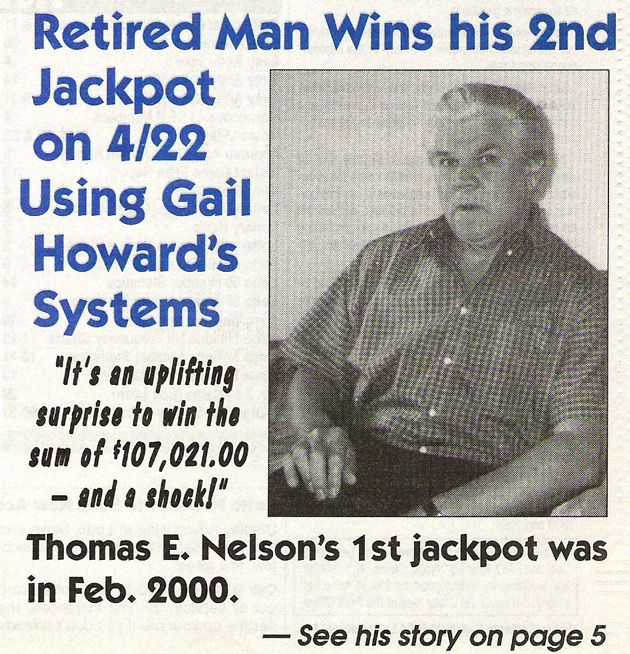 $107,021 WON IN ILLINOIS
Gail Howard's Lotto Winner Hits Second Jackpot
Thomas Nelson is the third person to win two jackpots with my systems. He won his second Illinois Little Lotto (now Lucky Day Lotto) jackpot of $107,021 on April 22, 2004. (He won his first lotto jackpot of $29,000 on February 23, 2000.)
Nelson shared his happy news with me in this letter:
"Dear Gail, It's been truly unbelievable winning TWO (2) jackpots playing Illinois Little Lotto. It gives me great pleasure to tell you about each win. The first was on February 23, 2000 for the amount of $29,000 plus $700.00 extra. And just recently, on April 22, 2004, I won a super jackpot for $107,021 plus $900.00 extra. However, this would not have taken place without Gail Howard's unique and revolutionary software. The Smart Luck Wheel 5 Plus software [now Wheel Five Gold] really reduces and helps beating the odds. In all the in between games (between jackpots) playing Little Lotto I have won countless times from $100.00 to several hundreds of dollars and even $1,000.00 to even higher.
"What excitement I was feeling after viewing the numbers drawn, having all five in my wheel group is like disbelief. And then its real, things get better for I am the only single winner in Little Lotto. It's an uplifting surprise to win the sum of $107,021.00 dollars and a shock. Oh WOW, Gail, what fantastic software you have created.
"Gail Howard what would I do without you. A huge Thank You from the bottom on my heart. Using your software has helped in so many ways. Your Advantage Gold (for picking the numbers) and Wheel Five Plus [now Wheel Five Gold] is the answer to winning lots of money. Using this software has the best wheel systems money can buy, and the knowledge is fantastic with the Advantage Gold software. All your software is so great and easy to install that no one should be without. A super duper thank you Gail, for all your lottery systems.
"With this win, I can help others in my family. Also I believe in a short time I will get another Little Lotto jackpot. God Bless You Gail, You're a wonderful woman and generous person who shares all her knowledge to help others win. Sincerely, Thomas E. Nelson."
On February 25, 2004 the Illinois Little Lotto increased its pick-5 number field from 30 numbers to 39. Nelson decided to move slowly on that game at first because of the increased odds. But, two months later, he nailed a jackpot in that game, too.
Nelson said he uses the automatic Smart Picks® from the Drawings Since Hit Chart® and other charts in my Advantage Gold lottery software. He said, "I usually invest $35 or $70 and if I get three winning numbers, I get $600 back, or if I get two numbers, I get $100. It keeps you in the game using their money."
Nelson used my Power Number® wheel #54027-2, which covers 27 numbers in 104 combinations. Every ticket was a winner! He won 104 prizes. As he checked his tickets, he found many two, three and four-number wins. On the very last ticket was the lotto jackpot winning combination. He said, "When I saw that jackpot winning ticket, I was so full of adrenaline, I wanted to blare it out to the world. My next thought was, 'I hope I'm a single winner.' My first jackpot win was a four-way split, so I got only $29,000."
Now 66 and fully retired, Nelson says he is just having fun and enjoying life. He tends his flower gardens, which his three cats also delight in, and plays golf with his brother, Eric. All within two weeks, he got a good deal on a Cadillac and remodeled his kitchen.
"That's what money does for you," he said, "it makes you happy and want to do things." He invested in the stock market and gave $10,000 to his sister, June.
Nelson said, "My final word is, 'You can't win if you don't play, and remember always use Gail Howard's system."


The lottery products Thomas Nelson used to win the Little Lotto Illinois jackpot for the second time
: Advantage Gold and Wheel #54027-2

Advantage Gold™
Number Selection Lotto Software
More Info
ADD TO CART
27 number 2 Power Number Balanced Wheeling
®
Lotto System #54027-2 found in:

Wheel Five Gold™
Balanced Lotto Wheel
®
Software for Pick-5 Games
More Info
ADD TO CART

Lotto Wheel Five to Win
Balanced Wheel
®
System Book for Pick-5 Games
More Info
ADD TO CART
Learn how to win this lotto game for free
: