California Lotto Winner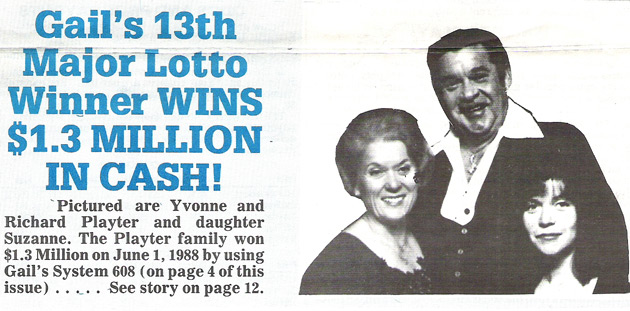 $1,300,000 JACKPOT WON IN CALIFORNIA
Family Pool Wins Jackpot
The Playter family of Torrance, California won $1.3 million in the California Lotto drawing June 1, 1988 - thanks to daughter Suzanne, who had the good sense to wheel the numbers with my 18-number wheeling system. They shared the $2.6 million in the prize pool with one other winner.
Two weeks after claiming the big prize, the Playters picked up a check for $1,052,474.40--in a cash lump sum--their net single payment after taxes. At that moment, they became instant millionaires. What a thrill to cash a check for a million dollars!
Richard Playter, his wife Yvonne and daughter Suzanne, play the California Lotto as a joint effort, but Suzanne picks the numbers and wheels them for the family.
Richard Playter, 59, a manager for a large aerospace company in Calfornia, plans to resign his job and get into a side business fixing up houses and selling them.
As with most big Lotto winners, Richard Playter checked and rechecked the winning numbers on his ticket, not quite believing that they had really won. "I couldn't believe it. I looked at it three or four times," but the actuality of the win "wouldn't sink in until I took it to the lottery office and they confirmed it was a winner," he said.
Mr. Playter admitted that he was elated, but had no trouble sleeping after the win, adding that they were pretty well-off without it. But Suzanne had several sleepless nights. He said, "She didn't stop giggling for two days!"
According to Suzanne, her parents had lost interest in Lotto after playing my system a couple of times and not winning a prize. Undaunted, Suzanne insisted, "No no. We have to play."
"I had to twist their arm to get them to play with me," she said.
Suzanne had a strong intuitive feeling that they would win. "I knew when I bought the tickets. I knew then that we were going to win. I was excited about it."
After her mom and dad told her on the phone that they had won, "We were screaming and hollering on the phone for 15 minutes - saying, 'I can't believe it! Are you sure, are you sure? Check it again!!'"
In spite of her strong inner-awareness that her ticket would win that night, Suzanne didn't watch the drawing on television. She was busily digging tumbleweed on her sister's property. She commented to her sister, "After I win the lottery tonight, I am going to buy a house out here. And that she did. She also bought a car and indulged herself in an expensive watch she loved - and wisely invested the rest.
After buying a new Chevy Baretta for himself and a Z-24 convertible for his wife, Yvonne, the Playters deposited the rest of the windfall in their Merrill Lynch account.
The agent who sold the winning ticket to the Playters was excited, too. They get one half of a percent of the win. "It's you! It's you!!" they screamed, when the Richard Playter came in to fill out the claim form.
It was a strange way in which I learned that the Playter's had used my systems to win a $1.3 million prize. Suzanne sent a check for $73.90 to order both my computer systems along with a note which casually mentioned the big win. She wrote, "Please send me the Smart Luck Computer Wheel and Smart Luck Computer Advantage. Please include winning numbers history for California 6/49. On June 1, 1988, thanks to your 18-number wheeling system, I won 1.3 million dollars in California's 6/49."
Richard Player also wrote a letter: "Dear Gail, This is to confirm our telephone conversation of the other day, and to again thank you for your Smart Luck wheeling systems. On June 1, 1988 two of my family members and I won 1.3 million dollars in the California State Lottery. We used your 18 number wheeling combination. Thank You Again!!!"


The lottery products Richard Player used to win the California lottery jackpot
: Wheel #608
18 number 4/6 guarantee Balanced Wheeling
®
Lotto System #608
found as wheel #64218 in:

Wheel Six Gold™
Balanced Lotto Wheel
®
Software for Pick-6 and Pick-7 Games
More Info
ADD TO CART

Lotto How to Wheel a Fortune
Balanced Wheel
®
System Book for Pick-6 and Pick-7 Games
More Info
Buy Lotto How to Wheel a Fortune on Amazon
Learn how to win California lotto games for free
: