New York Lotto Winner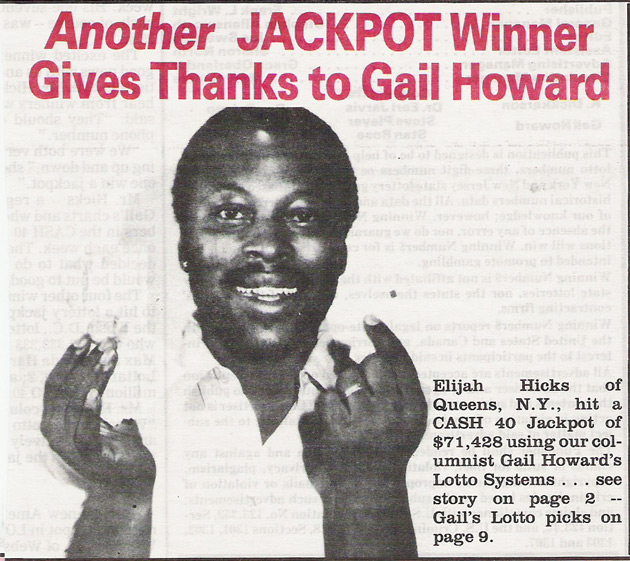 $71,428 JACKPOT WON IN NEW YORK
He Beat Odds of One in 3,838,380
The jackpot winner in the news this month is Elijah Hicks, 36, of South Ozone Park, New York, who hit the $500,000 jackpot in the New York Lotto 6/40 (now 6/59) drawing Aug. 25. Mr. Hicks, a New York City bus driver, arrived at his winning combination — 6, 13, 17, 22, 28, 38 — by selecting 14 numbers from my Skip and Hit® Chart, then wheeled those 14 numbers.
Six other winners shared the $500,000 prize. Mr. Hicks' share was $71,428 — not a huge win for a jackpot, but he did beat the odds of one in 3,838,380! In addition to the first-prize jackpot, he won two third prizes, all for a tota1 investment of $20 in Lotto tickets. One week before his big win, Mr. Hicks had won a second prize of $1,211.40.
Mr. Hicks took calmly the news that he had won the lottery after checking his tickets and realizing that he had the winning combination. He finished feeding his three daughters, Candice, 1; Skakoya, 2; and Tyese, 13 -- and then called his wife with the good news. "At first I didn't believe him," said Cheryl Hicks, "but then I realized he doesn't joke about money."
When asked if the win had changed him, Mrs. Hicks replied jokingly, "No, he's still the same stingy man!" What about future plans? The Hicks family plans to pay its bills, fix up the house and invest the rest. But Mr. Hicks definitely plans to be the first person to win a New York Lotto jackpot twice.
ARTICLE FROM SEPTEMBER 24, 1986 WINNING NUMBER$ PUBLICATION:
WINNERS COLUMN
Another player has hit the jackpot using our columnist Gail Howard's lottery systems. That makes five jackpot winners since May who have credited Ms. Howard for their jackpot success.
The most recent winner is Elijah Hicks of South Ozone Park, N.Y. Mr. Hicks was one of seven winners who hit first prize in New York's Cash 40 game drawn on Monday night each week. His one-seventh share of the $500,000 jackpot -- paid in cash, of course -- was $71,428. The drawing was held on August 25th.
The excited winner called Winning Number$ to share the good news with us and Ms. Howard. We extend our congratulations to both Mr. Hicks and our columnist. "Naturally I love to hear from winners who have used my systems," Ms. Howard said. "They should call Winning Number$ to get my home phone number."
"We were both very excited on the phone, practically jumping up and down!" she added. "It's a great feeling to help someone win a jackpot."
Mr. Hicks -- a regular reader of Winning Number$ --used Gail's charts and wheeling systems to pick the six correct numbers in the CASH 40 game, which has a 6/40 field and is drawn once each week. The winner, a bus driver, said he had not yet decided what to do with his prize money but he was sure it would be put to good use.
The four other winners who have used Ms. Howard's systems to hit a lottery jackpot recently are: Leavelle Carter, who hit the Wash.,D.C., lottery for $6O6,OOO, on May 21; Sherry Jaynes, who won $13,333,333 in New York's LOTTO 48 game on May 31; Max and Wonda Harrell who won $516,000 in the Canadian 6/39 Lottario on Aug. 2; and the "Miller Die-Hards" who hit for $1.4 million in LOTTO 40 on Aug. 4.
Ms. Howard's columns -- "Charting the Lotto Numbers" and "Wheeling the Lotto Numbers" -- appear each week on pages 9 and 14, respectively. Be sure to read them every week; you may be the next in the jackpot winner's circle.


The lottery products Elijah Hicks used to win the New York lottery jackpot
: Advantage Gold and Wheel #507

Advantage Gold™
Number Selection Lotto Software
More Info
ADD TO CART
14 number Balanced Wheeling
®
Lotto System #507 found as wheel #64114 in:

Wheel Six Gold™
Balanced Lotto Wheel
®
Software for Pick-6 and Pick-7 Games
More Info
ADD TO CART

Lotto How to Wheel a Fortune
Balanced Wheel
®
System Book for Pick-6 and Pick-7 Games
More Info
Buy Lotto How to Wheel a Fortune on Amazon
Learn how to win this lotto game for free
: