Florida Lottery Winner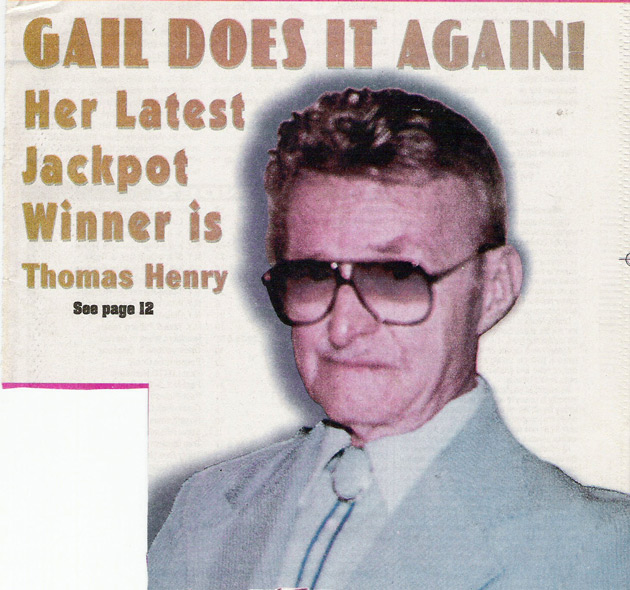 $22,000 JACKPOT WON IN FLORIDA
Widower Gives Entire Jackpot Check to Son
My jackpot winners just keep coming. Thomas Henry of Fort Meyers, Florida won Florida Fantasy 5 jackpot on January 15, 1999. His share of the pot was $22,000.00.
Mr. Henry has been a widower since 1985. His house is paid for, and he lives within his means. So, this very generous winner turned over his entire check to his son to help him with his mortgage payments.
I first heard about Mr. Henry's jackpot win when he placed an order for my Smart Luck Lotto Software Y2K Compliant Upgrade--and just happened to mention that by-the-way he had had some good luck with the system when he hit the jackpot in January.
When I got the news, I called Mr. Henry to congratulate him, and asked him to send me the usual documented proof and a photo of himself and a letter.
He wrote: "Dear Gail Howard, I am sorry for the delay. I had the flu. Thanks for the update software. It was nice hearing your voice on the phone. You have the greatest Lotto program in existence. It's terrific.
"When I first received the floppies and the books, it took a while to absorb it. I am 78 years old. I was winning every night. But no jackpot until January 15, 1999. I would recommend it (your books and software) to everyone. Yours truly, Tom Henry."
When I called Tom Henry, he told me he had made an unintentional visit to McDonald's while returning from his favorite lottery store in Cape Coral. When his brakes gave out, he found himself crashing over an abutment right into the wall of the local McDonald's.
Both he and his car sustained damage and injury. The car was totaled and he spent the day in the hospital. If only a cup of hot McDonald's coffee had spilled on him, he could have hit another jackpot.
As it is, Mr. Henry will have to apply his skill in beating the lottery again to pay for his medical bills and a new car. He's done it once and he knows how to do it again. Last April, he almost won ten jackpots — but was off by one day.