Arizona The Pick Lottery Winners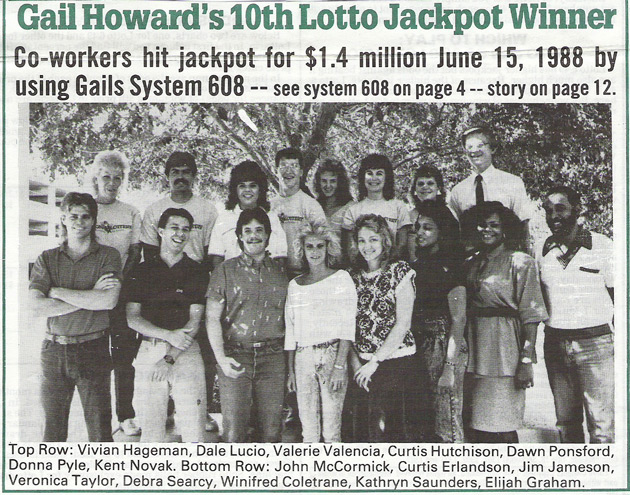 $1,429,5257 JACKPOT WON IN ARIZONA
"I Thought I'd Have a Heart Attack and I'm Only 24 Years Old!"
Curtis Hutchison rounded up 25 co-workers at the Mesa AT&T office in Mesa, Arizona to pool their money to play my wheeling system for the drawing of June 15, 1988. It was the first time his lotto group had ever played together. They hit the Arizona The Pick jackpot for $2,859.030,87. But they had to split it with another lotto winner.
Each of the 26 participants had contributed $16.75 to play my 18-number wheeling system #608 ten times. The 370th ticket played was the jackpot winner. When Curtis saw the winning ticket, he exclaimed, "Oh, my God, we got six!" He said, "I thought I'd have a heart attack right then and I'm only 24 years old. My heart was ready to pound right out of my chest. When I told the others, they were bouncing off the wall."
Each member will receive $54,981.36, paid out over a period of 20 years. Arizona cut separate checks for each of the winners. They have already received the first installment. After the IRS took out $660 (24 percent), each received a check for $2089.00. Curtis told me that from now on he is going to play with family members. But since he was able to prove to everyone that the system works, everyone — even those who previously were skeptical — wants to join his pool. I suggested that he limit the groups to ten members each, which he agreed was a good idea.
I learned about this jackpot win in a very strange way. Jim Williams, the father of a co-worker at this company (who wasn't in the pool) saw the ad for my computer programs in a computer magazine and called to place an order. He casually mentioned the fact that this group had just won the Arizona jackpot using my systems.
Of course, I was thrilled to learn that I had another jackpot winner. When I called Curtis Hutchison, I asked if he had told the people at the lottery office that his group had used my systems to win. He said he certainly had, but that the response from that person was, "I don't know anything about systems. I'm not allowed to play the lottery because I work here." Amazing, isn't it?
But the local newspaper, the Mesa Independent, thought it was worth mentioning. In an article about the jackpot winning group, it said: "Hutchison credits Gail Howard's book, How to Wheel a Fortune, with showing him how to build a winning system."
Curtis Hutchison wrote, "Dear Gail, I was very impressed by your calling me, not many company owners would have personally called a customer to say congratulations and thanks for using our products. This shows me that your company has a human side and isn't afraid to show it.
"When we talked the other day, I explained that since I had pooled so many people together that there was no press conference held. Since our talk I have had two interviews where I explained that if it weren't for your systems I would not have won. The first interview was for the Mesa Independent. The second was with a new magazine called The Lottery Players Guide. They will be using my story as a cover story since I/we are the first to win the Arizona Lottery using a system.
"Leading up to our jackpot win I had been working with your system for about 3 months. It was the first time I had pooled so many people when we won. I have won about 12 4-number wins using your system.
"For this jackpot win I used your Skip and Hit® Chart® along with the Drawings Since Hit Chart® to select my numbers. The wheel I used was the 18-number wheel. I used 10 groups of 18 for this pool, mixing and matching the numbers. Witout your wheels and charts I would not have had any idea on how to mix and select my numbers.
"Thank you for your help and I am looking forward to winning again using your 20-number wheel. Sincerely, Curtis Hutchison."
The entire article as it appeared in the Mesa Independent, dated June 29 — July 5, 1988:
Mesa phone office employees split lottery win
For Curtis Hutchison, it was going to be a one-shot deal, and it paid off. He, his mother, and 24 of his co-workers at the Mesa AT&T office won the Arizona Lottery "Pick" Jackpot on June 15, splitting the $2.8 million kitty with a Tucson woman.
Each of the 26 member group contributed $16.75 for a total of 426 tickets. They will receive 20 annual payments of $2,089.30.
The group bought the winning ticket at Fry's Food store, 825 W. University Dr.
Hutchison credits Gail Howard's book How to Wheel a Fortune with showing him how to build a winning system. He says he began reading the book in January, and that it outlined a way to win a lottery. He says he used statistics, and picked numbers at random.
The Arizona Lottery provides interested players with a list of all of the winning numbers in its history. Using Howard's book and the lottery's list of numbers, Hutchison and his co-workers examined the occurrence of numbers and tried to base their decision on what happened during the past.
Hutchison says his group chose 36 of the 39 numbers correctly,"We were just lucky they matched up," he says.
Hutchison says most of the group that he has talked to say they have paid bills with the first check they received. He bought wedding rings and will pay for part of his honeymoon with his first check.


The lottery products Curtis Hutchison used to win Arizona's The Pick jackpot
: Advantage Gold and Wheel #608

Advantage Gold™
Number Selection Lotto Software
More Info
ADD TO CART
18 number 4/6 guarantee Balanced Wheeling
®
Lotto System #608
found as wheel #64218 in:

Wheel Six Gold™
Balanced Lotto Wheel
®
Software for Pick-6 and Pick-7 Games
More Info
ADD TO CART

Lotto How to Wheel a Fortune
Balanced Wheel
®
System Book for Pick-6 and Pick-7 Games
More Info
Buy Lotto How to Wheel a Fortune on Amazon
Learn how to win this Arizona lottery game for free
: