Illinois Lotto Winner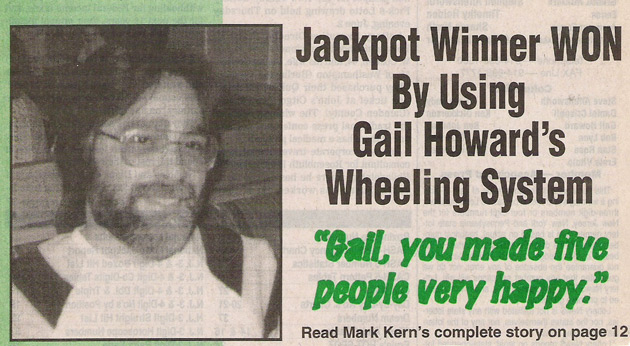 $103,475 JACKPOT WON IN ILLINOIS
"Gail, You Made Five People Very Happy."
I was delighted to hear from my latest jackpot winner, Mark Kern of Indiana. His winning ticket split a $206,950 jackpot in the Illinois Little Lotto (now Lucky Day Lotto) 5/35. Mark sent me a copy of his winning ticket confirmation for HIS $103,475.00 share, along with this interesting letter:
"Dear Gail, I have been running a lottery pool for the last 3 years with people getting in for a while and then getting out after being disgusted with not hitting the BIG one. Well, Monday, May 9, 1994 changed all that.
"I always buy the tickets for the Monday drawing, but as a rule I don't check them for winners until Wednesday's newspaper comes out. So, I went almost all day Tuesday without even knowing we had won.
"Well, after work, a woman from work in my pools calls me up, (she never checks the numbers either) and says she just happened to look at them because the newspaper was handy, and her numbers were in her purse. She gave me the numbers that were drawn, and she said I'd better check them because it looked like we had hit a GRAND PRIZE.
"Sure enough, trying to keep the butterflies in my stomach, my pool had hit the Illinois Little Lotto. And after splitting the grand prize with one other person ended up with $103,475.00 before taxes, plus $174.00 cash from 22 three number prizes.
"Now, needless to say, I have to tell people (in other pools that just buy quick picks) that my pool is full, but I'm considering starting a second pool to accommodate those who want a chance to win, too. (All the people that were in my pool before and dropped out now wish they never had, and I wish them all the Dumb Luck in the world playing their quick picks.)
"I used Wheel 54019-2 from your computer program, Smart Luck Wheel Five Gold. This is a win 4 with 4 right with 19 numbers in 47 games, using 2 Power Numbers. Using the 6 and 15 as Power Numbers, I played our numbers in this order: 06-15-34-04-32-28-19-05-25-27-28-33-17-23-10-30-11-07-14.
"I pick my numbers from several different charts in your Advantage Gold program. First deciding if I want to play any numbers from the last drawing, I consult your "Multiple Hit Pattern Chart." From there, I start selecting numbers that I feel are coming due from only the last 10 games ("Games Out View of History chart"), some of these numbers will be my favorite choices and I usually end up with 4 or 5 of these. I then consult the "Drawings Since Hit Chart" and the "Skip and Hit® Chart" for confirmation, and these become my Power Numbers.
"I always play the same amount of dollars regardless of how many persons are in the pool, and the most ways it gets split are 10. When we won, I had five people in the pool besides myself, two of which were sharing a spot in the pool, so personally I made off with 60 percent of the Grand Prize.
"More important though, I (and YOU, Gail,) also made five people very happy -- one co-worker, one ex-brother-in-law, one ex-wife, one ex-mother-in-law, and one mother. (Yes, I am still on speaking terms with my ex-wife.)
"Me? I'm happy. Money is just a tool in life, but this was more like one of my goals in life, and you helped me attain that goal for which I will be forever grateful. I will continue playing lotteries with others as I don't think God will allow me to get anywhere by being greedy. So, I have this feeling that you are going to be hearing from me again. Mark Kern."


The lottery products Mark Kern used to win the Illinois Little Lottery jackpot
: Advantage Gold and Wheel #54019-2

Advantage Gold™
Number Selection Lotto Software
More Info
ADD TO CART
19 number 2 Power Number Balanced Wheeling
®
Lotto System #54019-2 found in:

Wheel Five Gold™
Balanced Lotto Wheel
®
Software for Pick-5 Games
More Info
ADD TO CART

Lotto Wheel Five to Win
Balanced Wheel
®
System Book for Pick-5 Games
More Info
ADD TO CART
Learn how to win this lotto game for free
: