Georgia Lottery Winner 1998
Updated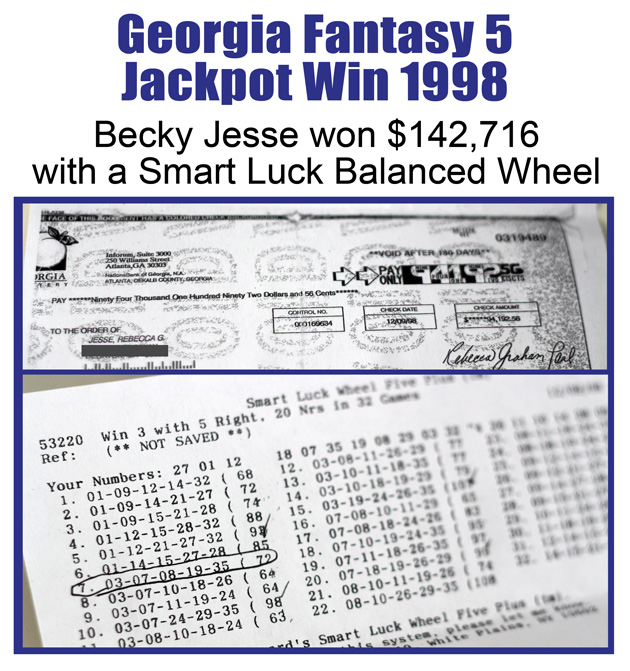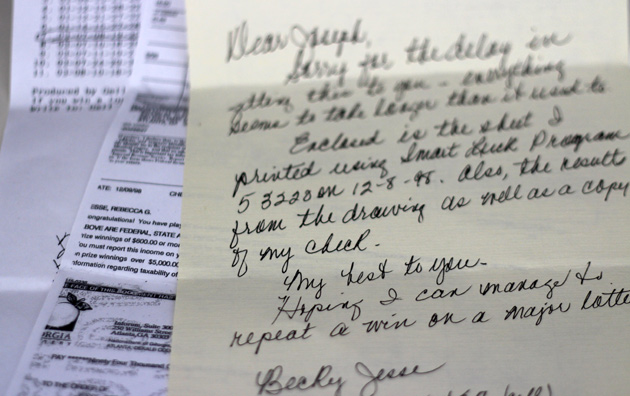 Better late than never!
$142,716 Georgia Fantasy 5 Jackpot Won on December 8, 1998
We are always happy to hear from our jackpot winners, and it can be a nice surprise when they tell us about a win that happened more than 2 decades ago! Becky Jesse sent us documentation from her win back in 1998, making her our 109th known lotto jackpot winner! She writes:
"Sorry for the delay in getting this to you - everything seems to take longer than it used to. Enclosed is the sheet I printed using Smart Luck Program [Wheel Five Plus, now Wheel Five Gold] 53220 on 12-8-98. Also, the results from the drawing as well as a copy of my check.
"My best to you - hoping I can manage to repeat a win on a major lottery."
Becky Jesse


The lottery products Becky used to win the GA Fantasy 5 jackpot
:
32 Number 3/5 Guarantee Balanced Wheel
®
Lotto System found in:

Wheel Five Gold™
Balanced Lotto Wheel
®
Software for Pick-5 Games
More Info
ADD TO CART
Learn how to win this lotto game for free
: