Florida Lottery Winners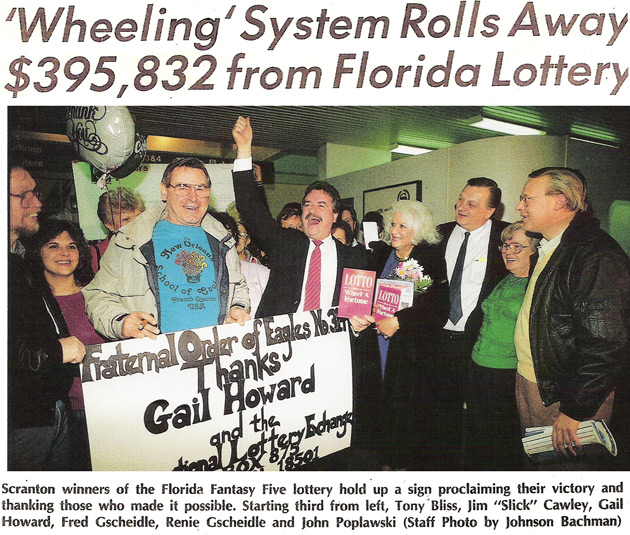 $395,832 JACKPOT WON IN FLORIDA
"It Was a Power Trip Writing So Many Big Checks in One Day."
On Jan. 26, 1990, a group of 27 members of the Fraternal Order of Eagles lodge in Scranton, Pennsylvania, used Gail Howard's 35-number Balanced Wheeling® Lotto System and won the Florida Fantasy 5 jackpot.
The first time the lodge members used this Gail Howard winning lottery system, they won 14 lottery prizes. The second time they used it, they won the lotto, FL Fantasy Five first-prize jackpot of $395,832.68. In addition to the jackpot, they won eight second prizes that paid $404.50 each, and five third prizes that paid $5 each, giving them an additional $1,238.50.
The lotto tickets were purchased for the group by Fred Welker of Lauderdale Lakes, Florida, on behalf of the International Lottery Exchange (I.L.E.). Two of the I.L.E. directors, Fred Gscheidle and Jim Cawley, flew to Florida from Scranton to claim the big prize along with Welker.
On their return, I flew from New York to Scranton to attend the press conference, synchronizing my arrival with theirs.
After they stepped off the plane, Gscheidle and Cawley unfurled a huge five-foot replica of their $395,832.68 check. Triumphantly, they held the huge check above their heads as we descended on the escalator to the wildly applauding crowd below. All 27 members and their families had turned out for the celebration. Everyone was kissing and hugging, and I saw a few tears of joy.
Flashbulbs were popping and video cameras were emitting steady streams of light as newspaper reporters and television camera crews from all three networks recorded the high-spirited event.
Jim Cawley shouted over the pandemonium for silence. He announced that we were going to give out the checks to each of the 27 winners. One by one they filed by and graciously thanked me for making it happen with my lotto system. I gave each one a hug and a kiss and a check for $10,555.52. Welker and Tony Bliss, lodge president, each had two shares. Cawley and Gscheidle split a second share.
The Florida lottery pays the check to one name only. The check was made out to Fred Welker, so it was Welker's duty to deposit the lottery check in his own account and write the checks to each of the other winners. Welker confided that he enjoyed the power trip of writing so many big checks in one day!
The check came at a great time for some. Gscheidle's 23 year-old daughter, Laura, was to be married soon and the windfall would more than cover the wedding expenses. Esther Wharton's job was ending on February 2, and her husband was laid off due to a nearly fatal accident. She said she had never played the lottery before in her life. Her 12-year old daughter, Tami, wore a T-shirt which proclaimed, "Tami's Mom Won the Florida Lottery!" Sisters Rosemary and Sandra Butruce, who each had a share, sported T-shirts covered with dollar bills pinned to them.
Even a small jackpot win can be an exciting emotional event. The joy experienced by each of those 27 winners will be a memory long cherished. Their win is proof that it is better to win a small share of something than to win 100 percent of nothing. Pooling your money with others divides the ticket cost and multiplies your chances of winning. Pooling also allows you to play my larger lotto wheeling systems, increasing your odds.
Three years later, on April 1, 1993, Fred Gscheidle won another jackpot for his group. This time he won Pennsylvania's Cash 5 game. But that's another story...


The lottery products the Fraternal Order of Eagles used to win the Florida Fantasy 5 jackpot
: Advantage Gold and Wheel #53235

Advantage Gold™
Number Selection Lotto Software
More Info
ADD TO CART
35-number 3/5 guarantee pick-5 Balanced Wheeling
®
Lotto System #53235 found in:

Wheel Five Gold™
Balanced Lotto Wheel
®
Software for Pick-5 Games
More Info
ADD TO CART

Lotto Wheel Five to Win
Balanced Wheel
®
System Book for Pick-5 Games
More Info
ADD TO CART
Learn how to win this lotto game for free
: