New York Lottery Winner 2016
Updated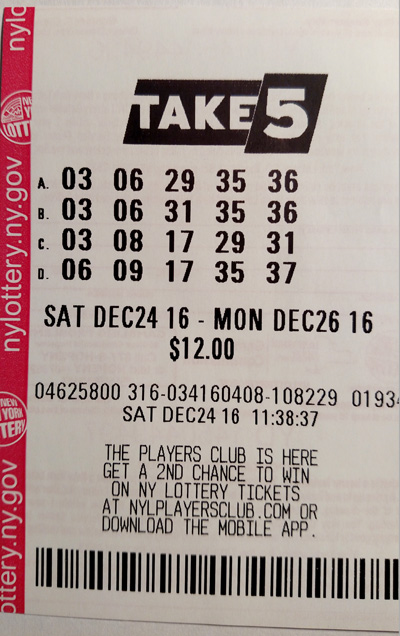 The best luck is Smart Luck and Lotto News. Two weapons to win!
$33,038 New York Take 5 Jackpot Won on December 24, 2016
Terry Simmons is our latest jackpot winner! He won a shared New York Take 5 jackpot on Christmas Eve. Terry sent us a copy of his winning ticket and official claim form along with this letter:
"On Wednesday, December 21 at our company holiday party, one of my long-time co-workers told me she had a dream about me and that I was going to win the lottery and win big! On Saturday morning, December 24, 2016, I used the PULSE Chart method of Stan Rose to select several numbers to play for the NY Take 5 game. After selecting my final 16 numbers, I chose a Gail Howard wheel using 16 numbers for 8 tickets with a win guarantee of 2 if 3. Then I decided to play the same numbers in a different grouping of 8 tickets, but I didn't quite like the initial results, so I used Gail Howard's Advantage Gold lottery software program to find the best pairings among the numbers I had chosen. I ended up moving numbers around in the tickets and that voided the win guarantee of the wheel I had selected. But when I was finished I liked my results. I now had 16 tickets with each number played five times.
Knowing I wouldn't venture out on Christmas Day I decided to play my tickets for three days. I went to Chanatry's Supermarket, locally, to pick up some items for my wife and to play my tickets. From the moment I parked until the moment I left the store, every person I encountered was extremely polite and filled with Christmas spirit. The associate who sold me the tickets wished me a Merry Christmas and I could tell she sincerely meant it. I had a very good feeling overall and I like to purchase my tickets where I get positive feelings from sellers who are genuinely polite and who say those magic words…. "Thank you and Good Luck!"
Christmas morning when I started updating my lottery software, I found one of the best Christmas gifts I could find in the numbers 06-09-17-35-37!
Thank you Stan Rose for the PULSE Chart and Lotto News for being another "weapon to win." Thank you to the late Gail Howard for the inspiration and motivation to nab that often elusive top prize! I had a very Merry Christmas and I wish you all a very happy, healthy and prosperous New Year! Smart Luck all 'n' y'all!"
Terry Simmons


The lottery products Terry used to win the NY Take 5 jackpot
:

Advantage Gold™
Number Selection Lotto Software
More Info
ADD TO CART
16 Number 2/3 Guarantee Balanced Wheel
®
Lotto System found in:

Wheel Five Gold™
Balanced Lotto Wheel
®
Software for Pick-5 Games
More Info
ADD TO CART
Learn how to win this lotto game for free
: