New York Lottery Winner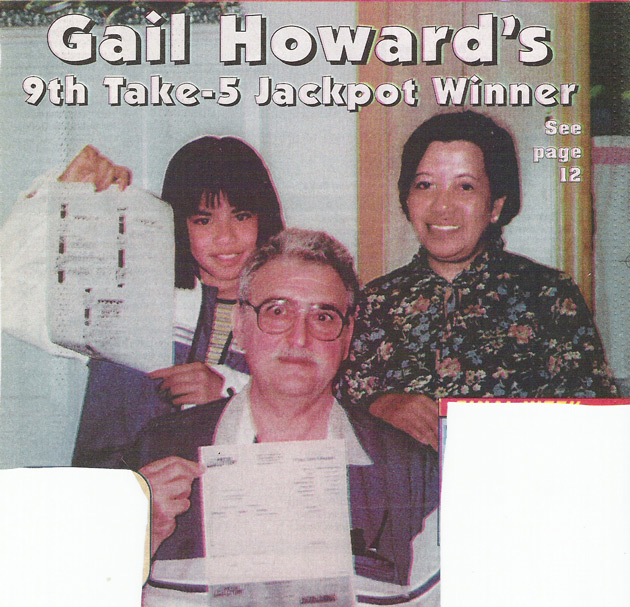 $40,405 JACKPOT WON IN NEW YORK
"I'll Pay Bills and Party!"
I'm always thrilled when anyone notifies me of his or her jackpot win, having won it with my systems. But it's a double delight when it is an old customer and friend with whom I have a special attachment.
Lou Valentino of New Jersey called me ten minutes after he saw that he had won New York's Take-5 jackpot—just after he told his family. On May 13, 1999, he won $40,405.00. When I asked Lou what he planned to do with the winnings, he replied, "Pay Bills and PARTY!!"
I met Lou several years ago at lottery seminars I gave in New York City. And being a very serious student of my lotto number selection methods, he has been a beta site tester for each new release of my Advantage Gold software.
Lou's name is not unfamiliar to readers of this column. There was a period of time when Lou was faxing me copies of his winning tickets after almost every drawing. I wrote about his wins several times.
I asked Lou to write me a letter about his jackpot win and include copies of his winning ticket and check from the lottery, as well as a color photo of himself, so that I would have the necessary documentation to add him to my official list of jackpot winners.
Lou wrote: "Dear Gail, It was only a matter of time before I would win a Jackpot. I followed your sage advice consistently. On Thursday, May 13, 1999, I hit the New York Take Five Jackpot for $40,405.00. In addition, I won a three number prize and four free plays. Copies of the tickets are enclosed.
"As you know, I have been a Beta Tester for you and a longtime student of your teachings. I used Wheel number 53210, 10 numbers with a 3 out of 5 win guarantee in two combinations. I created six two-game wheels which covered 20 numbers (just over half of the field of 39).
"I call this my QUAD-TRAP 20. I created four five-number quadrants with two non-calendar numbers in each quadrant. I picked the remaining numbers which were hot. I included number 25 out the most for its average, and came up with my best 20. I wheeled quadrant #1 with #2, #3 and #4. I wheeled #2 with #3 and #4, and finally #2 with #3. This combination allowed me to trap the winning numbers for a total cost of $12.
"You deserve a lot of credit for teaching us how to select the best numbers to play. But the most important factor was to optimize the combinations for a balance between odd-even, high-low, and the most probable sum.
"For the skeptics out there, I challenge you to come up with a better method of selecting numbers than with the Gail Howard's Advantage Gold program. Gail, remind your readers that Smart Luck is better than Dumb Luck. I know because I'm now part of your elite group of Jackpot Winners which you helped to see their fantasy dreams come true. Sincerely, Louis F. Valentino"


The lottery products Louis Valentino used to win the NY Take Five Lotto jackpot
: Advantage Gold and Wheel #53210

Advantage Gold™
Number Selection Lotto Software
More Info
ADD TO CART
10 number Balanced Wheeling
®
Lotto System #53210 found in:

Wheel Five Gold™
Balanced Lotto Wheel
®
Software for Pick-5 Games
More Info
ADD TO CART

Lotto Wheel Five to Win
Balanced Wheel
®
System Book for Pick-5 Games
More Info
ADD TO CART
Learn how to win this lotto game for free
: