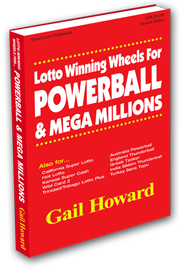 Lotto Winning Wheels for Powerball & Mega Millions
Overview:
Lotto Winning Wheels for Powerball & Mega Millions
includes Balanced Wheeling Systems for Powerball and Mega Millions and other similar pick-5 + pick-1 lottery games.
---
---
Product Information
---
Lotto Winning Wheels for Powerball and Mega Millions is a book of lottery systems for Powerball, Mega Millions and other Powerball type of lottery games. All the Powerball and Mega Millions wheels in this lotto book have GUARANTEED WINS-- which means specific minimum lottery win guarantees.
Use this Book to Win Any Powerball Game in the World
This is the ONLY lottery book with win guarantees specifically for the headline grabbing mega jackpot games of Powerball and Megamillions. Lotto jackpots upwards of $300 million have incited lottery fever throughout the country.
109 documented lotto winners have already won over 101 MILLION dollars in first prize jackpots with Gail Howard's Systems...
---
Inside Lotto Winning Wheels for Powerball & Mega Millions
190 lotto wheeling systems for Powerball type games.
Has a wide variety of Balanced Wheel® Systems in every price range from $2 up to $100's.
Affordable wheels: These lotto systems range in price from $2. Of the 190 systems, 87 cost $20 or less to play; 46 cost $10 or less, and 17 cost $5 or less.
Easy to use as A-B-C: Play with large groups of lotto numbers and simply place them in the corresponding lettered boxes. Fast and easy, so simple a child can do it.
Mathematically correct, totally accurate win guarantees - the minimum win guarantees in this book are flawless, without holes. Guaranteed!
Shows minimum win guarantees and maximum wins possible with each system - The minimum and maximum number of multiple lotto prizes possible to win (both WITH and WITHOUT the 6th ball) are shown for each lottery system in the lotto wheeling book.
Works for all powerball type games. Powerball games include Powerball and Mega Millions, the most popular USA games played in almost every lottery state; Hot Lotto played in six states; Wild Card 2 played in three states. Use this lottery book also for California SuperLotto and Kansas Super Cash. Powerball type games played internationally are: Australia Powerball, England U.K. Thunderball, Greek Tzoker, India Sikkim Thunderball, Trinidad/Tobago Lotto Plus, and Turkey Sans Topu.
Has built-in Balanced Games® - no more unbalanced, wasted combinations. This unique feature refines lottery wheeling to a state-of-the art science.
Reveals which number groups have a 70% chance of winning.
Tells how to buy fewer tickets, yet have a greater chance to win.
Shows how to reduce the odds by millions.
Wheels up to ALL 56 Mega Millions numbers (or up to 56 of any numbers from 1-99 including 56 of the total 59 Powerball numbers).
Shows how many times each lotto number is used, so you can place your best lotto numbers in the strongest system positions.
Times in Wheel™ handicapping feature shows how many times each system position is in the wheel, so you can place your strongest numbers where they appear most often.
Instant Wheel Finder™ helps quickly locate the best lottery wheel for your purposes and budget.
Budget Wheel Finder® by GAMES shows all wheels in the book in order by the number of games required so you can locate the wheel that fits your budget right away.
Budget Wheel Finder® by NUMBERS shows all lotto wheels in the book in order by how many numbers are used, so that you can find the best wheel that lets you play 20 numbers, for example.
---
Testimonials
---
Quotes from readers of Lotto Winning Wheels for Powerball & Mega Millions
"This book cuts down the odds with a better chance at winning lottos games. Very informative with many game wheels for all wallets. A must have if you want a better chance at winning than watching others win and wish it were you."
- Carmine Ferrari
---
Table of Contents
---
Powerball and Powerball Clones 1

Published Odds Charts 4

A Few Words On Playing Smarter 7

The Balanced Game® 14

Most Probable Range of Sums® 15

Balanced Wheels® 15

How to Wheel 20

Win Guarantees Explained 24

Minimum and Maximum Wins 26

Choosing the Powerball Ball 30

Times In the Wheel Handicapping Feature 32

Wheeling Guidelines 33

Wheel FINDER Tables Explained 35

A Final Word to Future Jackpot Winners 37

More Lottery Products to Help You Win 39

INSTANT Wheel Index 273

INSTANT Wheel Finder™ 274

Budget Wheel Finder® by Cost™ 275

Budget Wheel Finder® by Numbers™ 277

Powerball Balanced Wheels® - Win 2 with 5 Right

#52320PB Wheel 20 Numbers in 4 Games 43

#52321PB Wheel 21 Numbers in 6 Games 43

#52322PB Wheel 22 Numbers in 6 Games 44

#52323PB Wheel 23 Numbers in 7 Games 45

#52324PB Wheel 24 Numbers in 8 Games 45

#52325PB Wheel 25 Numbers in 9 Games 46

#52326PB Wheel 26 Numbers in 10 Games 47

#52327PB Wheel 27 Numbers in 11 Games 48

#52328PB Wheel 28 Numbers in 12 Games 49

#52329PB Wheel 29 Numbers in 13 Games 49

#52330PB Wheel 30 Numbers in 14 Games 50

#52331PB Wheel 31 Numbers in 15 Games 51

#52332PB Wheel 32 Numbers in 16 Games 52

#52334PB Wheel 34 Numbers in 18 Games 53

#52336PB Wheel 36 Numbers in 20 Games 54

#52339PB Wheel 39 Numbers in 23 Games 55

#52342PB Wheel 42 Numbers in 26 Games 56

#52345PB Wheel 45 Numbers in 30 Games 57

#52347PB Wheel 47 Numbers in 33 Games 58

#52355PB Wheel 55 Numbers in 45 Games 59

#52356PB Wheel 56 Numbers in 48 Games 60

Powerball Balanced Wheels® - Win 2 with 4 Right

#52215PB Wheel 15 Numbers in 3 Games 62

#52216PB Wheel 16 Numbers in 5 Games 63

#52217PB Wheel 17 Numbers in 5 Games 63

#52218PB Wheel 18 Numbers in 6 Games 64

#52219PB Wheel 19 Numbers in 7 Games 65

#52220PB Wheel 20 Numbers in 8 Games 65

#52221PB Wheel 21 Numbers in 9 Games 66

#52222PB Wheel 22 Numbers in 10 Games 67

#52223PB Wheel 23 Numbers in 11 Games 67

#52224PB Wheel 24 Numbers in 12 Games 68

#52225PB Wheel 25 Numbers in 13 Games 69

#52226PB Wheel 26 Numbers in 14 Games 70

#52227PB Wheel 27 Numbers in 15 Games 71

#52228PB Wheel 28 Numbers in 16 Games 71

#52230PB Wheel 30 Numbers in 18 Games 72

#52231PB Wheel 31 Numbers in 19 Games 73

#52232PB Wheel 32 Numbers in 20 Games 74

#52234PB Wheel 34 Numbers in 23 Games 75

#52236PB Wheel 36 Numbers in 26 Games 76

#52239PB Wheel 39 Numbers in 28 Games 77

#52242PB Wheel 42 Numbers in 34 Games 79

#52245PB Wheel 45 Numbers in 38 Games 80

#52247PB Wheel 47 Numbers in 41 Games 81

#52255PB Wheel 55 Numbers in 52 Games 82

#52256PB Wheel 56 Numbers in 84 Games 84

Powerball Balanced Wheels® - Win 2 with 3 Right

#52112PB Wheel 12 Numbers in 4 Games 85

#52113PB Wheel 13 Numbers in 5 Games 86

#52114PB Wheel 14 Numbers in 6 Games 87

#52115PB Wheel 15 Numbers in 8 Games 87

#52116PB Wheel 16 Numbers in 8 Games 88

#52117PB Wheel 17 Numbers in 9 Games 89

#52118PB Wheel 18 Numbers in 10 Games 89

#52119PB Wheel 19 Numbers in 11 Games 90

#52120PB Wheel 20 Numbers in 12 Games 91

#52121PB Wheel 21 Numbers in 13 Games 92

#52122PB Wheel 22 Numbers in 14 Games 92

#52123PB Wheel 23 Numbers in 16 Games 93

#52124PB Wheel 24 Numbers in 17 Games 94

#52125PB Wheel 25 Numbers in 19 Games 95

#52126PB Wheel 26 Numbers in 20 Games 96

#52127PB Wheel 27 Numbers in 21 Games 97

#52128PB Wheel 28 Numbers in 23 Games 98

#52129PB Wheel 29 Numbers in 25 Games 99

#52130PB Wheel 30 Numbers in 26 Games 100

#52131PB Wheel 31 Numbers in 27 Games 101

#52132PB Wheel 32 Numbers in 28 Games 102

#52134PB Wheel 34 Numbers in 31 Games 103

#52136PB Wheel 36 Numbers in 34 Games 104

#52139PB Wheel 39 Numbers in 40 Games 105

#52142PB Wheel 42 Numbers in 42 Games 106

#52145PB Wheel 45 Numbers in 53 Games 108

#52147PB Wheel 47 Numbers in 60 Games 109

#52155PB Wheel 55 Numbers in 86 Games 111

#52156PB Wheel 56 Numbers in 91 Games 113

Powerball Balanced Wheels® - Win 2 with 2 Right

#52007PB Wheel 7 Numbers in 3 Games 115

#52008PB Wheel 8 Numbers in 4 Games 115

#52009PB Wheel 9 Numbers in 5 Games 116

#52010PB Wheel 10 Numbers in 6 Games 117

#52011PB Wheel 11 Numbers in 7 Games 117

#52012PB Wheel 12 Numbers in 9 Games 118

#52013PB Wheel 13 Numbers in 10 Games 119

#52014PB Wheel 14 Numbers in 12 Games 119

#52015PB Wheel 15 Numbers in 13 Games 120

#52016PB Wheel 16 Numbers in 15 Games 121

#52017PB Wheel 17 Numbers in 16 Games 122

#52018PB Wheel 18 Numbers in 19 Games 122

Powerball Balanced Wheels® - Win 2 with 2 Right Continued

#52019PB Wheel 19 Numbers in 20 Games 123

#52020PB Wheel 20 Numbers in 21 Games 124

#52022PB Wheel 22 Numbers in 27 Games 125

#52023PB Wheel 23 Numbers in 28 Games 126

#52024PB Wheel 24 Numbers in 32 Games 127

#52025PB Wheel 25 Numbers in 36 Games 128

#52026PB Wheel 26 Numbers in 39 Games 129

#52027PB Wheel 27 Numbers in 42 Games 131

#52028PB Wheel 28 Numbers in 45 Games 132

#52029PB Wheel 29 Numbers in 48 Games 133

#52030PB Wheel 30 Numbers in 51 Games 134

#52031PB Wheel 31 Numbers in 55 Games 136

#52032PB Wheel 32 Numbers in 58 Games 137

#52033PB Wheel 33 Numbers in 62 Games 139

#52034PB Wheel 34 Numbers in 67 Games 140

#52035PB Wheel 35 Numbers in 71 Games 142

#52036PB Wheel 36 Numbers in 75 Games 144

#52037PB Wheel 37 Numbers in 78 Games 145

#52038PB Wheel 38 Numbers in 83 Games 147

#52039PB Wheel 39 Numbers in 88 Games 149

#52040PB Wheel 40 Numbers in 92 Games 151

#52042PB Wheel 42 Numbers in 102 Games 153

#52045PB Wheel 45 Numbers in 116 Games 155

#52047PB Wheel 47 Numbers in 126 Games 158

#52055PB Wheel 55 Numbers in 172 Games 160

#52056PB Wheel 56 Numbers in 178 Games 164

Powerball Balanced Wheels® - Win 3 with 5 Right

#53210PB Wheel 10 Numbers in 2 Games 167

#53211PB Wheel 11 Numbers in 5 Games 167

#53212PB Wheel 12 Numbers in 6 Games 168

#53213PB Wheel 13 Numbers in 9 Games 169

#53214PB Wheel 14 Numbers in 10 Games 169

#53215PB Wheel 15 Numbers in 13 Games 170

#53216PB Wheel 16 Numbers in 16 Games 171

#53217PB Wheel 17 Numbers in 20 Games 172

#53218PB Wheel 18 Numbers in 24 Games 173

#53219PB Wheel 19 Numbers in 28 Games 174

#53220PB Wheel 20 Numbers in 32 Games 175

#53221PB Wheel 21 Numbers in 37 Games 176

#53222PB Wheel 22 Numbers in 40 Games 177

#53224PB Wheel 24 Numbers in 54 Games 178

#53225PB Wheel 25 Numbers in 63 Games 179

#53227PB Wheel 27 Numbers in 77 Games 181

#53228PB Wheel 28 Numbers in 86 Games 183

#53230PB Wheel 30 Numbers in 102 Games 184

#53231PB Wheel 31 Numbers in 111 Games 187

#53232PB Wheel 32 Numbers in 125 Games 189

#53234PB Wheel 34 Numbers in 136 Games 191

#53236PB Wheel 36 Numbers in 176 Games 194

#53239PB Wheel 39 Numbers in 241 Games 197

#53245PB Wheel 45 Numbers in 359 Games 201

Powerball Balanced Wheels® - Win 3 with 4 Right

#53109PB Wheel 9 Numbers in 5 Games 207

#53110PB Wheel 10 Numbers in 7 Games 208

#53111PB Wheel 11 Numbers in 10 Games 208

#53112PB Wheel 12 Numbers in 12 Games 209

#53113PB Wheel 13 Numbers in 18 Games 210

#53114PB Wheel 14 Numbers in 23 Games 211

#53115PB Wheel 15 Numbers in 28 Games 212

#53116PB Wheel 16 Numbers in 37 Games 213

#53117PB Wheel 17 Numbers in 46 Games 214

#53118PB Wheel 18 Numbers in 56 Games 215

#53119PB Wheel 19 Numbers in 66 Games 216

#53120PB Wheel 20 Numbers in 76 Games 218

#53121PB Wheel 21 Numbers in 84 Games 219

#53122PB Wheel 22 Numbers in 98 Games 221

#53124PB Wheel 24 Numbers in 129 Games 223

Powerball Balanced Wheels® - Win 3 with 3 Right

#53006PB Wheel 6 Numbers in 4 Games 226

#53007PB Wheel 7 Numbers in 5 Games 226

#53008PB Wheel 8 Numbers in 8 Games 227

#53009PB Wheel 9 Numbers in 12 Games 228

#53010PB Wheel 10 Numbers in 17 Games 228

#53011PB Wheel 11 Numbers in 20 Games 229

#53012PB Wheel 12 Numbers in 29 Games 230

#53013PB Wheel 13 Numbers in 34 Games 231

#53014PB Wheel 14 Numbers in 43 Games 232

#53015PB Wheel 15 Numbers in 57 Games 233

#53016PB Wheel 16 Numbers in 65 Games 234

#53017PB Wheel 17 Numbers in 68 Games 236

#53018PB Wheel 18 Numbers in 94 Games 237

#53019PB Wheel 19 Numbers in 108 Games 239

#53020PB Wheel 20 Numbers in 133 Games 242

Powerball Balanced Wheels® - Win 4 with 5 Right

#54107PB Wheel 7 Numbers in 3 Games 244

#54108PB Wheel 8 Numbers in 5 Games 245

#54109PB Wheel 9 Numbers in 9 Games 245

#54110PB Wheel 10 Numbers in 14 Games 246

#54111PB Wheel 11 Numbers in 26 Games 247

#54112PB Wheel 12 Numbers in 37 Games 248

#54113PB Wheel 13 Numbers in 58 Games 249

#54114PB Wheel 14 Numbers in 76 Games 250

#54115PB Wheel 15 Numbers in 118 Games 252

#54116PB Wheel 16 Numbers in 159 Games 254

Powerball Balanced Wheels® - Win 4 with 4 Right

#54006PB Wheel 6 Numbers in 5 Games 257

#54007PB Wheel 7 Numbers in 9 Games 257

#54008PB Wheel 8 Numbers in 20 Games 258

#54009PB Wheel 9 Numbers in 30 Games 259

#54010PB Wheel 10 Numbers in 51 Games 260

#54011PB Wheel 11 Numbers in 66 Games 261

#54012PB Wheel 12 Numbers in 113 Games 262

#54013PB Wheel 13 Numbers in 157 Games 265

Powerball Balanced Wheels® - Win 5 with 5 Right

#55006PB Wheel 6 Numbers in 6 Games 267

#55007PB Wheel 7 Numbers in 21 Games 268

#55008PB Wheel 8 Numbers in 56 Games 269

#55009PB Wheel 9 Numbers in 126 Games 270
---
Special Offers
---

CART
Turn a game of luck into a game of skill!™