The following item has been added to your cart:
Lotto Winning Wheels for Powerball & Mega Millions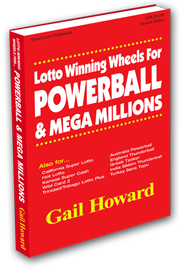 278-page 2006 2nd edition, has 190 lotto wheeling systems for all Powerball type lotto games, including MEGA Millions, Hot Lotto, Wild Card 2; also for California SuperLotto, Kansas Super Cash, Australian Powerball, England Thunderball, Greece Tzoker, India Sikkim Thunderball, and Turkey Sans Topu. Wheels up to 56 lotto numbers. Use this lottery wheeling book to select the best lotto combinations to win Powerball or your favorite powerball type lotto game. NOTE: Additional sales or discounts are shown at the bottom of the checkout page, and do not reflect on the price inside this box.
$14.95

CART
Turn a game of luck into a game of skill!™