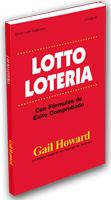 Lotto Loteria
Overview:
Lotto Loteria
is a 64-page lottery book that explains the basics of Gail Howard's incomparable, unique jackpot-winning Balanced Wheel
®
Systems.
---
$9.95
+ S&H
64 pages
ISBN-13 978-0945760443
---
Product Information
---
Resúmen
Fórmulas de sesenta segundos para loterías. El libro de Gail Howard, " LOTTO LOTERIA: Con fórmulas de éxito comprobado", convierte un juego de suerte en un juego de habilidad. Toma menos de un minuto aplicar cualquiera de las 12 fórmulas de 60 segundos fáciles de usar presentadas en este libro. Elija más de seis números de lotería y colóquelos en los cuadros rotulados correspondientes; sus números se combinan mágicamente (matemáticamente) en las formas correctas para proporcionar una garantía de victoria específica. No existe otro modo más sencillo de combinar grupos de números de lotería científicamente. Es tan simple que hasta un niño puede hacerlo. Es rápido y muy fácil de usar. Incluye un arma secreta que ganó seis premios gordos equivalentes a una combinación total de 20 millones de dólares y una fórmula que ganó 9,48 millones de dólares en el premio gordo de la lotería de California. Estos sistemas pueden utilizarse para cualquier juego en el mundo que consista en elegir seis opciones, como el Loto 6/41 de Argentina, el Loto 6/39 de Chile, el Melate y Revancha 6/56 de México, La Tinka 6/45 de Perú, y la Lotería Primitiva y el BonoLoto 6/49 de España.
---
Gail Howard's Lotto Loteria & Strategies

CART
Turn a game of luck into a game of skill!™