Build your software package to save more!
Lottery Software Package Discounts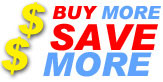 Smart Luck offers generous discounts for purchasing multiple programs in the same order, so you can get everything you need to win the lottery at a great price. These special discounts are always given automatically with your qualifying purchase, even in addition to other promotional sales or offers that may be available.
NOTE: This discount extends only to NEW software purchased in a single order.
BOOKS, SOFTWARE UPGRADES, and PREVIOUSLY PURCHASED SOFTWARE are NOT eligible for this discount.
BUY MORE, SAVE MORE!
Save at least $20 when you buy a software package today. You can save up to $70!
Save $20.00 When You Buy ANY TWO Programs Together
Save $30.00 When You Buy ANY THREE Programs Together
Save $40.00 When You Buy ANY FOUR Programs Together
Save $55.00 When You Buy ANY FIVE Programs Together
Save $70.00 When You Buy ALL SIX Programs Together (Advantage Gold, Wheel Four Gold, Wheel Five Gold, Wheel Six Gold, Wheel Ten Gold, and FFWG)
Most Popular Package: Advantage Gold, Wheel 6 Gold, and Wheel 5 Gold
Buying our three best-selling lottery software programs, Advantage Gold™, Wheel Six Gold™, and Wheel Five Gold™, together instead of separately saves you $30. This great package will give you strategy charts AND wheels that work for any pick-5 or pick-6 game in the world including Powerball and Mega Millions!
Not sure what to order?
To find out what programs work for your game, pick your state or country from the best lottery software to buy page.
How to Get the Discount
It's easier than ever to save! There is no need for a coupon or voucher to get this amazing bargain deal. This is a year round deal that never expires!
ONLINE: Just add more than one program to your cart by clicking the Add to Cart button next to the programs you want on the Lotto Software page or the right side of this page, and the discount (based on how many total programs are in your order) will automatically be calculated into your order total. The savings will show as "multi-program discount" when you proceed to checkout, and you can verify your order total on the form before entering personal information.
PHONE: Or, place your order by phone, and you can still get the discount automatically with qualifying purchase. Call 1-727-441-8906 to order your program package.
MAIL: Select the discount package you want from the Print and Mail Order Form after you print it, then mail it in with your payment to the address on the form.

Advantage Gold™
Number Selection Lotto Software
More Info
ADD TO CART
---

Wheel Six Gold™
Balanced Lotto Wheel
®
Software for Pick-6 and Pick-7 Games
More Info
ADD TO CART
---

Wheel Five Gold™
Balanced Lotto Wheel
®
Software for Pick-5 Games
More Info
ADD TO CART
---
More Info
ADD TO CART
---

Wheel 10 Gold
Balanced Lotto Wheel
®
Software for Pick-8, Pick-9, and Pick-10 Keno Games
More Info
ADD TO CART
---

Filtering Full Wheel Generator™
Full Wheeling Software for Pick-3 to Pick-10 Games with Filters
More Info
ADD TO CART
---
More Help for Which Products to Buy for Your Game
:

CART
Turn a game of luck into a game of skill!™