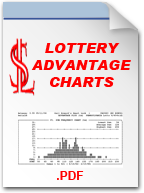 Lottery Advantage Charts™
Overview:
Lottery Advantage Charts™ contains a set of number selection strategy charts created for your selected lottery.
---
ADD TO CART
$15.00
+ S&H
Printout or PDF Downloadable File
---
Product Information
---
$15 Download of Lottery Advantage Charts
For Your Favorite Lottery Game!

Advantage Gold™ lotto software (and the older Advantage Plus) contains all the best of the famous Gail Howard original methods as well as her latest strategies to beat the newest lotto games, and you can try them out with this set of printed Lottery Advantage Charts.
---
About Lottery Advantage Charts
Charts are produced by Smart Luck Advantage Plus (chart data is the same as Advantage Gold but not in 3D graphs) software.
Pdf format can be viewed on Windows PC's, Apple PC's, and any devices that can read the standardized pdf format files (i.e. I-pads, kindles and all android devices).
Charts are custom made with your lotto game's number history: you choose which game from our list of hundreds of available lotteries around the world.
Charts include the most recent drawings available at the time of shipping.
Contains 33 different charts and 13 Powerball-only charts (if applicable).
Seven of the charts show Gail's Smart Picks with an asterisk, '*' at the left of the number.
---
Compatibility
---
Media Options
Printed Format. Full set of charts printed out and shipped to you. Requires Shipping Fee (if you purchase more than one chart, shipping fees for the additional sets are reduced).
Adobe Acrobat PDF Format. Full set of charts saved to a PDF file and emailed to you. No Shipping Fee. View all charts on screen (on any computer or device that can view PDF files) and print only the ones you want to work with or print them all to get exactly the same thing we ship for a set of charts.
---
Uses and Limitations
The Lottery Advantage printed charts can be useful for those without access to a computer or those with an operating system that will not run the Advantage Gold software. It is also an inexpensive option if you just want to try out using strategies to play the lotto once.
The Lottery Advantage printed charts are limited because they are calculated based on history only up to the last drawing since the chart was printed. They will quickly become out of date.
For the ability to create the charts yourself, you can order the Advantage Gold software, which will work for hundreds of lotteries, and will make the charts for any drawing you may want to play in the future.
---
U.S. Lottery Results Available for Lottery Advantage Charts
You can choose any of the following games when you add Lottery Advantage Charts to your cart. Note: Some games are not currently available if they are new or have recently changed due to the lack of adequate drawing history (i.e. Mega Millions which has changed format as of October 2017). It is better to wait until more combinations have been drawn under the new format so the trends will be more accurate.
---
World Lottery Results Available for Lottery Advantage Charts
You can choose any of the following games when you add Lottery Advantage Charts to your cart.
---
Help
---
Basic Help Tutorial Included
Lottery Advantage Charts come with an 11-page letter sized manual that shows very briefly how to read the charts. If you order the PDF downloadable version, you will get a PDF version of this manual as well.
A Lottery Advantage Scoreboard worksheet is also included which you can fill out as you study the charts.
For more advanced help, you can purchase the Lottery Master Guide book which shows you detailed explanations of how these charts are created so you can continue to update them on your own as new drawings are added to your game's history.
---

CART
Turn a game of luck into a game of skill!™