Florida Fantasy Five Lottery Winner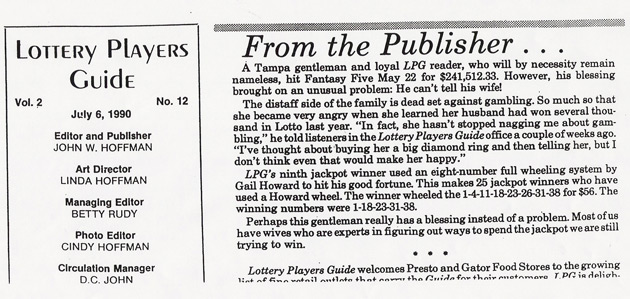 $241,512.33 JACKPOT WON IN FLORIDA
Winner's Family Dead Set Against Gambling
From the Publisher. . .
A Tampa gentleman and loyal LPG reader, who will by necessity remain nameless, hit the Florida Fantasy Five jackpot on May 22 for $241,512.33. However, his blessing brought on an unusual problem: He can't tell his wife!
The distaff side of the family is dead set against gambling. So much so that she became very angry when she learned her husband had won several thousand in Lotto last year. "In fact, she hasn't stopped nagging me about gambling," he told listeners in the Lottery Players Guide office a couple of weeks ago. "I've thought about buying her a big diamond ring and then telling her, but I don't think even that would make her happy."
LPG's ninth jackpot winner used an eight-number full wheeling system by Gail Howard to hit his good fortune. This makes 25 jackpot winners who have used a Howard wheel. The winner wheeled the 1-4-11-18-23-26-31-38 for $56. The winning numbers were 1-18-23-31-38.
Perhaps this gentleman really has a blessing instead of a problem. Most of us have wives who are experts in figuring out ways to spend the jackpot we are still trying to win.


The lottery products this lottery winner used to hit the Fantasy 5 Florida jackpot
: Wheel #55008
8 number Full Wheeling
®
Lotto System #55008 found in:

Wheel Five Gold™
Balanced Lotto Wheel
®
Software for Pick-5 Games
More Info
ADD TO CART

Lotto Wheel Five to Win
Balanced Wheel
®
System Book for Pick-5 Games
More Info
ADD TO CART

Filtering Full Wheel Generator™
Full Wheeling Software for Pick-3 to Pick-10 Games
More Info
ADD TO CART
Learn how to win this lotto game for free
: