Pennsylvania Wild Card Lottery Winner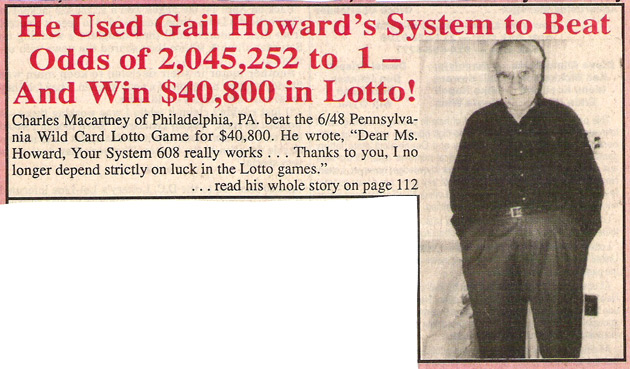 $40,800 WON IN PENNSYLVANIA
Winner Beats Odds of One in Two Million
Charles V. Macartney of Philadelphia, PA, won $40,800.00 on June 26, 1990 in the Pennsylvania Wild Card 6/48 Lotto game. He beat odds of one in 2,045,252 by having the correct five winning numbers plus the Wild Card bonus number.
Charles Macartney wrote, "Dear Ms. Howard, Your system 608 really works. June 26, 1990, I won $40,800.00 in the Pennsylvania Wild Card Lotto game. Thanks to your System 608, I won the with five numbers and the wild card that day. The only ticket with the correct numbers. Enclosed are photo copies of my winning check and the claim form for the money.
"Thanks to you I no longer depend strictly on luck in the Lotto games. Your system surely cuts down the odds. In the Pennsylvania Lotto game, I limit myself to a maximum of $20 per game, sometimes less. This year, I have had four numbers thirteen times. Four out of six numbers does not pay much in the Pennsylvania Lotto game. I usually get from $20 to $45 per game. Sincerely, Charles V. Macartney."
When I received Mr. Macartney's letter, I called him immediately. During the course of our chat, he told me that he had watched the drawing on TV with his wife and daughter, and that he knew right away when he saw the winning numbers, that he had won.
He said, "I was thrilled to know that I had won that much money for a minor expenditure. My wife was so excited, she could hardly talk. My daughter hit the ceiling. She threw her arms around me and gave me a big hug. She said, 'Oh, boy, you've got the right idea, Pop!' Now she's my partner in Lotto. Every time I play, she tells me that I have to pick the numbers and go get the tickets.
"My wife was the one who started me playing the Lotto games. She believed in all kinds of astrology and God knows what. But she only hit minor prizes once in a while. When I played, I would play only occasionally using your systems. And when I hit, she'd say, 'I buy tickets all the time and you buy them occasionally, and you're the one who wins.' And I said, 'I use a good system.'
"The following day, I went to the place where I buy my tickets, and the owner was more thrilled than I was. He said, 'Gee, you're the first winner I've had in a long, long time and the biggest winner. Now he's my partner in buying tickets.
"We celebrated by going to my club for dinner. I treated my family to a vacation in Aruba, my wife, my daughter, her husband and two sons. I still have most of the money. I put it into Potomac Electric stock. I think I bought it at 18 and it has gone up since then. Today it's around 23. It pays a nice dividend, about 8 percent.
Charles Macartney, a retired vice president of Philadelphia Coke Company, was 78 when he landed his jackpot prize. Now, 80, he's still playing Lotto and looking forward to winning his next jackpot. "I fully expect to win another top prize within the next six months. With your system, I feel that I almost can't fail. I love your Advantage Alert tapes (now available with Advantage Gold flash drive purchase). Your system is very sophisticated."


The lottery products Charles Macartney used to win the Pennsylvania Wild Card jackpot
: Wheel #608
18 number 4/6 guarantee Balanced Wheeling
®
Lotto System #608
found as wheel #64218 in:

Wheel Six Gold™
Balanced Lotto Wheel
®
Software for Pick-6 and Pick-7 Games
More Info
ADD TO CART

Lotto How to Wheel a Fortune
Balanced Wheel
®
System Book for Pick-6 and Pick-7 Games
More Info
Buy Lotto How to Wheel a Fortune on Amazon
Learn how to win a similar pick-6 lotto game for free
: