West Virginia Lottery Winner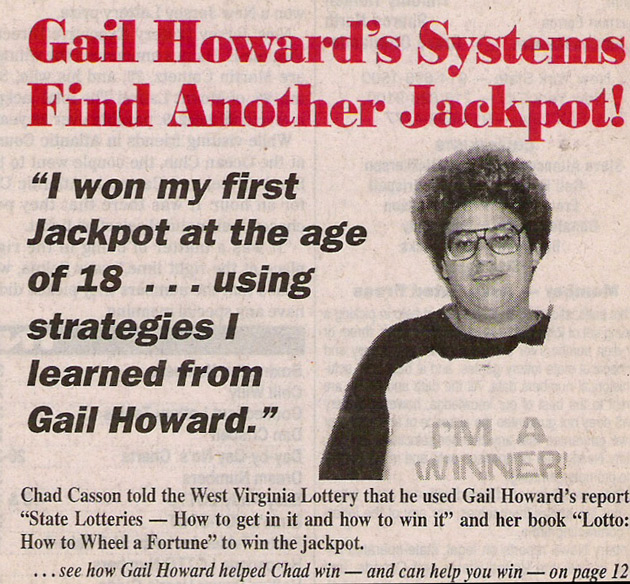 $25,000 JACKPOT WON IN WEST VIRGINIA
"I Yelled and Screamed, 'I Just Won $25,000!'"
As my readers know, I am absolutely delighted to hear from people who have won using my systems; so, as you could guess, I was excited when I opened the following letter from Chad Casson. One thing which struck me in the letter was Chad playing regularly with his father. I think it's wonderful that responsible playing of the lottery can be a hobby that parents and children can share, and it made me even happier that the use of my systems helped make it a boon for them financially as well as emotionally.
"Dear Gail,
"I am excited to tell you that I recently won my first jackpot at the age of only 18. For years I have been "watching" the lottery with my father as sort of a hobby, When I turned 18, on July 27 of this year, I began playing the lottery using strategies that I learned from your report State lotteries: How to get in it and how to win it-4th edition and your book Lotto How to Wheel a Fortune.
"I knew that your systems would not fail me because my father (without the benefit of your recent book of powerful wheeling systems) still managed to cash three prizes of over $1,000 in the past eight years.
"I had been running late all day on the 2nd. A number of setbacks left me rushing to fill out my 225 bet slips and speeding the 50 miles away from my home in PA to the nearest on line lottery retailer past the border. In this case, it was a Truckstops of America in Valley Grove. The cashier there told me that I had gotten my tickets played within five minutes of the machine ceasing to accept tickets.
"During the nearly one-hour-long ride home, I decided to call the lottery's toll free winning number hot line from a pay phone at a truck stop in Pennsylvania. As soon as I got the numbers, I knew immediately that I had won at least a five-digit prize, since my power number, 2, had hit as well as five of my other 17 numbers. I began eagerly checking over my tickets, expecting to find at least one five-digit win. I was pleasantly and loudly surprised to find that I instead had a jackpot-winning ticket. I was never in such a hurry to speed off from any location. It was half fear for my life (due to a mixture of my loud exclamation of "I just won $25,000!" and the surrounding burly truckers eyeing me up) and half sheer excitement.
Here are the specifics of my win:
The Lotto: West Virginia's Cash 25
The Date: September 2, 1994 (a mere 11 drawings after my birthday)
The #s: 02-08-11-13-14-24
The Wheel: Power Number® Lotto System 911 an 18 Number System
The Cost: $225
The Prize: $25,000 plus another $334 in other small prizes
Thank you so much for the prize winning help.

Sincerely, Chad E. Casson "
I was also happy to note that I was credited with facilitating Chad's win in the news story released:
Charleston, WV - It took just a little more than a month for a Pennsylvania cashier to justify the purchase of a book that advises readers about how to choose lottery numbers. Chad Casson, 18, of Monogahela, PA, said he used Gail Howard's winning methods to select the six numbers that won him the $25,000 top prize in the West Virginia Lottery's CASH 25 drawing on Friday, September 2.
Casson said he drove to Truck Stops of America in Valley Grove on Friday, and purchased his ticket just before the 6:49 pm cutoff time. "When I was about halfway home, I stopped at a pay phone after the drawing at 7 pm and called the toll free hotline to find out the winning numbers," he explained. "When I learned I won, I yelled and screamed, 'I just won $25,000!'"
Fearing that someone might have over heard the exclamation and do him harm to lay claim to the prize, Casson said he immediately rolled up his car window, and drove away. "I stopped later and called my mother to tell her the good news," he said.
The winner said he plans to save most of his prize, but will use a portion to buy a computer; "a top of the line system with the largest hard drive and the nicest monitor you can get," he added.


The lottery products Chad Casson used to win the West Virginia Cash 25 jackpot
: Special Report and Wheel #911
State Lotteries: How to Get In It and How to Win It
- No longer in print. Lottery Master Guide is the current strategy book.
18 number 1 Power Number Balanced Wheeling
®
Lotto System #911 found as wheel #65118-1 in:

Wheel Six Gold™
Balanced Lotto Wheel
®
Software for Pick-6 and Pick-7 Games
More Info
ADD TO CART

Lotto How to Wheel a Fortune
Balanced Wheel
®
System Book for Pick-6 and Pick-7 Games
More Info
Buy Lotto How to Wheel a Fortune on Amazon
Learn how to win this lotto game for free
: