New Jersey Lottery Winner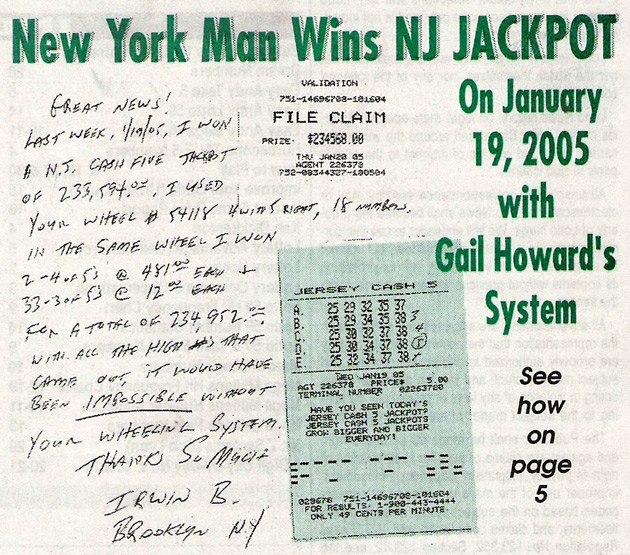 NEW JERSEY LOTTERY WINNER - $233,594 LOTTERY JACKPOT WON IN NJ
New Yorker Wins NJ Lotto Jackpot on January 19, 2005
Many lotto winners wait until they place an order for additional lottery books or lotto software before they notify me of their lottery jackpot win. Then it's "...by the way, two years ago I won first prize with Gail's lotto book. Her lotto systems really work..." or something to that effect. Of course, I immediately call to congratulate the jackpot winner and to ask for documented proof of the lottery win.
Often they tell me they were waiting to win a multi-million dollar lotto jackpot before they notified me. Why, I don't know!!? I like to hear about the small first prize jackpot wins, too!!! I don't understand why lottery winners don't always notify me immediately after they win!! I honor the wishes of all my lottery winners who ask me to keep their identity private. Such was this jackpot winner.
When Irwin B. of Brooklyn, New York won his jackpot on January 19, 2005, he validated his winning lotto ticket the next day, and first thing Monday morning, he notified my office of his NJ jackpot lotto win. I immediately called Irwin B. to congratulate him on his $233,594.00 New Jersey Cash 5 jackpot win. Within five minutes he faxed a letter and his winning lottery ticket, which also had two 4-number prizes and a three-number prize on it.
Irwin B. wrote: "Dear Gail, Great News! Last week, 1/19/05, I won a NJ Cash Five jackpot of $233,594. I used your wheel #54118, 4 with 5 right, 18 numbers. In the same wheel I won two 4 of 5's @ $481.00 each and 33 3 of 5's @ $12.00 each for a total of $234,952.00. With all the high numbers that came out, it would have been impossible without your wheeling system. Thanks so much. Irwin B. Brooklyn, NY"
The Balanced Wheel® #54118 that Irwin used wheels 18 lotto numbers and guarantees one 4-number lottery prize if all five winning numbers are in the group of 18. But, as you can see, it is possible to win much more than the guaranteed minimum. This NJ lottery winner won 36 lotto prizes all at once. Think how fun and exciting it is to win 36 prizes in one drawing with just one wheel! This wheel in in my pick-5 lottery wheeling book, Lotto Wheel Five to Win and also in my Wheel Five Gold lottery software.
When lotto jackpots are won with my winning lottery systems, it gives me enormous pleasure to hear from my winners and makes my work immensely more meaningful. In fact, the success of my jackpot winners is the force that drives me to create new and better ways to help us win.
I never accept money or gifts from my winners. On the contrary, my first prize jackpot winners get all my latest products FREE. After all, it is THEY who inspire me with their success.
I appreciate it immensely when lotto jackpot winners publicly acknowledge (to the lottery officials and to the press) that they used the Gail Howard system to win. Not only is it ethical, appropriate, and fair to give credit where credit is due, but it establishes a personal life-long link, a "bond" between us.
When you win your first prize lotto jackpot with my Balanced Wheels® and/or lotto number selections strategies, tell ME the happy news right after you tell your family! I love to hear from my lottery winners no matter how small the jackpot. I won't publicize your name if you ask me not to. But I would like to have complete verifiable documentation about your win for my own personal files, so I can claim another documented jackpot won with my lottery systems. Your success is my success. If you have won a first prize jackpot with my number selection strategies or my Balanced Wheeling Systems, let me hear from YOU. It is never too late to share your happy news with me. I'd love to share your joy and welcome another very special person to the exclusive Club of Gail Howard Lottery Jackpot Winners.


The lottery products Irwin B. used to win the New Jersey Cash 5 jackpot
: Wheel #54118
4 with 5 right, 18 numbers Balanced Wheeling
®
Lotto System #54118 found in:

Wheel Five Gold™
Balanced Lotto Wheel
®
Software for Pick-5 Games
More Info
ADD TO CART

Lotto Wheel Five to Win
Balanced Wheel
®
System Book for Pick-5 Games
More Info
ADD TO CART
Learn how to win this lotto game for free
: