Florida Lottery Winner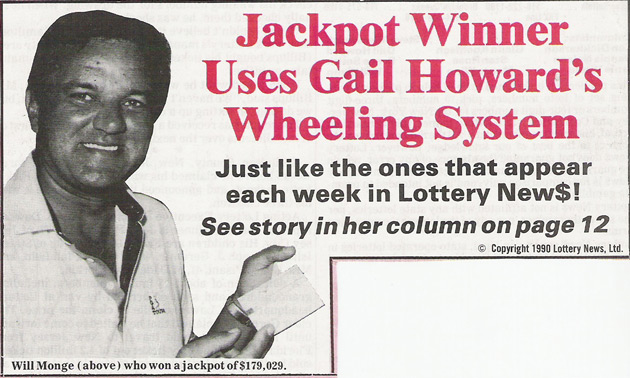 $179,029.87 JACKPOT WON IN FLORIDA
"The last guy in line said, 'You lucky son of a B----!'"
Some jackpot winners think that if they keep their win quiet, no one will know about it and bother them with investment schemes or requests for handouts. Such was the case with Will Monge, a Fantasy 5 winner from Tampa, Florida. But recently Monge met Lottery Players Guide publisher, John Hoffman, at Jai-Alai and confessed that he had used one of my Balanced Wheeling Systems which had appeared in that magazine.
Monge won a cash payout of $179,029.87 for the five winning numbers 14-21-24-32-38 in the November 24, 1989 Florida Fantasy 5 drawing. In addition to the jackpot, he also won six three-number prizes in the same drawing. He used my Lotto System 3008 (53116) for wheeling 16 numbers in 37 games, which yielded the jackpot and the six small prizes, but he played a total of 50 games that drawing.
Monge said he went to the store where he had bought his tickets and wrote down the winning numbers on a beer bag. He then went back to his vehicle to check his tickets while his wife, Migdalia, went in to buy her lottery tickets.
"When she returned, I was trembling," he recalled. "She looked at my eyes and said, 'You hit it, didn't you!' I said, 'Yes'.
"It was a bad neighborhood, but I went back in the store to verify the numbers. The clerk said, 'You have to go to Tallahassee.' I said, 'How much.?' She said, '$180 thousand.' Then I jumped for joy. There were about ten people in line. And everyone in line applauded. The last guy in line tapped me on the shoulder twice and said, 'You lucky son of a B----!' As soon as I walked out of the store, I screamed 'HOORAY!!!!!' Then we locked the doors and drove away. It was an experience!"
Monge, 43, who sells telephone systems, said he immediately went out and bought his wife a new Corvette and a few toys for himself, including a Toyota 4-Runner and a 70-inch television set. He paid all his bills and took a gang of 28 friends and relatives in five full stretch limousines to board a Sea Escape Cruise.
"I bought the Toyota 4-runner in Tampa at the North Florida branch of Precision Toyota and paid for it in full. When I told my salesman, Harold Stein, that I had won the lottery, the guy jumped out of his chair. He said he had never met a lottery winner in person before. Then he called in all the sales people and the mechanics and the credit people and the general manager, Tony Mazzone. He said 'Touch this man.' They said, 'Why? Why?' He said, "Don't ask me why just touch him. He won the lottery.' He was going wild. Everyone was touching me and shaking my hand. I was afraid they were even going to kiss me."
There is more joy in winning than just collecting and spending the money. When you win a jackpot, you are a truly a winner. And everyone loves a winner. Winners are treated as very special people --as heroes, bigger than life. And it's not the amount of the win that counts. It's the fact that you won.


The lottery products Will Monge used to hit the jackpot for the FL Fantasy 5 Game
: Wheel #3008
16 number 3/4 Guarantee Balanced Wheeling
®
Lotto System #3008 found as wheel #53116 in:

Wheel Five Gold™
Balanced Lotto Wheel
®
Software for Pick-5 Games
More Info
ADD TO CART
Lotto Wheel Five to Win
Balanced Wheel
®
System Book for Pick-5 Games
More Info
ADD TO CART
Learn how to win this lotto game for free
: