New York Take-5 Lottery Winner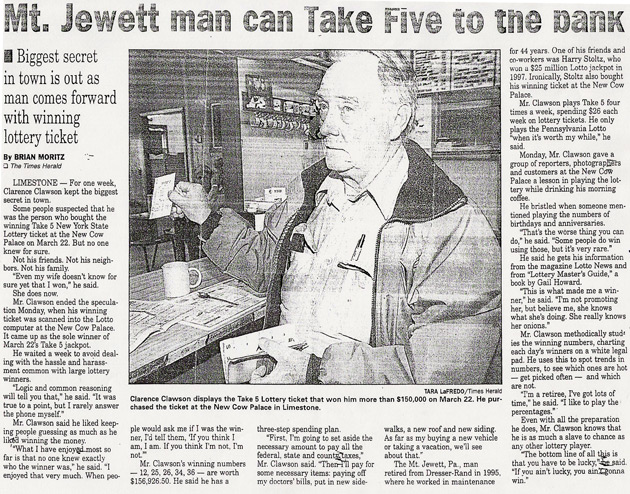 $156,926.50 JACKPOT WON IN NEW YORK
Biggest Secret in Town is Out as Man Comes Forward with Winning Lottery Ticket
LIMESTONE - For one week, Clarence Clawson kept the biggest secret in town.
Some people suspected that he was the person who bought the winning Take 5 New York State Lottery ticket at the New Cow Palace on March 22. But no one knew for sure.
Not his friends. Not his neighbors. Not his family.
"Even my wife doesn't know for sure yet that I won," he said.
She does now.
Mr. Clawson ended the speculation Monday, when his winning ticket was scanned into the Lotto computer at the New Cow Palace. It came up as the sole winner of March 22's Take 5 jackpot.
He waited a week to avoid dealing with the hassle and harassment common with large lottery winners.
"Logic and common reasoning will tell you that," he said. "It was true to a point, but I rarely answer the phone myself."
Mr. Clawson said he liked keeping people guessing as much as he liked winning the money.
"What I have enjoyed most so far is that no one knew exactly who the winner was," he said. "I enjoyed that very much. When people would ask me if I was the winner, I'd tell them, 'If you think I am, I am, If you think I'm not, I'm not.'"
Mr, Clawson's winning numbers - 12, 25, 26, 34, 36 - are worth $156,926.50. He said he has a three-step spending plan.
"First, I'm going to set aside the necessary amount to pay all the federal, state and county taxes," Mr. Clawson said. "Then I'll pay for some necessary items: paying off my doctors' bills, put in new sidewalks, a new roof and new siding. As far as my buying a new vehicle or taking a vacation, we'll see about that."
The Mt. Jewett, Pa., man retired from Dresser-Rand in 1995, where he worked in maintenance for 44 years. One of his friends and co-workers was Harry Stoltz, who won a $25 million Lotto jackpot in 1997. Ironically, Stoltz also bought his winning ticket at the New Cow Palace.
Mr. Clawson plays Take 5 four times a week, spending $26 each week on lottery tickets. He only plays the Pennsylvania Lotto "when it's worth my while," he said.
Monday, Mr. Clawson gave a group of reporters, photographers and customers at the New Cow Palace a lesson in playing the lottery while drinking his morning coffee.
He bristled when someone mentioned playing the numbers of birthdays and anniversaries.
"That's the worse thing you can do," he said. "Some people do win using those, but it's very rare."
He said he gets his information from the magazine Lotto News and from Lottery Masters Guide, a book by Gail Howard.
"This is what made me a winner," he said. "I'm not promoting her, but believe me, she knows what she's doing. She really knows her onions."
Mr. Clawson methodically studies the winning numbers, charting each day's winners on a white legal pad. He uses this to spot trends in numbers, to see which ones are hot—get picked often— and which are not.
"I'm a retiree, I've got lots of time," he said. "I like to play the percentages.'"
Even with all the preparation he does, Mr. Clawson knows that he is as much a slave to chance as any other lottery player.
"The bottom line of all this is that you have to be lucky," he said. "If you ain't lucky, you ain't gonna win."


The lottery products Clarence Clawson used to win the New York Take 5 jackpot
:
Lottery Master Guide
and
Lotto News

Lottery Master Guide
Lottery Strategy Book
More Info
ADD TO CART
Learn how to win this lotto game for free
: