Gail Howard's Lottery Master Guide



Lottery Master Guide
by Gail Howard

Lottery Book for Number Strategy


4

th

edition, 2003
182 pages
ISBN 0-945760-388



$24.50

+ S&H (See Shipping Rate Chart)
Turn a Game of Chance into a Game of Skill®
Lottery Master Guide is consistently the #1 best selling lottery book on Amazon.com and has been so for the past several years - deservedly so. It is the most thorough and complete book on lottery strategy ever written. Gail Howard's most basic to her most advanced lotto strategies are explained in great detail, with examples of patterns shown throughout.
Lottery Master Guide is a virtual library of indispensable lottery information. It contains everything the serious lotto player needs to know about all lottery games, including systems and strategies to win Powerball, Mega Millions, Pick-10, Keno, Banco - as well as a listing of state and Canadian lottery addresses, telephone numbers, drawing result hot lines, odds, drawing days - and much more.
These Lottery Strategies Worked for Others. LET THEM WORK FOR YOU!
Every reader will have a better chance of winning by applying the information in Lottery Master Guide. You'll learn how to spot specific numbers for specific drawings, and make the best use of the dollars you spend on lottery tickets.
After you have read Lottery Master Guide from cover to cover, not only will you be on your way to winning more lottery prizes, but you will be an authority on lotteries -- and you will have the world's best lotto methods to beat them! Once you apply these lottery strategies, you will never look at lotto numbers the same way again. You can improve your "luck" by using knowledge and skill to zero in on winning lotto numbers. Win the lottery with Lottery Master Guide today!
Only the Gail Howard lottery systems and strategies have proven their value by having helped dozens of documented first prize lotto winners win their jackpot millions! To date, 106 lottery jackpot winners have won $101,438,493 dollars by using Gail Howard's lottery books and lotto software.
"Gail Howard's Lottery Master Guide is a masterpiece."
- Norman Lynn
"THANK YOU for the book, "The Lottery Master Guide! Because of the excellent and outstanding writing and information in this book, on January 9, 2004, I won the Fantasy 5 California Jackpot - $316,446.00, and also had a 4 number pick for $548.00 as well as a 3 number pick for $18.00, for a total of $317,480."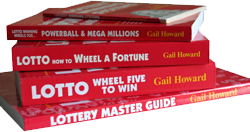 Lottery Wheeling Books
:
More Information
About Lottery Strategy
Lottery Master Guide Reveals How You Can:
Choose numbers for the lotto game YOU play that have the greatest probability of winning in the next drawing.
Turn a game of chance into a game of skill®. (Page 2)
Reduce the odds by millions. (Page 32)
Buy fewer tickets, yet have a greater chance to win. (Page 90)
Discover the one thing ALL lottery jackpot winners have in common. (Page 165)
Tell if a lotto number is about to start a long losing streak before it loses 15 or 20 games or more. (Page 53)
Know when to play -- or when not to play -- a specific number for a specific drawing. (Page 68)
See how often you can expect to trap the six, five, four or three winning numbers in your wheeled group. (Page 128)
Tell which "cold" number is best to play. (No, it is not the number out the longest!) (Page 44)
Detect at a glance which lotto numbers are hot and which are not. (Page 53)
Avoid playing lotto numbers that are sure to lose. (Page 19)
Cash in on the luck of others. (Page 152)
Learn how to choose the best and eliminate the rest. (Page 45)

Eliminate one quarter to one fifth of the lotto numbers in your state's game and turn a 49-number game into a 39-number game. (Page 39)
Know how many cold, lukewarm, and hot numbers to include on your tickets. (Page 41)
Spot a Hot Number before it gets hot -- so you can be on it when it starts its winning streak. (Page 53)
Know which of last game's WINNING lotto numbers has the best chance of winning the next drawing. (Page 65)
Know which of last game's LOSING numbers have the best chance of winning the next drawing. (Page 68)
Tell which lotto numbers have an affinity to win most often with your strongest numbers. (Page 71)
Cash in on the most predictable indicator -- the balancing Bias Tracker®. (Page 34)
Find out HOW OFTEN you can expect to get the six, five, four or three winning lotto numbers in a wheeled group (for every lotto game), when wheeling from 7 to 30 numbers with Gail's Lotto Win Frequency Charts. These individual lottery specific charts are given for every pick-6 and pick-5 lotto game in the world. (129-136)
LOTTERY MASTER GUIDE
Table of Contents
Brief History of Lottery

5

Understanding the Basics of Lotto

7

State Lottery Addresses

11

Understanding the Odds

14

How to Play Lotto to Win

17

Tips on Number Selection

19

Tips on Group Selection

22

Are Lottery Drawings Truly Random?

23

Most Probable Range of Sums

®

Chart

27

Three Methods to Win Lotto

32

The Trend is Your Friend

34

SHORT TERM LOTTO TRENDS™

Odd-Even Bias Tracker™

34

High-Low Bias Tracker™

35

Sum Chart Bias Tracker™

36

Number Groups Bias Tracker™

36

Hot-Cold Bias Tracker™

39

Games Out View of History™ Chart

41

Skips Due Bias Tracker™

41

Last Due Bias Tracker™

45

Percentage System

®

Chart

49

MEDIUM TERM LOTTO TRENDS

Drawings Since Hit Chart

®

50

Technical Corrections™

53

Lotto Trend Reversals™

54

Failed Double Bottoms™

59

Abbreviated Drawings Since Hit™ Chart

61

Drawings Between Hits™ Chart

63

LONG TERM LOTTO TRENDS®

Multiple Hit Pattern

®

Chart

65

Companion Numbers

®

Chart

72

Companion Pairs™, Triads, Quads, Quint

72

Neighboring Pairs

®

, Triads, Quads, Quints

75

Percentage of Adjacent Numbers™ Chart

83

Ball Sets, Drawing Machines & Rotation

87

BALANCED WHEELING™ SYSTEMS

How Wheeling Reduces the Odds

91

Win Guarantees Explained

94

Balanced Wheels

®

for Pick-6 Games

98

Pick-5 Power Number

®

Wheels

91

Balanced Wheels

®

for Pick-5 Games

109

My Personal Favorite Pick-5 Wheel

113

Bias Tracker

®

Wheeling Systems

115

Pick3 Numbers and Wheel 39 for $18

117

Balanced Wheels

®

for Pick-7 Games

118

Balanced Wheels

®

for Pick-10 Keno

120

In Lotto, Breaking Even is Winning

126

How Often You Can Expect to Win

127

Lotto Win Frequency Charts™

129

Most Frequently Asked Questions About Wheeling

140

How to Win Powerball, MEGA Millions and all Powerball Games

145

Beware of Lotto Scams

148

Pool Your Way to Riches

150

YOU CAN MAKE LUCK HAPPEN

152

Cash in On the Luck of Others

152

Cash in On a Positive Attitude

152

Cash in On Your Lucky Cycles

156

Frequently Asked Questions

158

Trade Marks and Copyrights

160

THE VERY BEST STRATEGY FOR WINNING!!!

161

Lottery Advantage

®

Scoreboard

164

A Final Word on Playing Smart

166

Lottery Products to Help You WIN

181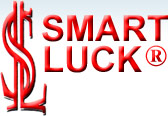 Gail Howard's Lottery Winning Systems & Strategies

Turn a game of luck into a game of skill!™
<! -- end banner -->

<! -- end main -->