Gail Howard's News Flash Bulletin
Page Last Revised
Mark Green wins second 7/7 Jackpot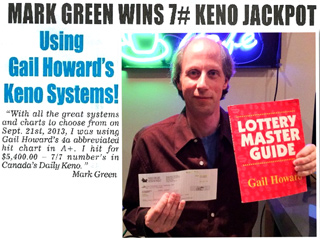 Astrological Almanac 2015
Lynne Palmer's Astrological Almanac for 2015 is now available on Amazon
Happy New Year from Smart Luck!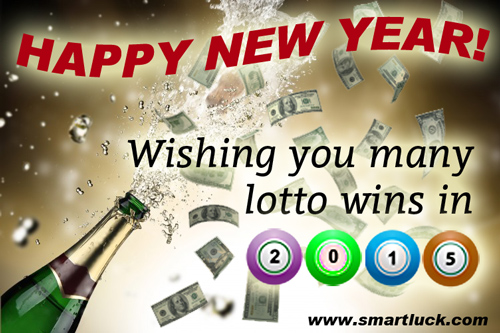 Lottery Winning Strategies Book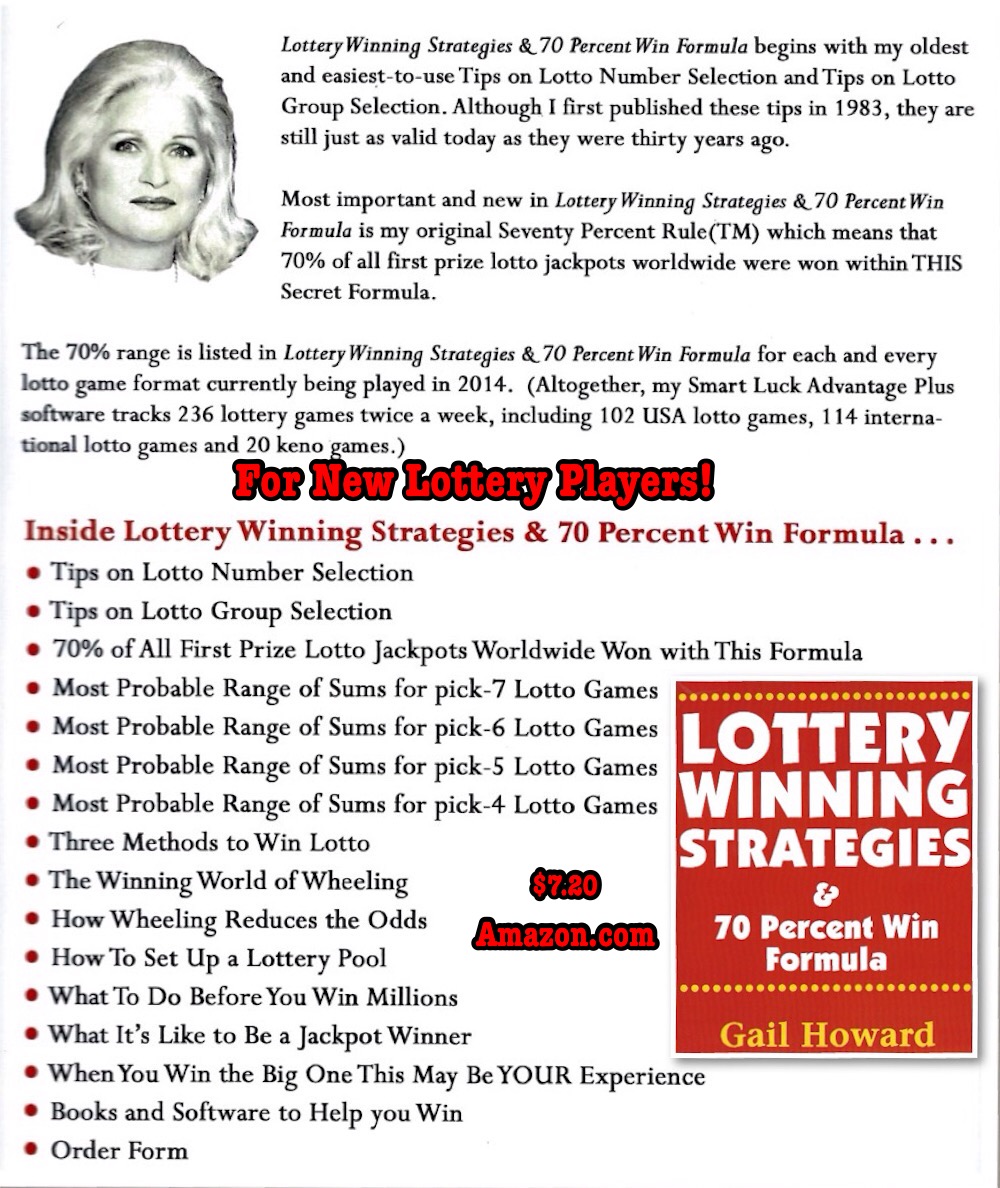 Click to view full size image
, description of Lottery Winning Strategies, for sale on
amazon
.
Just One Number Away from that $ 250,000.00 Jackpot!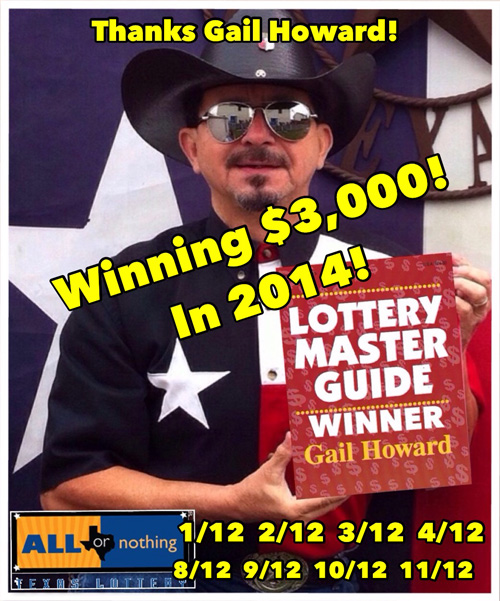 A Gail Howard fan shares his wins for the year. Thanks Tex Amos!
Gail Howard's 107th Lottery Jackpot Winner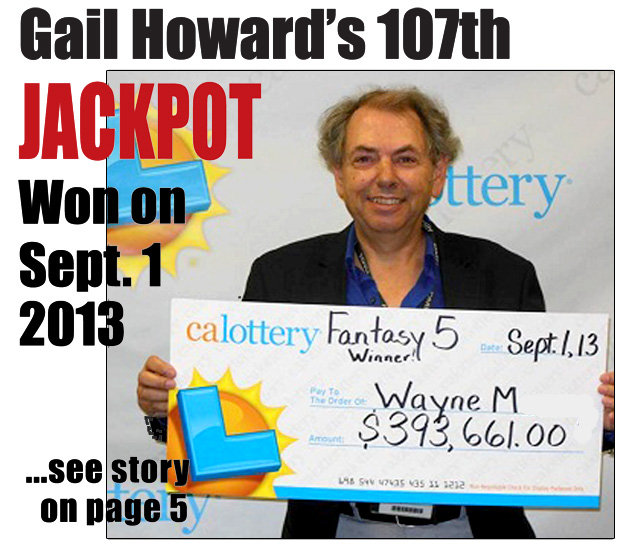 We have recently learned that on September 1, 2013, Wayne M. from Alhambra, California, won the $393,661 California Fantasy 5 jackpot. He used Balanced Wheel 53222 from Gail Howard's lottery wheeling book, Lotto Wheel Five to Win.
New Book by Gail Howard!
Get Strategies for Attracting Good Luck by Gail Howard on amazon!
Gail Howard Article
Please watch, and share with your friends to spread the word about Smart Luck! Thank you! When you watch, look for a surprise deal!
Advantage Plus Tutorial Video
Thanks to our fan, Gamblin Queen, for making this great video about using charts in Advantage Plus!
Lottery Expert Gail Howard Video
Gail Howard Mentioned on Front Cover of USA Today
On December 17, 2013, the front page cover of USA Today featured a Lotto article about the rising Mega Millions jackpot. Gail Howard was quoted in the article, and Lottery Master Guide was mentioned.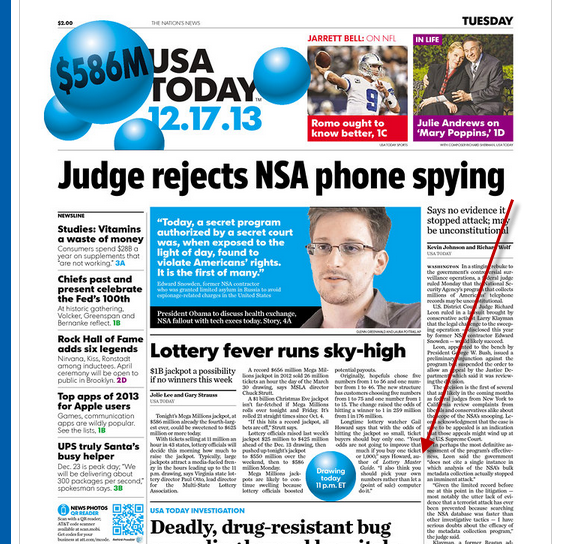 You Could Be the First Lottery Billionaire!
All it takes is one dollar, six winning numbers and beating the odds of one in 258,890,850.
My best advice is to buy one Mega Millions ticket. If God has ordained that you will win this huge jackpot, you can win it with one ticket. As the slogan goes, "You Gotta Be In It to Win It." With one ticket you are in it and your chances are as good as anyone else's.
Since the first Mega Millions drawing of the new 5/75 + 1/15 game format on October 22, 2013, there have been 16 drawings. It takes 15 drawings to use every one of the 75 numbers. But so far, 22 virgin numbers have not been drawn. They are numbers 04, 10, 18, 21, 28, 31, 34, 37, 38, 39, 40, 46, 48, 55, 56. 58, 61, 66, 68, 69. 72, 73. Each drawing one or more of those numbers will win.
Of the 15 Mega Ball numbers, these five virgins have not been drawn: 04, 06, 09, 10, 11. Mega Ball 03 has won three times; and Mega Balls 02, 07, 08,15 have won twice each.
Did you know that you have a better chance of winning $100,000 in your state's cash-5 game than winning a measly $5,000 in Mega Millions? The odds of winning the jackpot in a cash 5/39 game are one in 575,757. Compare that to the odds of one in 739,688 of winning $5,000 in Mega Millions. So, my advice is to seriously use my Smart Luck strategies and wheeling systems on your local cash 5 game and just spend a dollar on Mega Millions.
Smart Luck's new responsive website!
Smartluck.com now works optimally on mobile phones, Android and iPad devices. It automatically adapts to best fit the screen you are viewing.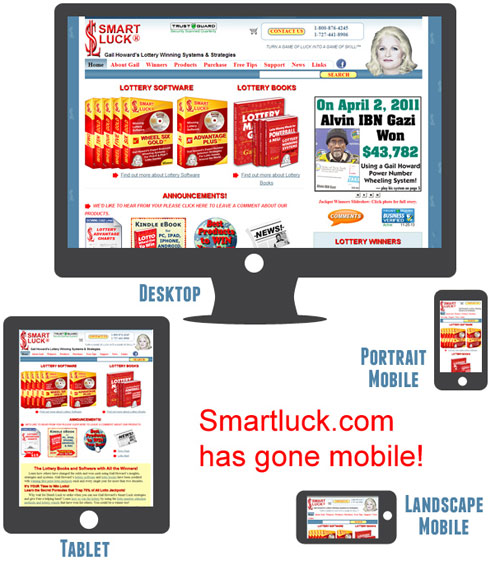 We want to thank one of our long term fans, Gamblin Queen, for this lovely tribute:



Mega Millions Changes
Beginning with the October 22, 2013 drawing, Mega Millions has a new format! The game has drastically changed from the old 5/56+1/46 format to a new 5/75+1/15 game. The odds for the game are now 1 in 258.9 million, up from 1 in 175 million prior to the change. Tickets for Mega Millions remain $1 per play.
The great thing about Smart Luck software is that the specific number format does not change the strategy formulas or wheels, so the software will still work with this game. All you need to do is download our new updated history files for Mega Millions, and Advantage Plus can create charts for the new game. Pick-5 wheels will still work the same for this game, and you can mark your mega balls separately on your tickets.
Lotto History: Download New Mega Millions 5/75 game file and New 1/15 mega ball file
Updated free lotto tips: How to win the New Mega Millions Game
If you want to set up a new game file yourself instead of downloading ours, you can do so with these instructions.
Using Wheel Five Gold for 75 numbers: If you are still using the old Mega Millions history file, you won't be able to wheel numbers higher than 56 in Wheel Five Gold. To get the right range automatically, download and select the new history file. Without the new file, to wheel more numbers, from the select history drop down, click on a state name (not a game) and there will be a button at the bottom left of the window that says "No Lotto". Click "No Lotto". Then, when you go to make a wheel, click the "Range" button to change the range to 75.
"Lotto Wheel Five to Win" Kindle E-Book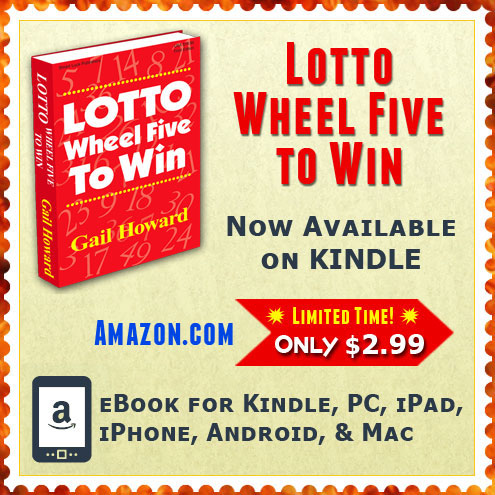 Buy "Lotto Wheel Five to Win" Kindle Book at Amazon.com
(price is subject to change)
Gail Howard's Mexico Travel Adventures
Gail Howard has launched a travel adventure website to share her story and photos of her time in Mexico. Even before she turns 21, the indomitable Gail Howard throws caution and language barriers to the wind as she heads off to Mexico City (and points beyond) by bus, boat, and foot.
Visit the new website, Gail Howard's Mexico Travel Adventures!
Gail Howard has a surprise for you!
Gail Howard fell in love with the beautiful music she heard during her travels to over 130 countries. She has been inspired to launch a blog devoted to the music that she's heard around the world. Each week, she will share some of her favorites, along with YouTube videos of the songs so that you can enjoy them, too..
Visit the blog, Gail Howard's Favorite Music Around the World!
Two new articles mentioning Gail Howard
Gail Howard Article in Womans World October 2012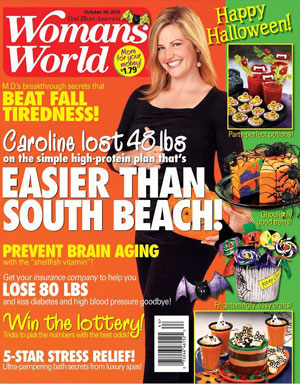 Womans World magazine has an article on page 24 titled "Secrets of a Lotto Winner" that gives some Gail Howard lotto tips and refers readers to Gail Howard lotto advice for your favorite game listed by state.
The October 29 issue of Womans World is on newsstands now. The cover shows this headline towards the bottom: "Win the lottery! Tricks to pick the numbers with the best odds!"
News Topics

Subscribe to RSS
NEWS FLASH TOPICS
Astrological Almanac 2015
Updated 1/11/14
Fan Advantage Plus Video
Updated 4/30/14
Smart Luck Promo Video
Updated 4/28/14
Lotto Expert Video
Updated 4/24/14
Mega Millions Billionaire
Updated 12/16/13
USA Today Feature
Updated 12/18/13
Responsive Website
Updated 11/27/13
Fan Video Tribute
Updated 11/21/13
Mega Millions Changes
Updated 10/21/13
New Lotto Ebook on Kindle
Updated 9/13/13
Mexico Travel Adventures Website
Updated 5/17/13
Gail Howard Music Blog
Updated 4/22/13
2 Articles from 2012
Updated 12/10/12
Gail Howard in Womans World Oct 2012
Updated 10/22/12
Older Newsflash Topics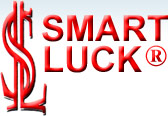 Gail Howard's Lottery Winning Systems & Strategies
Contact Us
1-800-876-4245
1-727-441-8906
Turn a game of luck into a game of skill!™