Gail Howard's News Flash Bulletin
Page Last Revised
Smart Luck's new responsive website!
Smartluck.com now works optimally on mobile phones, Android and iPad devices. It automatically adapts to best fit the screen you are viewing.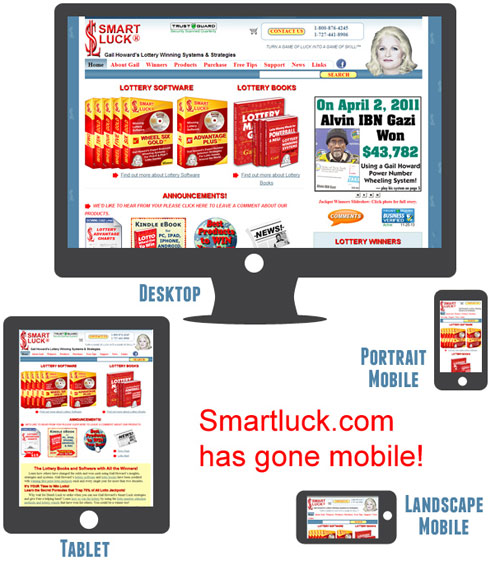 We want to thank one of our long term fans, Gamblin Queen, for this lovely tribute:



Mega Millions Changes
Beginning with the October 22, 2013 drawing, Mega Millions has a new format! The game has drastically changed from the old 5/56+1/46 format to a new 5/75+1/15 game. The odds for the game are now 1 in 258.9 million, up from 1 in 175 million prior to the change. Tickets for Mega Millions remain $1 per play.
The great thing about Smart Luck software is that the specific number format does not change the strategy formulas or wheels, so the software will still work with this game. All you need to do is download our new updated history files for Mega Millions, and Advantage Plus can create charts for the new game. Pick-5 wheels will still work the same for this game, and you can mark your mega balls separately on your tickets.
Lotto History: Download New Mega Millions 5/75 game file and New 1/15 mega ball file
Updated free lotto tips: How to win the New Mega Millions Game
If you want to set up a new game file yourself instead of downloading ours, you can do so with these instructions.
Using Wheel Five Gold for 75 numbers: If you are still using the old Mega Millions history file, you won't be able to wheel numbers higher than 56 in Wheel Five Gold. To get the right range automatically, download and select the new history file. Without the new file, to wheel more numbers, from the select history drop down, click on a state name (not a game) and there will be a button at the bottom left of the window that says "No Lotto". Click "No Lotto". Then, when you go to make a wheel, click the "Range" button to change the range to 75.
"Lotto Wheel Five to Win" Kindle E-Book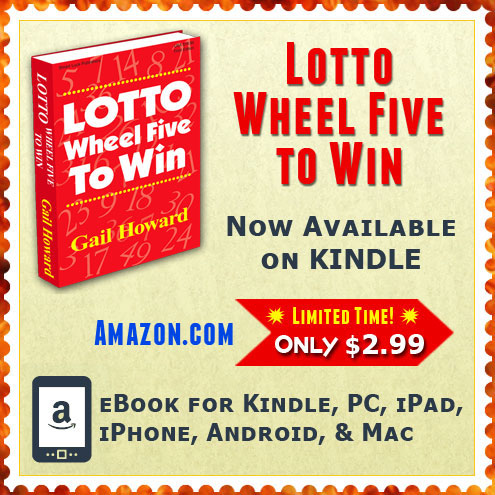 Buy "Lotto Wheel Five to Win" Kindle Book at Amazon.com
(price is subject to change)
Gail Howard's Mexico Travel Adventures
Gail Howard has launched a travel adventure website to share her story and photos of her time in Mexico. Even before she turns 21, the indomitable Gail Howard throws caution and language barriers to the wind as she heads off to Mexico City (and points beyond) by bus, boat, and foot.
Visit the new website, Gail Howard's Mexico Travel Adventures!
Gail Howard has a surprise for you!
Gail Howard fell in love with the beautiful music she heard during her travels to over 130 countries. She has been inspired to launch a blog devoted to the music that she's heard around the world. Each week, she will share some of her favorites, along with YouTube videos of the songs so that you can enjoy them, too..
Visit the blog, Gail Howard's Favorite Music Around the World!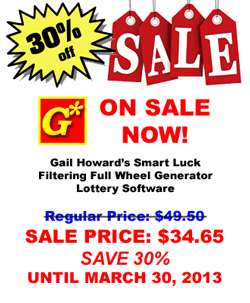 We are giving a 30% discount through March 30, 2013 on the Filtering Full Wheel Generator that we used to pick the Mega Millions numbers for Gail Howard's 30th Anniversary Giveaway.
Take advantage of this great sale, and buy FFWG for the best price ever! As always, you can also get the multiple software discount to save even more if you order another program together with FFWG.
NOTE: This sale expired on March 30, 2013 and is no longer available.
View the giveaway combinations made with FFWG and the winners.
Gail Howard's 30th Anniversary Prize Giveaway - EXPIRED
To celebrate the 30th Anniversary of publishing my lottery systems, I am giving away 30 lottery prizes. You have a chance to win up to 500 Mega Millions tickets. No cost to enter and nothing to buy.
The giveaway has ended. Thank you for participating.


Two new articles mentioning Gail Howard
Gail Howard Article in Womans World October 2012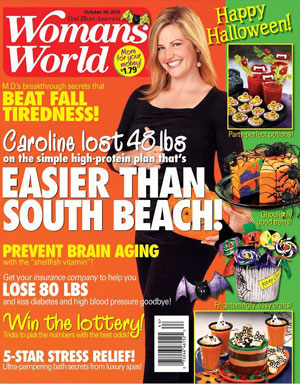 Womans World magazine has an article on page 24 titled "Secrets of a Lotto Winner" that gives some Gail Howard lotto tips and refers readers to Gail Howard lotto advice for your favorite game listed by state.
The October 29 issue of Womans World is on newsstands now. The cover shows this headline towards the bottom: "Win the lottery! Tricks to pick the numbers with the best odds!"
News Topics

Subscribe to RSS
NEWS FLASH TOPICS
Responsive Website
Updated 11/27/13
Fan Video Tribute
Updated 11/21/13
Mega Millions Changes
Updated 10/21/13
New Lotto Ebook on Kindle
Updated 9/13/13
Mexico Travel Adventures Website
Updated 5/17/13
Gail Howard Music Blog
Updated 4/22/13
FFWG Sale - Save 30%!
Updated 3/12/13
Gail Howard's Lotto Giveaway
Updated 2/27/13
2 Articles from 2012
Updated 12/10/12
Gail Howard in Womans World Oct 2012
Updated 10/22/12
Older Newsflash Topics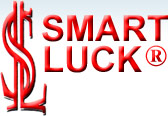 Gail Howard's Lottery Winning Systems & Strategies
Turn a game of luck into a game of skill!™