Gail Howard's Older News Topics
It's a Treat, Not a Trick - Fantasy 5 Lotto Winner on Halloween
Our newest lottery winner, Patricia Hansen, won $86,077.38 in Florida Fantasy Five prizes including a jackpot split among three winners.
Announcing the release of our newest lottery software, the NEW Filtering Full Wheel Generator!
The Filtering Full Wheel Generator is a Windows program that will run on all 32-bit AND 64-bit versions of Windows including XP, Vista, and Windows 7. The program is an exciting new version of the old Full Wheel Generator with new features that include 19 filters that you can customize and apply to reduce the combinations of your wheel, making the wheels more affordable.
The price for this program is $49.50 + shipping. For existing Full Wheel Generator owners, the upgrade to FFWG is $25 or only $15 if you upgrade within 90 days of your purchase of Full Wheel Generator.
You can place your Smart Luck order one of 3 ways:
call our order line at 727-441-8906 for NON-USA or 1-800-945-4245 for USA
use our secure online order form
Fill out our online order form, print the form, and send with payment to:
Smart Luck Software
PO Box 4921
Clearwater, FL 33758
Virginia's Mark Wright Played 20 Tickets, All Winners, Using Gail Howard's System
Mark Wright of Warsaw, Virginia, said he was "all jittery" when he won $20,845 in Mega Millions on May 1, 2009. He played 20 tickets and every ticket was a winner. Two tickets paid $10,000 each, and the other 18 tickets totaled $845 in smaller prizes.
Mark sent Gail a thank you letter. After all, he had used the Gail Howard wheeling systems to win, specifically Balanced Wheel® system #53011.
"Gail has simplified the complex with her unique wheeling systems," he wrote. "I've owned this system for only a short period of time. On May 1, 2009, I won $20,845.00. Before that, I've hit several smaller amounts since purchasing Gail's system -- not bad for someone who plays periodically. The Balanced Wheel® system I use is #53011. This system allows me to play a very modest amount of 11 numbers for 20 games with her Smart Pick feature."
Gail Howard's New Mega Millions Lottery Winner
Gail Howard has recently learned of another new lottery winner who used her lottery products to win. Cynthia C. won $250,000 playing Mega Millions on November 11, 2008 in the Ohio. Read Cynthia C.'s Mega Millions lotto winning story and see which Gail Howard lotto strategies she used to win.
Smart Luck has a Facebook Page!
Smart Luck has joined Facebook. If you're a member, become a fan of our Smart Luck Facebook Page to get news updates from us. We will update the page for new product releases, holiday discounts, and other relevant news.
Powerball has changed its format
The Powerball lottery has changed the game's number format again. Powerball is now a 5/59 + 1/39 game instead of the old 5/55 + 1/42 format. The first drawing was Wednesday January 7, 2009.
To update Advantage Plus with these changes, download pb0559.slh and pb0139.slh (NOTE: As of 2012, the correct file is now pb0135.slh). These files are replacing the old pb0555.slh and pb0142.slh, so you can delete those files to avoid confusion. The main powerball file (pb0559.slh) still includes the old results from the game. Once there are enough drawings to work with, we will freeze the game range to ignore past drawings. If you want to freeze the range yourself, you can do so at any time, to any drawing: Select the game, go to chart 4, press F3-Change Range, change the first game to the drawing number you want, then press F3-Lock in First Game.
Please note that Powerball is a multi-state game, so the history file is listed under the game name instead of the state. Florida has been added to the list of states that offer Powerball, but there will not be a "Florida Powerball" file, it is just called "Powerball" for every state.
You can download the new files with any of our free lotto result updating methods.
IMPORTANT NOTICE! We Have Moved!
Office in Cantonment, Florida is CLOSED. Do NOT send mail to us in Cantonment, Florida.
NEW SHIPPING ADDRESS
Smart Luck (Books & Software)
PO Box 4921
Clearwater, FL 33758-4921
TO PLACE ORDERS
Call 1-800-945-4245 USA, 1-727-441-8906 NON USA or place secure online order
FOR TECH SUPPORT
email us or call 1-727-441-8714 (1-5 p.m. EST)
FREE New Lottery Updater Program!
Click Lottery Updater for information about the new features and benefits of this free program.
FREE Smart Luck Flash Drive Menu Program Upgrade
The Flash Drive upgrade is for customers who already purchased a Flash Drive with their software. If you have Smart Luck software, but you don't own the Smart Luck Flash Drive, you can find more information about it here.
New Release!
The Smart Luck Flash Drive software upgrade has improved:
The usability of the audio tutorials
The function of "check for upgrades"
The functioning of the history update options -- especially the personal favorites. When choosing favorite files, the list will show you the full name of the lotto game under the pointer so that it is easier to identify the lottery files you want to put on your list. Also the function of updating that list has been improved to make it considerably faster on dialup Internet connections.
All history files from the Lottery Updater are installed only if the last drawing is newer than the last drawing in your file.
TO INSTALL THE NEW UPGRADE: Select the option "Check for Upgrades" on your Smart Luck Flash Drive. If it says your version is already current or doesn't find an upgrade or if it finds an error when it tries to do the upgrade, install the new version free by clicking here. Once you install this upgrade, the "check for upgrades" option will work properly for future updates.
Make sure your Smart Luck Flash Drive is plugged in before you try to upgrade. If you have installed it on your hard drive, it will upgrade both the Flash Drive and the hard drive installation. If you have more than one flash drive with the ghmenu installed, it will upgrade both copies but you may have to run this upgrade more than once.
Please note: If you should encounter an error message created by the upgrade program or the menu program, please tell us as much information as you can about the error, especially what you were doing when the error occurred and what the error message said (only the words, not the numbers). You can send us an email or call the technical support line. (Check our contact page.)
Gail Howard's 25th Anniversary: Book Give-Away! Ended
The March 2008 Gail Howard 25th Anniversary Lottery Book Giveaway has come to an end. I want to thank all who participated. Congratulations to the 775 lucky winners of the LOTTERY WINNING SYSTEMS book. My special thanks to all the winners who took the time to email me your thank you notes of appreciation for receiving my gift. From the bottom of my heart, I hope each one of you lands the lotto jackpot prize of your dreams. Best of luck with Smart Luck.
Sincerely,
Gail Howard
Gail Howard's 25th Anniversary: Book Give-Away!
March 2008 marks Gail Howard's 25th Anniversary of publishing her lottery systems. To celebrate, and help more people win, she is giving away 25 free copies of her 64-page book, Lottery Winning Systems, EACH DAY from March 1st to March 31st. Twenty-Five recipients will be randomly chosen each day from the applicants.
Gail Howard's Number Picks for Powerball $230 Million Jackpot
by Gail Howard
Need help in picking the best Powerball numbers? America's favorite lottery game has an estimated jackpot of $230 million for Wednesday, March 12. To beat the odds of one in 146 million, you need more than luck. You need Smart Luck -- as in my lottery-playing strategies and Web site. Let's look at some smart ways to choose Powerball numbers for the drawing of March 12.
Since the Powerball number field was changed on Aug. 31, 2005, the five white balls are chosen from numbers 1 to 55; and the sixth number, the red ball, is chosen from numbers 1 to 42. The white balls and the red ball are drawn from two different number fields. So, we must analyze them as two separate lotto games, each with their own historical data.
SUM CHART BIAS TRACKER
When you add the five white Powerball winning numbers together, you get a sum.
The lowest possible sum is 15. (1+2+3+4+5 = 15)
The highest possible sum is 265 (51-52+53+54+55 = 265)
Although sums as low as 15 and as high as 265 are theoretically possible, the lowest sum of the five Powerball winning numbers drawn since this game began is 50. Only 8 of the drawings had a sum of 80 or lower. The highest sum ever was 230. Only 13 drawings had a sum above 200.
Seventy (70) percent of the sums of all the winning Powerball five white-ball combinations fall within the sum range of 104 to 176. Smart Luck is having the sum of your five white ball Powerball numbers add up to somewhere between 104 and 176, which is the 70-percent most probable range.
Checking the Bias Trackers in my Advantage Plus software, I see that there will be more even numbers than odd numbers; more high numbers (28 to 55) than low numbers (1 to 27); three hot numbers (out ten games or less). Favored last digits are 2 and 6; last digits due are 1, 3 and 9. A skip of 5 (out 5 games) is most due - which means a choice of any of these numbers: 9-12-22-36.
Using the Ten Game Group Count chart, I divided the 55 Powerball white balls into seven groups of eight numbers. The group with numbers 17 to 24 accounted for 26 percent of the all the winning numbers drawn for the past ten games. The poorest performing number group, numbers 33 to 40, accounted for only 8 percent of the winning numbers. The second poorest performing groups, numbers 41 to 46, accounted for 10 percent of the winning numbers drawn. Although one or two of the winning numbers could come from the 17 to 24 group, the Bias favors the poorest performing number groups.
Skip and Hit® Chart produced these number picks: 2-3-8-9-11-13-16-19-23-30-35-37-42-53-54-55.
Lotto Astro Scope Chart produced these number picks: 13-16-22-36-37-42-48-54-55.
Quick Stats produced these number picks: 08-12-13-14-22-26-27-30-35-38-40-42-43-45-50-54.
50-Game Hit Chart Hottest Numbers: 23-31-02-08-11-20-16-18-35-30-55.
50-Game Hit Chart Coldest Numbers: 45-50-36-44-51
TRACKING THE POWERBALL RED BALL!
The all-important Red Ball makes the difference between winning $200,000 or $230 million! (It also affects other prize categories.)
After the number field changed on Aug. 31, 2005, number 14 has been the hottest Red Ball number, with 13 hits. Next hottest were 37 with 11 hits and 5 with ten hits. Red Ball numbers with nine hits each were: 03-17-23.
Powerball Red Ball numbers with the fewest hits -- only two hits each -- were: 04 and 07. Next lowest ranking were 22-27-33-34-40 with three hits each.
One can never say a Powerball Red Ball is due for a win. Red Ball number 28 skipped 170 drawings between wins; and 14 other numbers have skipped one hundred or more drawings between wins.
The Lotto Astro Scope produced these numbers for the Red Ball: 03-19-32.
Dare I say that if I were to buy one Powerball ticket for the March 12 drawing, I would choose numbers 03-13-19-38-45 for the five white balls and 19 for the Mega Ball number.
Now if all the numbers I've mentioned are enough to confuse you so you can't decide which ones to play, then choose 22 of them, using the Free Interactive wheeling system #3014. Check 22 numbers between 1 and 55, and then click on Generate Combinations. That's all there is to it. Now, go win 230 million dollars with a Gail Howard system!
Gail Howard's First 2008 Lottery Jackpot Winner Won $58,837 on January 25, 2008
Gail Howard's first lottery jackpot winner of 2008, John Pickens, won $58,837.00 on January 25, 2008 in the Califiornia Fantasy 5 lotto game. Read John Pickens' lotto winning story and see which Gail Howard lotto system he used to win.
Gail Howard's Lotto Jackpot Winner Won $68,695.30 on Sept. 9, 2007
Gail Howard's lotto jackpot winner, Steve Daw, won $68,695.30 on September 7, 2007 in the Canada National 649 Lottery. Read Steve Daw's lotto winning story and see which Gail Howard lotto system he used to win.
ALL NEW: Flash Drive Memory Stick! Just Plug It In and Run It.
Use Gail Howard's Smart Luck software on ANY 32-bit Windows Computer ANYWHERE using this portable Smart Luck Flash Drive Memory Stick.
Smaller than a pack of gum! Slip it in your pocket and:
Use it at work.
Use it at the library.
Use it at a coffee house.
Use it on vacation in any state, any country.
Run any of your Gail Howard Smart Luck programs with a single click.
Your programs come pre-installed and pre-serialized ready to use anywhere.
Leaves NOTHING installed on a borrowed computer!
Has built-in Lottery Updater. Automatically updates all USA and International Lotto and Keno Games with a click.
FREE BONUS: Advantage Alert(TM) audio cassette tapes converted to mp3 files with each chart as a single track. Listen to Gail Howard explain how to use Advantage Plus as you follow along with the program.
HOT OFF THE PRESS!! New Edition: Lotto How to Wheel a Fortune 2007!
All new 4th edition of Gail Howard's famous lottery book, Lotto How to Wheel a Fortune 2007, has ALL the lotto wheels used by Gail Howard's biggest pick-6 lotto jackpot winners. The chapter "WHEELS THAT WON LOTTO JACKPOTS," on pages 48 to 58 identifies the winners and the lotto systems they used to win big! You get 328 lotto systems - TWICE as many as in the 3rd edition!!! This means you pay less than seven cents per wheeling system! Of the 328 lotto wheels, 169 cost $20 or less to play; 100 cost $10 or less to play; and 46 cost $5 or less to play.
The 2007 edition has 416 pages of VALUABLE lottery information, and wheels that cover up to all the lotto numbers in your game. You can wheel ALL 49 lotto numbers in a 649 lotto game or ALL 59 lotto numbers in a 6/59 game (or any other lotto game size).
The lottery systems in this book can be used for any pick-6 lotto game in the world - from a pick-6 out of 25 lotto numbers game to a pick-6 out of 90 lottery numbers game.
In addition, there are 19 pick-7 systems for games like Australia Oz Lotto 7/45, Israel Pais 7/70, Norway Lotto 7/34, Canada's Lotto Max 7/49, England's Daily Play 7/27, Slovenia Lotto 7/39, Sweden Lotto 7/35, and Pennsylvania's Super 7 7/77.
Smart Luck Online for Ten Years!
SmartLuck.com celebrates our TENTH anniversary of selling Gail Howard lotto software and lottery books online. We went online on January 10, 1997, TWO YEARS BEFORE Google.com went online and TWO YEARS BEFORE Amazon.com went online and three months after Yahoo went online.
This year also celebrates Gail Howard's 25th year since creating her lottery systems, and her 24th anniversary of publishing and selling them. When Gail created her lottery systems the only states that had a lotto game were her home state of New York, Massachusetts, New Jersey and Pennsylvania.
Gail Howard is America's original pioneer of scientific lottery strategy. Her systems have produced untold thousands of lottery winners and have made dozens of people rich. As you click on the slide show, you can read articles that appeared in magazines and newspapers about the jackpot winners who won with Gail Howard's systems in each of the years of 2006, 2005, 2004, 2003, 2002, 2001, and 2,000 as well as every year throughout the 1990's and 1980's.
In spite of all her jackpot winners, Gail Howard makes no wild advertising claims, nor does she promise the impossible with false hype. That is one reason why Gail Howard is the most respected name in the lottery systems industry.
News Topics

Subscribe to RSS
NEWS FLASH TOPICS
Newer Newsflash Topics
Fantasy 5 Lotto Winner
Updated 12/04/09
Filtering Full Wheel Generator
Updated 11/17/09
Mega Millions Lottery Winner 2
Updated 10/13/09
Mega Millions Lottery Winner
Updated 08/11/09
Smart Luck Facebook Page
Updated 04/14/09
Powerball Changes
Updated 01/08/09
We've Moved!
Updated 11/13/08
FREE New Lottery Updater Program!
Updated 5/05/08
FREE Smart Luck Flash Drive Menu Program Upgrade
Updated 4/30/08
Gail Howard's Number Picks for Powerball
Updated 3/11/08
Gail Howard's 25th Anniversary: Book Give-Away!
Updated 3/01/08
Interactive Jackpot Winning Wheel 52225
Updated 2/22/08
New Lottery Winner - John Pickens
Updated 2/05/08
New Lottery Winner - Steve Daw
Updated 11/05/07
All New: Flash Drive Memory Stick
Updated 10/03/07
New Edition: Lotto How to Wheel a Fortune 2007 Book
Updated 6/08/07
Smart Luck Online for Ten Years!
Updated 1/10/07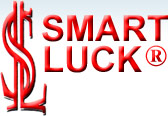 Gail Howard's Lottery Winning Systems & Strategies
Turn a game of luck into a game of skill!™