Colorado Lottery Winner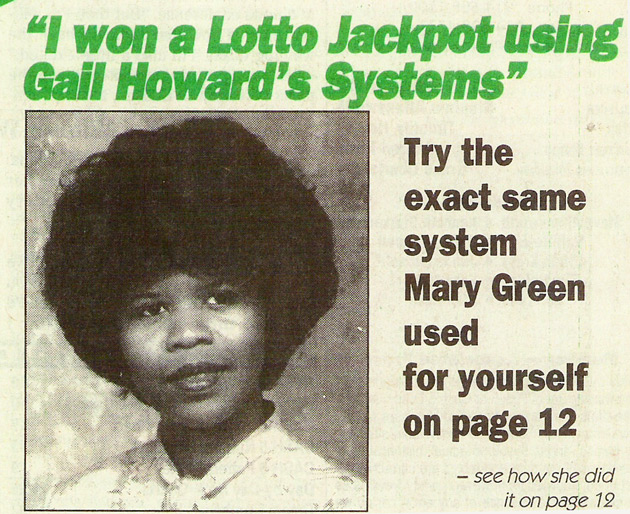 $23,317 JACKPOT WON IN COLORADO
"We never play lotto without using your systems."
Mary Green of Denver, Colorado, wrote: "Dear Ms Howard, On December 17th (1996), we became a Colorado Cash 5 jackpot winner in the Colorado lottery. Our total winning was $23,317.00. We used your complete system 3103 of the book entitled Lotto Wheel Five to Win [first edition]. Just as your system stated, we won 1 five number prize, 15 four number prizes, 30 three number prizes and we also had 17 two number prizes.
"I have used your systems for approximately 9 years for the regular game and have won several second prizes (5 out of 6), plus more third prizes than I can count. We never play lotto without using your systems.
"Recently, Colorado started its Cash Five game which prompted me to send for your book on five number wheels. Since the introduction of the game, we have won several second and third prizes and, of course, the jackpot prize.
"This win would have been our second Cash-5 jackpot, but my husband talked me into playing the regular lotto game instead. He was just crushed when all 5 of our numbers showed up in the November 8th drawing - needless to say, he now wants to play the Cash-5 game.
"I sincerely thank you for giving us the tools necessary to successfully capture the winning numbers for any lottery game. Cash 5 has better odds, and with the use of your systems, we EXPECT TO WIN MORE JACKPOTS in the very near future. Sincerely, Mary L. Green."


The lottery products Mary Green used to win the Colorado Cash 5 jackpot
: Advantage Gold and Wheel #3103

Advantage Gold™
Number Selection Lotto Software
More Info
ADD TO CART
8 number 2 Power Number 5/5 Guarantee Balanced Wheeling
®
Lotto System #3103 found as wheel #55008-2 in:

Wheel Five Gold™
Balanced Lotto Wheel
®
Software for Pick-5 Games
More Info
ADD TO CART

Lotto Wheel Five to Win
Balanced Wheel
®
System Book for Pick-5 Games
More Info
ADD TO CART
Learn how to win this lotto game for free
: