New York Lottery Winner 2010
Updated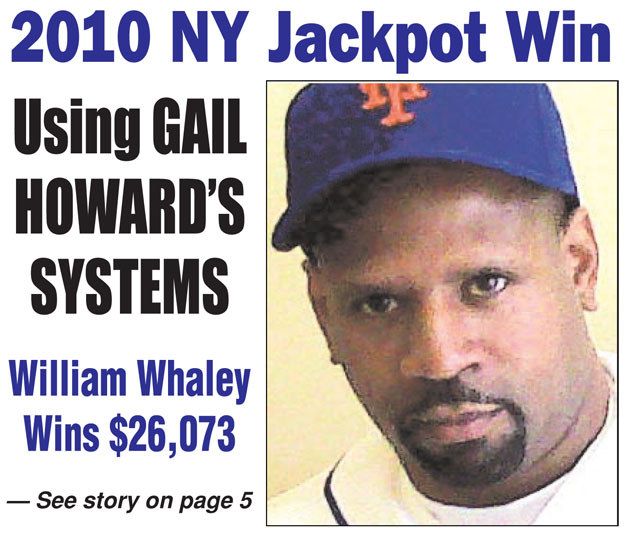 $26,073 Prize Won in New York Cash 5 Game
New York Jackpot Won!
by Gail Howard
It seems that in recent times I have heard from jackpot winners in almost every state but New York. Finally in 2010, a New York jackpot winner has come forward to credit my systems with his jackpot win.
William Whaley of Rockaway, New York won the New York Take 5 jackpot on May 25, 2010, using my Balanced Wheel® #53124. William split the $78,219 jackpot with two other winners, collecting his share of $26,073. William has had other good luck with my systems which he explains in his letter to me:
"Dear Gail Howard,
On May 25th 2010 using your Balanced wheel® # 53124 24 numbers 3 of 4 system from your book, Lotto Wheel Five To Win. I won a Jackpot of $26,073.00. Being a father of three young daughters during these hard economic times extra money comes in handy. I had my doubts in the past about lottery systems like a lot of people probably do, but those doubts have been dispelled and I realize that this is the way to go if you want to succeed in winning lottery prize money. I been playing Take 5 for many years and I never had the success that I'm having since I purchased your book, Lotto Wheel Five To Win. On February 11th I had 1 second place prize winning of $788.00 and 1 third place prize winning of $22.00 totaling a winning of $810.00. A few weeks later on February 27th, I had a second place prize of $405.00. May 20th I had 1 second place prize winning of $489.00 and 8 third place prize winnings of $23.00 totaling $673.00, and 5 days later a Jackpot win. Gail Howard your system works.
Thank You, William Whaley"


The lottery products William Whaley used to win the NY Take 5 jackpot
: Wheel #53124
24 Number 3/4 Guarantee Balanced Wheel
®
Lotto System #53124 found in:

Wheel Five Gold™
Balanced Lotto Wheel
®
Software for Pick-5 Games
More Info
ADD TO CART
Lotto Wheel Five to Win
Balanced Wheel
®
System Book for Pick-5 Games
More Info
ADD TO CART
Learn how to win this lotto game for free
: