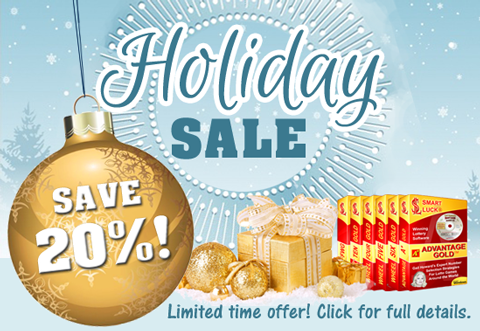 ---
Annual Christmas Discount on All Lottery Books & Lotto Software
Smartluck's annual 15% Christmas discount on all lottery books and lotto software is on now until December 31, 2016. There's no need to wait for coupon codes, Black Friday or Cyber Monday sales, our discount lasts the whole holiday season through the end of the year.
Get 15% off all lottery books sold on smartluck.com
Get 15% off all new lottery software sold on smartluck.com (excludes upgrades).
Software savings are on top of the discounts we always give when two or more software programs are ordered together, so you save even more with software combos.

Smart Luck Strategy and Wheeling Best Selling Combo Package for Powerball, Mega Millions, and Pick-5, Pick-6, and Pick-7 lotto games around the world.

| | |
| --- | --- |
| Advantage Gold | Reg. $79.95 |

Note: Savings shown in cart. Limited time offer, expires Dec 31, 2016.

Give the unique gift that could be worth lottery millions!

Smart Luck lottery books and software make great gifts for yourself, friends, relatives, and co-workers — and what better stocking stuffer than a lotto book, lottery software, or a portable flash drive pre-loaded with any or all of our lottery winning software?

A lottery gift says you care because it is a unique and thoughtful gift of love and luck to the recipient. A gift of Smart Luck! Never a better time to buy!

Ordering

Check out our recommendations to get the best products for the lotto games you or your gift recipient play, and then view our lottery products to see the details of each book or program.

Add the products you want to order to your shopping cart using our "Add to Cart" buttons, and proceed to checkout when you're ready. The checkout system will automatically calculate the discounts and total cost including shipping for you before you complete your order. Take advantage of these incredible savings today to get an additional 15% discount off your total order for books AND software — excluding shipping.

When you order lottery software gifts for others, be sure to give us THEIR name and address for registration purposes, and place your name and address in the comments section. Software will be licensed to the gift recipient and shipped to you, the buyer, with their name, in care of your name and address, so you can wrap and present the gift yourself. That is, unless you specify otherwise in the comments section.

Lottery Advice Free All Year Long

Be sure to take advantage of Gail's extended free lottery tips on how to win lotto designed for your specific lottery game. This is free all year long.

Lotto Wheels Free All Year Long

Make wheels with four of Gail Howard's multiple free lottery-jackpot-winning interactive wheeling systems. All of these Balanced Wheels® have won at least one jackpot, and one of them has won SEVEN jackpots. Maybe it's your turn to beat the lottery. You can't beat the price! You could even print a wheel for a unique, free stocking stuffer to introduce a friend or loved one to lottery wheeling.

Advantage Gold™
Number Selection Lotto Software
More Info
ADD TO CART
---
Wheel Six Gold™
Balanced Lotto Wheel
®
Software for Pick-6 and Pick-7 Games
More Info
ADD TO CART
---

Wheel Five Gold™
Balanced Lotto Wheel
®
Software for Pick-5 Games
More Info
ADD TO CART
---
More Info
ADD TO CART
---

Wheel 10 Gold
Balanced Lotto Wheel
®
Software for Pick-8, Pick-9, and Pick-10 Keno Games
More Info
ADD TO CART
---

Filtering Full Wheel Generator™
Full Wheeling Software for Pick-3 to Pick-10 Games with Filters
More Info
ADD TO CART
---
More Help for Which Products to Buy for Your Game
:
CART
Turn a game of luck into a game of skill!™