Advantage Gold™ Screenshots
Advantage Gold is Smart Luck's lottery strategy software. This program currently runs in DOS. These are just a few sample screenshots to show the program's interface and is not representative of all the options in the program.
Though we are working hard on getting our last Windows program finished for release, we want to show our customers that DOS can still be simple and user friendly. It only takes a few seconds at the most to view any chart in the program. You just need to use the keyboard to move through the options rather than clicking on buttons with the mouse. If you are unfamiliar with using DOS, see our Getting Started Using the Software FAQ instructional guide.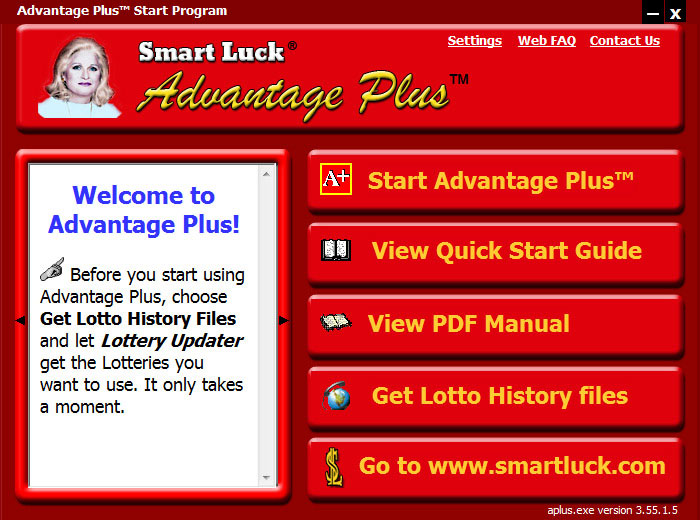 The latest version of Advantage Gold includes a new starter program that opens when you click the shortcut. It allows you to access a built-in Lottery Updater, manuals, and more.
These screenshots show the main index screen of Advantage Gold (you'd press Enter to see the second page of menu options) and Chart 3. The menu tells you which letter/number to press to access the charts in the program. Chart 3 is an example of what the charts may look like.
This screenshot shows the Abbreviated Drawings Since Hit Chart. The x's in the chart represent when a lotto number hit and the dashes show misses.
The numbers on the right marked with a * are smart picked numbers for that game. The numbers marked with a + are numbers that hit in the following game. This will only show if you are viewing a drawing more than one back, which you can do to compare the results of the chart with how the numbers actually did. In this example, #2 and #8 were both smart picked numbers that hit in the following drawing. You would use the down arrow key or page down key to view the rest of the numbers in the chart.
You can also see in the top right of the screen the file name you are using as well as any set filters. Currently the bonus number is turned off (using alt-B), so NO BONUS shows next to the file name.
This screenshot shows Chart V, the Lottery Advantage Scoreboard. This chart shows you how the numbers did across all the Smart Pick charts that you ran. If a number was Smart Picked for a chart, it will show an x under the chart number. The numbers with the highest score on the charts show first, and are the numbers the program will show you first if you use the Smart Picks Chart W. If you have favorite charts you think are more important, you can change the weights of them (by hitting F4 key) so the program will rank numbers picked for that chart higher.
CART
Turn a game of luck into a game of skill!™