Mega Millions Jackpot up to $1.6 BILLION!
Still no Mega Millions winners??? Yet another rollover, and this jackpot is now in all-time world record territory! The next Mega Millions jackpot is estimated at $1,600,000,000 dollars for next Tuesday, October 23rd. This is the largest jackpot in Mega Millions history and it will be the largest jackpot prize of any game ever. The cash out option for this prize is $904 million! You could almost be a billionaire immediately with this jackpot (before taxes of course)!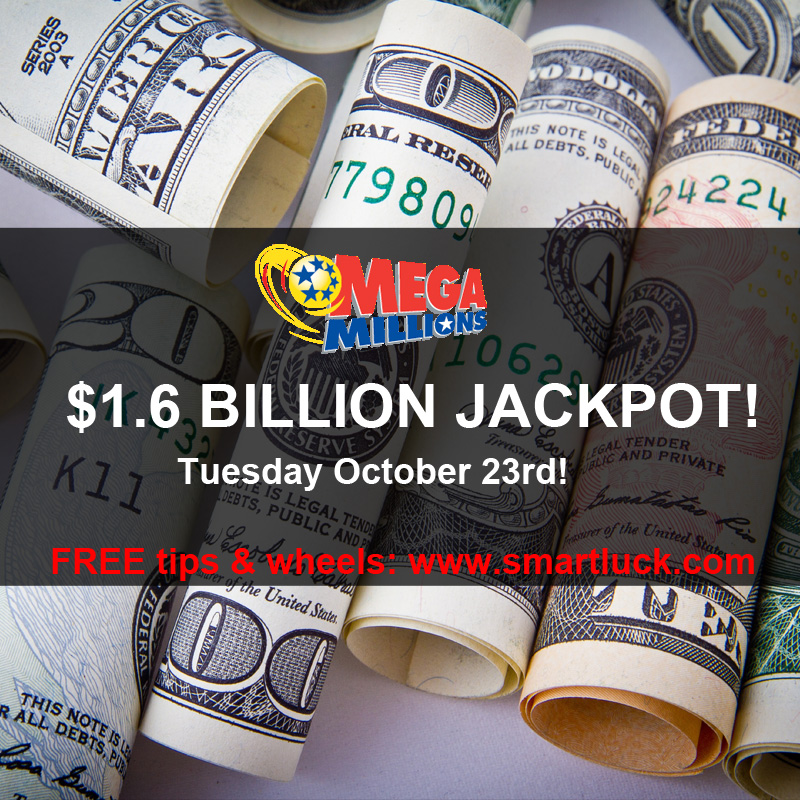 Improve Your Odds at Winning Mega Millions – Free Tips!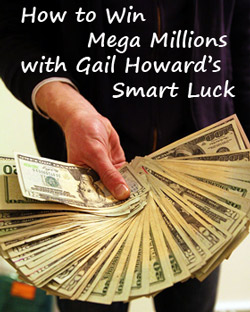 Mega Millions is clearly not an easy game to win thanks to the odds of over one in 302 million, but you can't win at all unless you buy a ticket! With the stakes this high, it's worth giving it a shot. A jackpot this insanely large is worth spending a couple of bucks at least, but skip the Quick Picks.
To play the game smarter, use our Smart Luck strategy and wheeling to improve your odds of winning Mega Millions prizes (that's right – you can win more than one prize!). We even have FREE Mega Millions balanced wheels that can help you trap more numbers on your tickets.
Free Tips for How to Win Mega Millions!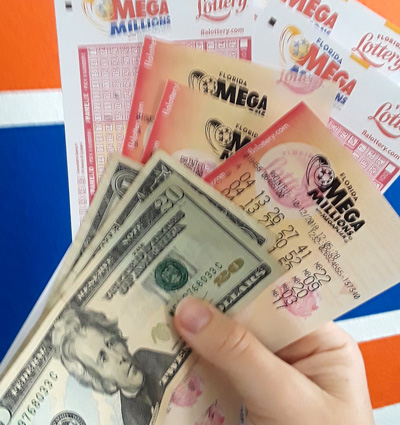 Our free tips are just the beginning to using lotto number selection strategy to win more prizes. Our Advantage Gold software includes dozens of charts to help you track the trends and trap more winning numbers.
More about Advantage Gold lottery software
Match More Mega Millions Prizes – Free Mega Millions Lotto Wheel!
Smart Luck offers several pick-5 Balanced Wheels for FREE that you can use for any pick-5 game, including Mega Millions! Balanced Wheels give you more bang for your buck and dramatically improve your chances of winning lotto prizes. They are the most important tools lottery players can take advantage of to get immediate odds improvement. These lottery systems allow you to choose a large group of lotto numbers which are placed in a scientifically determined lotto pattern on your bet slips to give you a specific win guarantee. And it's easy, because the work is done for you! Just match your numbers to the boxes.
Free Lotto Wheel to Win Mega Millions!
---
Powerball Jackpot up to $620 Million!
In related news, the Powerball jackpot has also been rolling over, and is up to $620 million for Wednesday's drawing. Powerball holds the current world record for the largest jackpot prize ever, when it reached $1,586,000,000 (more than 1.5 BILLION dollars!) on January 13, 2016. Of course, this record is about to be broken by Mega Millions very soon! That prize was split by 3 winning tickets. Powerball also holds the record for the largest jackpot won by a single ticket, which was $758.7 million on August 23, 2017.